Handwritten Notes for Gabrielle Giffords's Testimony to the Senate Judiciary Committee
Text of the speech written in pen, and on binder paper.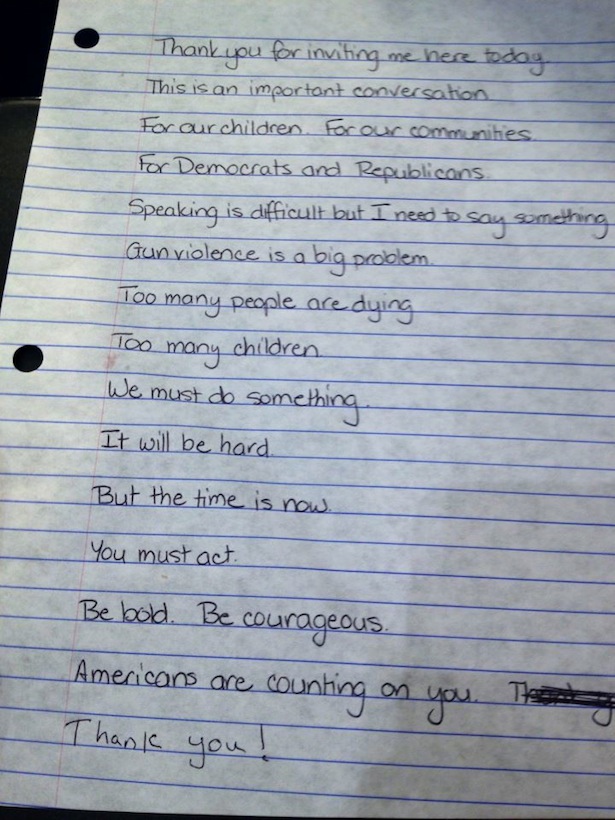 Update: It turns out that Giffords's speech therapist wrote the note, not Giffords herself -- and that Americans for Responsible Solution's reference to "Gabby Giffords' handwritten testimony at the Senate Judiciary Committee" meant "handwritten" in a general sense. I've updated the headline and text of this post to make that clear.
This morning, Gabby Giffords made an unannounced appearance at the Senate Judiciary Committee's hearing on gun violence. Assisted by her husband, former astronaut Mark Kelly, the former U.S. representative slowly and deliberately relayed her message: that "too many children are dying," that "we must do something" to fight gun violence, that "Americans are counting" on Congress to "be courageous."
Giffords's speech was striking not just for its words. It was striking as well for how painstakingly -- and in some sense how painfully -- the former congresswoman sounded each sentence, each syllable. Giffords survived her gun-inflicted brain injury against all odds, but her survival has compromised her ability to articulate her thoughts.
That is made even more clear by an image posted to the Facebook page of Americans for Responsible Solutions, the organization Giffords and Kelly founded to help reduce gun violence: the text of Giffords's speech. The pen-scrawled words, written out by Giffords's speech therapist, are scrawled on a surface all too familiar to schoolchildren: binder paper.
The message Giffords and Kelly are sending though the posting of the note is clear: Guns too often kill children. But guns, too, can force adults to relearn the basic skills they once acquired naturally as children. One of the most frustrating aspects of her injury, Giffords told Diane Sawyer earlier this month, is the fact that she can understand what's going on around her -- but she is unable to articulate responses to that activity. She is trapped in her injury. And few things make that point more powerfully than a piece of binder paper scrawled with large, easy-to-read letters.
Via @pbump.