GOP Leaders Say They'll Raise Debt Ceiling, but Threaten Congress' Pay
At a House retreat, Republicans say they will pass a three-month extension without spending cuts, but demand the Senate pass a budget or lose its paychecks.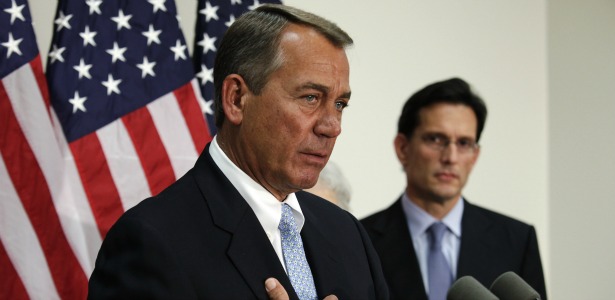 Reuters
WILLIAMSBURG, Va. -- House Republican leaders said Friday that they will schedule a vote next week on a plan to extend the nation's debt ceiling for three months, but that it would also require the Democratic-controlled Senate to pass a budget by April 15 for the first time in four years or see senators' pay withheld.
Within an hour of their announcement, some doubters said they believed such a move would violate the Constitution. But a House Republican aide disputed that.
Under the GOP plan, House members would continue to be paid even if the Senate did not pass a budget because Republicans who control that chamber will certainly pass one, explained a senior House Republican aide. The base pay for both House members and senators is $174,000 a year.
The strategy was announced at the conclusion of the House GOP's private three-day issues and strategy session here.
"We are going to pursue strategies that will obligate the Senate to finally join the House in confronting the government's spending problem. The principle is simple: No budget, no pay," House Speaker John Boehner said in remarks he made to the Republicans at the conclusion of their retreat on Friday, according to excerpts released by his office.
Such a plan would also hit Republicans in the Senate for budget inaction. But Senate Minority Leader Mitch McConnell seemed to be on board, in a statement from his office. "For nearly four years, the Senate Democrat leadership has prevented this body from performing its most basic of duties: passing a federal budget," he said. "That is a shameful record that needs to end this year ...."
A spokesman for Senate Majority Leader Harry Reid responded that "it is reassuring to see Republicans beginning to back off their threat to hold our economy hostage," a reference to claims by some Republicans that they would consider letting the nation default in order to get the spending cuts they desire. But the same spokesman, Adam Jentleson, also underscored that the Senate would be looking to the House to pass a "clean debt-ceiling increase to avoid default," and if that happens, "we will be happy to consider it."
White House press secretary Jay Carney offered, "We are encouraged that there are signs that congressional Republicans may back off their insistence on holding our economy hostage to extract drastic cuts in Medicare, education, and programs middle class families depend on."
Meanwhile, Ron Meyer, a spokesman for the Virginia-based conservative group American Majority Action, said he believes the announced Republican strategy would violate the 27th Amendment. That amendment holds that no law varying the compensation for the services of the senators and representatives shall take effect, "until an election of representatives have intervened." In other words, said Meyer, if Congress were to make such a move differentiating House and Senate pay, it could only take effect for the next two-year Congress.
"I think it was a good gimmick they didn't think through," said Meyer, whose group had been among those pushing for conservatives to block Boehner's reelection as speaker.
A House Republican aide responded that was not the case, because "it wouldn't vary the pay--it would withhold it. That's fine, constitutionally."
Meyer said his group's contacts with rank-and-file conservatives Friday afternoon indicated Boehner does not have the Republican support needed to pass a debt-ceiling extension anyhow, and that Democrats won't support it, either. There are currently 433 House members, 233 Republicans and 200 Democrats.
Passage of a short-term debt-ceiling increase would be designed to buy Congress more time to negotiate over how to address the across-the-board "sequester" cuts set now to hit in March, and another continuing resolution to keep the government funded beyond March 27.
But Republicans had been saying before their retreat began on Wednesday that they would be talking about ways to pressure the Senate to do a budget. The plan they announced Friday is expected to be fleshed out as the House Ways and Means Committee will hold a public hearing on Tuesday on the debt ceiling.
The annual target date for both the House and Senate to pass their spending blueprints for the next fiscal year is April 15.
But whether the House Republican bill, with its potential suspension of paychecks if the Senate fails to pass a budget, would fall under the category of "clean debt-ceiling increase" in the eyes of Senate Democrats is clearly questionable. It remains to be seen if the Senate might feel pressured to accept it, anyhow.
The country hit the legal borrowing limit on Dec. 31, but Treasury will be able to manage the government's payments through so-called "extraordinary measures." However, the government is likely to exhaust its ability to use those steps as early as Feb. 15, or as late as March 1. A default could lead to a downgrade of the country's credit rating and throw financial markets back into chaos. President Obama has taken a tough line, saying he will not negotiate over the issue of increasing the nation's borrowing limit.
In another battle, Republicans have been criticizing Senate Democrats for abandoning the budget process altogether -- for a failure to even pass budget resolutions for three years.
It is true that in 2010, the then-Democratic-controlled House and Senate did not adopt a fiscal 2011 budget resolution. But Senate Democrats have not done so since, arguing that the Budget Control Act of 2011, which resolved the debt-ceiling standoff at the time, sets discretionary-spending levels for several years. "The Budget Control Act is a budget for all intents and purposes--which is exactly why it sets the appropriations levels and gives members the tools (budget points of order) to enforce them," argues one Senate Democratic aide.
Republicans counter that passing budget legislation is one way the public can see the two parties' priorities and visions for governing.