From Guns to Immigration, Obama Circumventing GOP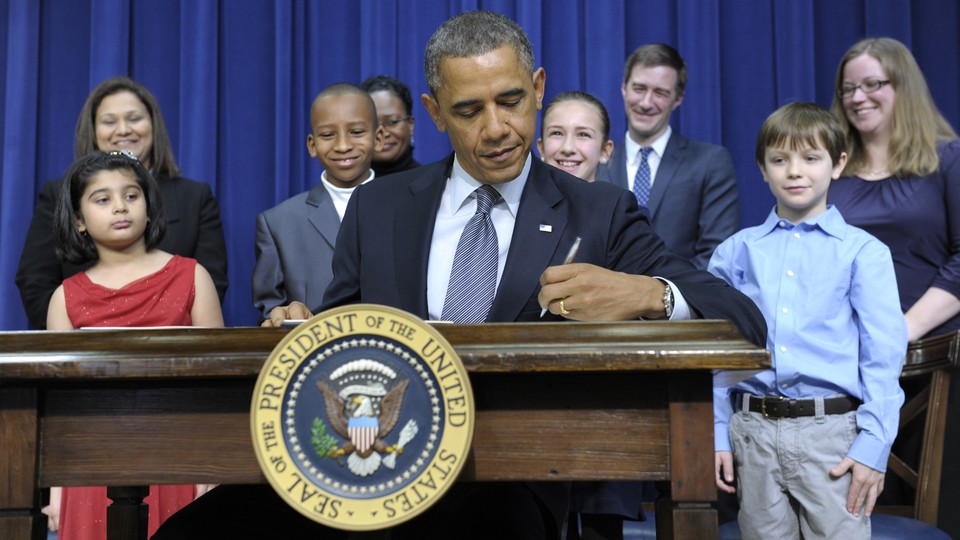 Humbled by the limits of his authority in Congress, President Obama is turning confidently to the political apparatus that got him re-elected as he wrestles the mighty gun lobby.
"This will not happen unless the people demand it," Obama said Wednesday as he unveiled the most ambitious gun-control agenda in decades.
Mobilizing voters against the GOP and its special-interest allies is part of a broader White House bid to pursue higher taxes, immigration reform, and climate change legislation — so-called third-rail issues that traditionally give Democrats fits.
Former White House press secretary Robert Gibbs, a confidant of the president, signaled the high-testosterone approach shortly before Obama's announcement on guns, telling MSNBC, "The president has the most exciting campaign apparatus ever built. It's time to turn that loose."
He speculated that the National Rifle Association is lobbying lawmakers with the names and numbers of new NRA members in each congressional district, gun-rights supporters galvanized by the Newtown elementary school massacre. "If the NRA has a list," Gibbs said, "then Obama for America has a bigger list."
OFA is the president's personal political operation, affiliated with the Democratic National Committee. One of the great failings of Obama's first term was his inability to mobilize his election coalition to advance his policy goals from the White House.
He's going to try again.
From immigration to the national debt, the president has concluded that he can't bargain with House Republicans and, even if he could, Democrats can't rely on the House GOP leadership to deliver pledged votes, according to a senior White House official who spoke on condition of anonymity. The president has decided his only option on debt talks, immigration, climate change, and gun control is to appeal to the public from the presidential platform, as he did today on gun control, and through his political network, the official said.
And so the president moved with equal measures of swagger and humility Tuesday while urging Congress to require universal background checks, ban the sale of assault weapons, and impose a 10-round limit on magazines. "I will put everything I have into this," Obama said before signing a series of executive orders also aimed and curbing gun violence. "But I can tell you, the only way we can change is if the American people demand it."
He suggested that his package can't pass a gridlocked Congress without public pressure imposed not just on Republican lawmakers, but also on Democrats from fierce gun-rights states. "If Americans of every background stand up and say, 'Enough,' " Obama said, "then change will come."
The strategy has two benefits. First, it might work to push through major parts of his package, defying expectations and adding capital to his political bank for the fights ahead. Second, if his gun package fails, Obama can deflect some blame and claim some credit for trying.
The odds are stacked against him. While polls show widespread support for individual elements of his package, most members of the controlling GOP House caucus come from conservative districts where the NRA holds sway and where a primary challenge is the member's biggest political threat.
A senior White House officials said Obama feels much more confident about his chances to sign a legacy-boosting immigration-reform package, given demographic pressures building against the GOP. Obama is also expected to stake a position on climate change, which he has said is partly caused by the actions of humans. The officials spoke on condition of anonymity because they were not authorized to openly discuss the president's strategy.
UPDATE: Five paragraphs have been added to the original post.