Forget the Veto: How Obama Objects to Parts of a Law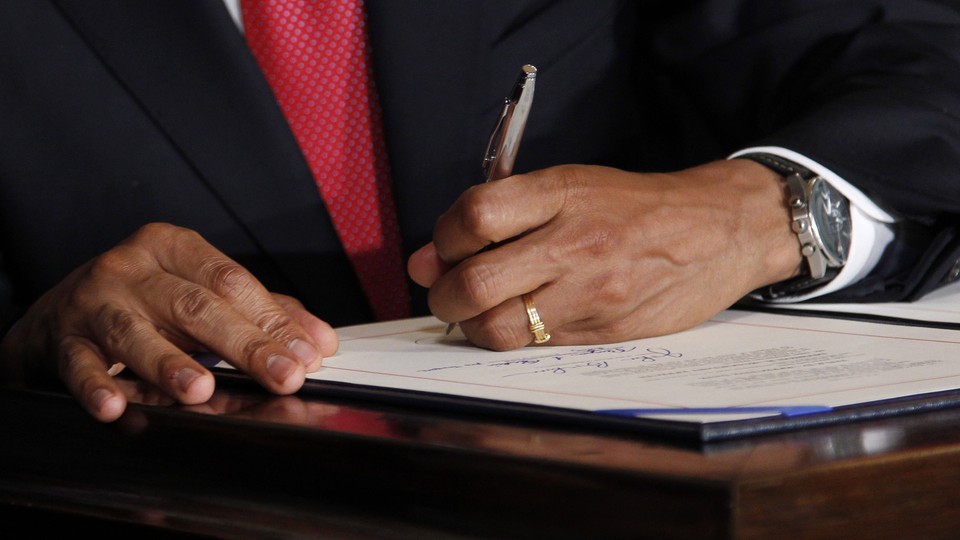 President Obama signed a defense bill into law this week, but not without a few objections.
Dating back to Andrew Jackson, and used more frequently since President Reagan held office, the presidential signing statement has been an effective tool for the chief executive to explain his interpretation of the law he's signing. While sometimes used to explain how the president would enforce a law, a president can attach a statement explaining an objection to some of the items within the legislation. Such a statement is what Obama attached to one of the bills he signed this week, the National Defense Authorization Act of 2013.
Although Obama during his 2008 campaign criticized President George W. Bush's use of this tool, he has used signing statements himself more than 20 times since taking office, mostly for constitutional objections. By contrast, Reagan issued 250 signing statements in his tenure, President Clinton signed 381, and George W. Bush had 161, according to the Congressional Research Service. Here are five occasions where Obama used this tool.
Omnibus Appropriations Act of 2009
March 11, 2009
In his first signing statement, Obama took issue with several sections of that year's $410 billion spending bill, including a section that restricted the use of funding for United Nations missions under foreign commanders. It could hinder his own military authority, Obama argued. He also objected to limitations for the executive branch to reallocate money without congressional permission. Around the time of this statement, Obama set an administration precedent that he would only issue signing statements after consulting the attorney general.
Fraud Enforcement and Recovery Act of 2009
May 20, 2009
A signing statement could have wide-reaching objectives, or it could just be a quick line that asserts the president's constitutional authority in certain circumstances. This was the case for a bill that provides feds with greater tools to fight financial fraud in the country. One of the provisions required the executive branch to provide any information that a special commission requested. In his statement, the president agreed to follow the section, as long as it did not interfere with his constitutional privileges.
Intelligence Authorization Act for Fiscal Year 2010
Oct. 7, 2010
Obama has also pushed back against some requests for classified information or disclosing covert operations by the intelligence community, which was illustrated in this signing statement. The intelligence authorization bill established an inspector general of the intelligence community that would provide congressional committees with reports on investigations into current or former intelligence officials. Here, Obama said he would cooperate, understanding that his administration was not required to disclose "privileged or otherwise confidential law enforcement information."
Department of Defense and Full-Year Continuing Appropriations Act of 2011
April 15, 2011
When Congress tried to withhold funding to pay for four White House "czars" in a budget bill, Obama said in a signing statement that he has the authority to fund any advisers that he felt were needed for him "to obtain advice." The provision in the law undermined his constitutional authority and separations of power, he said in some of the strongest language he has used in these statements. President George W. Bush would frequently and similarly assert full control over "the unitary executive."
National Defense Authorization Act of 2013
Jan. 2, 2013
Signing statements can also be an alternative to vetoing entire pieces of legislation, as was the case in Obama's latest statement. In it, Obama objected to additional restrictions in the defense bill on the ability to transfer terrorist detainees from military prisons in Afghanistan and at Guantanamo Bay, among other issues. Although he said that he disagreed with these sections, and that they could interfere with his job as commander in chief, the president said the defense bill was too large to completely throw away. Similarly, Obama signed last year's defense bill despite objections to some items pertaining to Guantanamo Bay.