Fewer Students Report Taking Remedial Courses; Minority Numbers Still Worrisome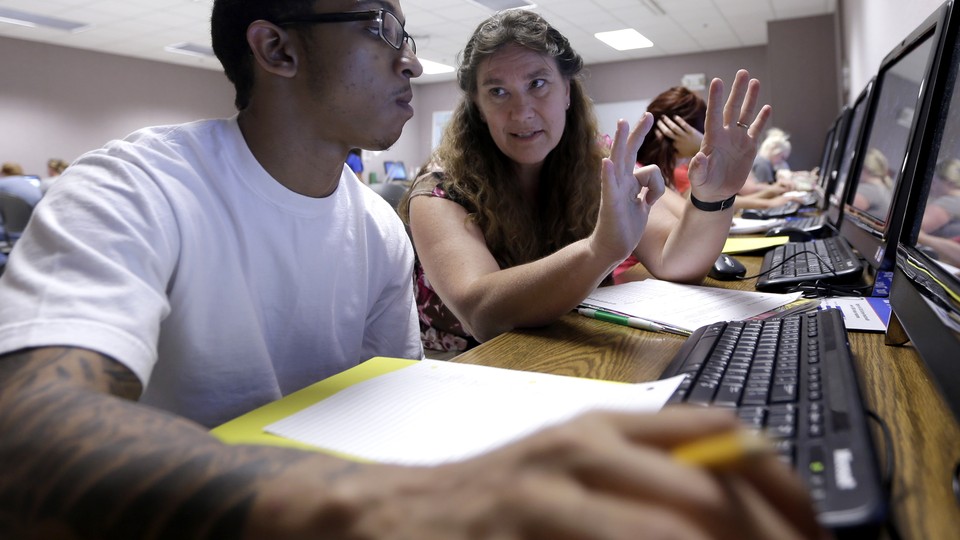 Despite taxpayers shouldering the cost of remedial courses at public universities, many students required to take such prep courses often leave school without a diploma.
As the nation's colleges and universities address school readiness as way to close the minority achievement gap, one recent Education Department analysis found that the overall number of students who reported taking remedial math and English is on a downward trend.
But that's not necessarily good news.
Some ill-prepared students shelve any college aspirations; others don't proceed because only about 40 percent of the states allow their four-year public universities to offer remedial courses.
In the 1999-2000 school years, for instance, about 26 percent of first-year undergraduates in colleges and universities indicated they took remedial courses, according to the January report (pdf). By the 2003-04 academic year, only 19 percent said they did. A slight uptick, to 20 percent, occurred between 2007 and 2008.
Students of color have long been overrepresented in these basic-skills courses. Here's a quick glance by race and ethnicity of participation rates for the 2007-2008 academic year:
Whites: 19.9 percent
African-Americans: 30.2 percent
Hispanics: 29 percent
Asian-Americans and Pacific Islanders: 22.5 percent
Two or more races: 27.5 percent
Followers of such statistics say these figures are conservative but highlight the need to revamp policies that focus on remedial coursework. Typically these classes are costly to the university and student, leading many to drop out because of cost or frustration. Remedial classes don't count toward a degree.
About 20 states already prohibit four-year colleges from offering remedial coursework, said Brenda Bautsch, senior policy specialist at the National Conference of State Legislatures.
Students in states like Louisiana and Tennessee will no longer qualify to attend state public universities if they need even one remedial class. Nonetheless, Bautsch said, they've fostered a seamless transition to state universities after students complete remedial courses at the junior college level.
As means to advancement, some schools have refined their remedial program so that a year's worth of learning can be achieved in a single semester. Other ideas have proven successful as well, as schools have coupled those efforts with additional support services, such as mandatory tutoring, Bautsch said.
National data shows that more than a third — 37 percent — of first- and second-year collegians took remedial English and math courses in 2008. A 2011 College Board study noted that 47.3 percent of blacks, 45.1 percent of Hispanics, and 43.9 percent of Native Americans took brush-up coursework.
Last year, states and students spent at least $3 billion on remedial courses, according to recent report (pdf) by Complete College America.
"This broken remedial bridge is travelled by some 1.7 million beginning students each year, most of whom will not reach their destination — graduation," the April report's authors stated.
STRIVING FOR SOLUTIONS
Revamping remedial coursework policies have become a hot-button issue in community colleges across the nation, and few educators and policymakers agree on the best course of action. Legislatures in Florida, Montana, and New Jersey have proposed charging public schools for basic-skills classes that students may need to take in college, while other states have favored eliminating these prep classes.
"There are two forces colliding," said attorney Steve Ngo, a member of the City College of San Francisco board of trustees.
On the one hand, Ngo said, civil-rights advocates concerned about closing the achievement gap among minorities believe that teachers are best equipped to conceive of a successful curriculum. These groups have aligned with businesses, which have traditionally backed compact class sequences to help students advance more quickly. If the nation can't improve the graduation rates among minorities, companies needing workers will have to import skilled employees en masse or face overpaying for less qualified individuals, Ngo explained. The other camp include factions within the teachers' union who resist these changes.
"If [minorities] are not making it through a long sequence system, they're not going to ever compete for those jobs," he said, referring to highly skilled jobs in Silicon Valley, only a few miles away from the city college campus.
STRATEGY FOR FASTER LEARNING
Ngo began a campaign in 2010 for speedier remedial-class sequencing after noticing that many minority community-college students, among others, were stuck for years doing remedial coursework. The college eventually adopted a pilot program to make remedial math and English courses shorter and more intensive, allowing students to complete a series of four courses faster. But the changes were not without friction, he lamented.
Patrick Callan, president of Higher Education Policy Institute, said that President Obama's directive to creating more graduates has many community colleges and four-year universities scrambling to revamp their policies and curriculum to improve graduation rates.
"He's saying, "˜Here's the money; fix it.' "
The challenge, Callan cautioned, is to implement initiatives that can work on a wide scale and don't squeeze out lower-income and minority students who arrive on campus with weaker English and math skills due to poor K-12 schooling.
"What worries me is that many of these functions have pushed a lot of students out of college in the last five or six years," he told the Next America.  "The system is becoming more skewed in favor of those who bring more educational family assets."
Clarification: An earlier version of this article was unclear about the two camps Steve Ngo described. It should have said segments of the teachers' unions versus civil rights and business sectors.