Diversity in the 113th Congress Looks Pathetic When You Plot It on a Map
The new crop of legislators has been heralded as the least white and male in history. But it's still pretty white and male.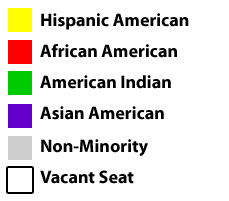 The 113th Congress convened for the first time last week, and the freshman class has been billed as particularly diverse. But overall, the House of Representatives is still mostly white and mostly male.
As of the first day of the new Congress, there were 439 members of the House: 433 voting members and six non-voting delegates (two voting seats are currently empty: Illinois Democrat Jesse Jackson resigned after winning re-election in November and South Carolina Republican Tim Scott resigned on January 2 to step in to James DeMint's vacated Senate seat.) There are some stats that sound great without context -- 81 are women, 42 are African-American, two are American Indian, 11 are Asian-American, and 35 are Hispanic, according to the House Press Gallery. Unfortunately that's just shy of a third of the entire House (as some members fall under more than one).
That leaves 300 members of the House that are neither African-American, American Indian, Asian, Hispanic, nor a woman. That's 68 percent of the total. (Granted, there may be other ethnic or racial minorities that these members identify with, but these are the four categories tracked by the House Press Gallery.) Nine members that identify with one of these ethnic minorities are Republican; the remaining 79 minority members are Democrats.
In other words, don't give the 113th too much credit for being diverse.
The map above charts the voting members of the House (plus the non-voting delegate from D.C.) who identify with these four minorities: Hispanic (yellow), African-American (red), American Indian (green), and Asian-American (purple). (A few notes: New Mexico Congressman Ben Luján identifies as both Hispanic and American Indian, but we've counted him on this map as Hispanic. Also, the congressional district shapefile for Rhode Island was not available at press time, but both representatives from that state are male and do not identify with any of these minority groups. When I refer to minorities, I mean only members or non-members of these four groups as identified by the House Press Gallery.)
Read the rest of this article at The Atlantic Cities.