Diversifying Populations Place New Burdens on Public Libraries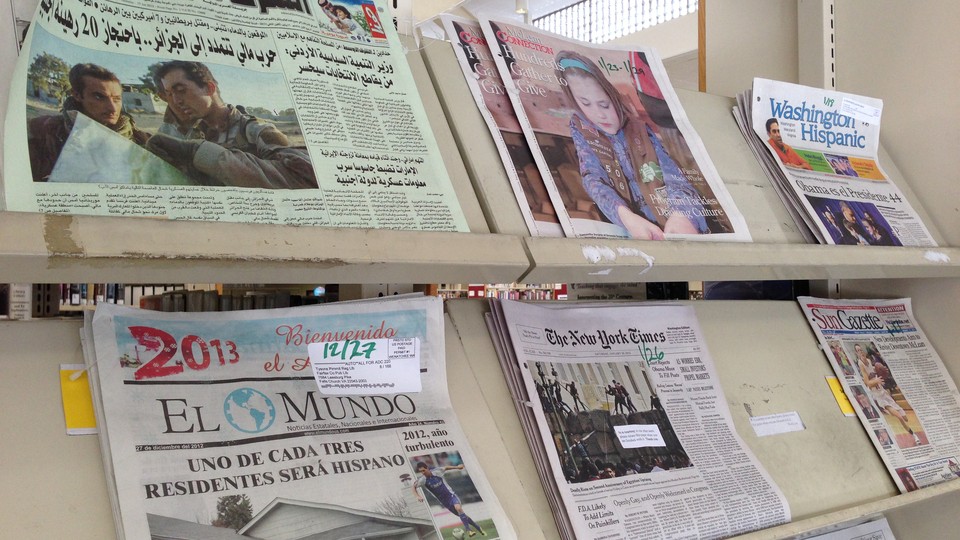 Each week, a small group of Korean women meet at the Chambers County Library in Valley, Ala., a county with fewer than 34,000 residents, to improve their English-speaking skills. Kati Behrens, the library's youth director, said she started the program in 2011 after a woman asked her to recommend someone who could help her brush up on her English.
"I want to learn it from an American," the woman told Behrens. "I have friends who want to do that, too." What started with six women has grown to about 14 people, including an African-American man who is studying Korean.
As the nation's changing demographics transform neighborhoods — currently, the U.S. minority population of 37 percent is projected to grow to 47 percent by 2050 — financially pressured library leaders strive for ways to better serve a steadily diversifying population while offering traditional services amid growing technology needs.
With stagnated or shrinking budgets, branch managers are faced with making decisions with lasting impact, from book selection to hiring a bilingual or multilingual staff serving communities with rapidly shifting demographics, often placing added strain on already scare resources.
IMMIGRANTS TRUST LIBRARIES
Newcomers have always viewed public libraries as a safe place to turn to for educational, reading, and reference needs, as well as to access the Internet, says Sam Clay, director of Virginia's Fairfax County Public Library system.
Behrens, the youth director, said a Kia auto assembly plant brought an influx of Koreans professionals to the Alabama-Georgia border area in 2008, most with degrees in fields such as civil engineering, art, or accounting. What they lacked were English fluency.
Many hailed from Seoul, South Korea's capital and largest metropolis. At one point, the Koreans confided in Behrens, saying they felt isolated and bored in rural Alabama.
"We don't claim to be a community center, but we want to be a center of the community," Clay likes to say. "Our customers define our library."
And at San Diego County's El Cajon branch, a program launched in 2010 has been helping Iraqi refugees, trained as architects, dentists, physicians, and engineers in their country, to pass exams to obtain licenses in the U.S.
Its branch manager, Nancy St. John, said the library partnered with California's Health and Human Services Agency and its welfare-to-work contractor to create a professional study group. This year, four participants gained admission to residency programs in top colleges like the University of California (Los Angeles) and the University of Southern California as well as others across the country.
"It's a full-time job for them to study for their exams," she says.
Yet the challenges felt in libraries in suburbs and company towns are similar but often more extensive in metropolitan areas. Since her library branch is near one of the busiest borders in the country, El Cajon's library branch gets patrons from Mexico and all over the world. "For decades, we've been used to helping other immigrants learn about the public library," St. John says.
ECONOMIC BALANCING ACT
Nationwide, most libraries go far beyond offering books serving patrons born in dozens of other lands. In many cases, they are providing citizenship classes, English as a second language programs, free tax preparation sessions, exercise classes for seniors, classes that teach children how to knit, or basic computer and tech skill workshops for residents looking to land a job.
Some provide these services with library funding. However, in adapting to lean budgets, many libraries have had to become more creative, explains Maureen Sullivan, president of the American Library Association, the largest library group in the country. One way is to partner with agencies, nonprofit organizations, schools, and civic groups.
The Denver Public Library, for instance, offers English courses, in partnership with the Spring Institute for Intercultural Learning, explained Susan Kotarba, the library's director of public services. The classes, which cost $16 per semester, attract highly educated immigrants hoping to improve their English. This semester's small five-person class had students from Greece, Colombia, Peru, and Mexico.
But some of the library's efforts have been met with resistance and even criticism.  Kotarba told the Next America that a local group began a petition to remove fotonovelas, comic-style, Spanish-language serials, from the shelves. The group complained fotonovelas included nudity and violent continent.
Clay, the Fairfax director, noted that providing services, books, and programs that best represent the community nonetheless is a "balancing act," especially as funds become even more limited. "Choices have to be made," he told the Next America.
The Fairfax system, the sixth largest in the nation, has seen its budget dwindle since the economic downturn. Its libraries have reduced hours and staffing. The 2012 fiscal budget was $27 million, significantly lower than the $31 million directed to libraries in 2009.
Still, department heads must ensure that limited resources stretch to meet current demands. If Oprah Winfrey tomorrow said the next hot read was the phone book, Clay joked, "We'd have a million copies of the telephone directory."
But it's never an either/or situation, Clay said, adding that library administrators still address diversity inclusion and other services, such as e-books and traditional services. "The bad news is that with less pie, the segments have gotten smaller."