Democrats May Be Their Own Worst Enemy on Guns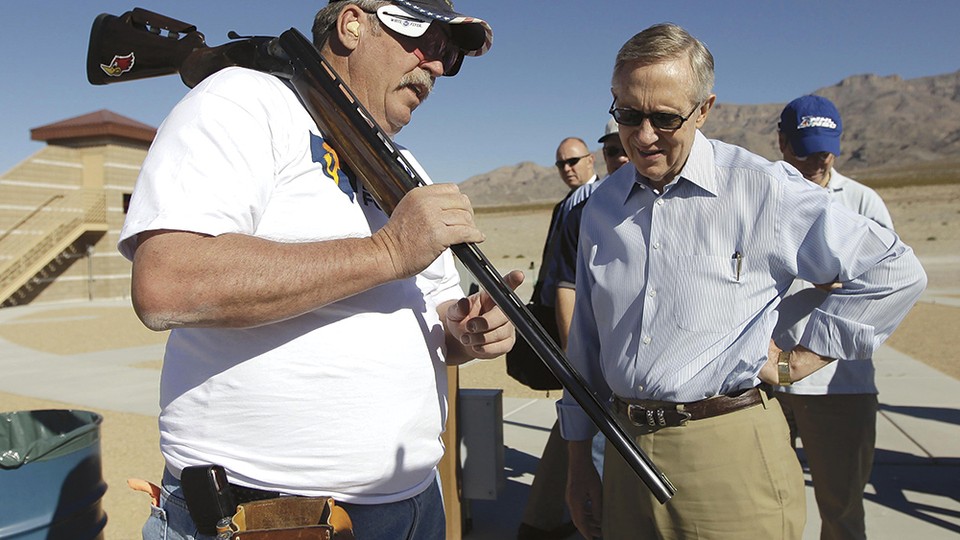 On the rare occasions when President Obama proposes legislation, it seems destined to die on arrival in the Republican-dominated House. So it would seem that when the White House incumbent this week unveiled his plan to reduce gun violence, including banning assault rifles or high-capacity magazine clips, its sternest test would come in the lower chamber.
But if Congress fails to approve legislation specifically aimed at gun control or if Obama's measures are watered down, the Senate might be just as much to blame. Ostensibly, Democrats have a majority, but a significant cadre of them are politically vulnerable.
Six Senate Democrats face reelection next year in red — in some cases, bright-red — states: Tim Johnson of South Dakota, Mark Pryor of Arkansas, Mary Landrieu of Louisiana, Kay Hagan of North Carolina, Max Baucus of Montana, and Mark Begich of Alaska.
Anything that smacks of gun control is likely to go over poorly for them. Large-scale action on guns is the kind of suicide-by-vote that many Senate Democrats have been trying to avoid for almost two decades.
Already, there are signs that Obama may have to dial back his expectations. The red-state Dems are signaling they won't endorse the most far-reaching of his proposals and are giving little indication of what, in the end, they will support. In a sense, they can't be blamed for not wanting to stick their necks out while the legislation is still gestating.
And Senate leaders don't seem to want to put them in a bad position, risking the Democratic majority in the process. In an interview with a Nevada radio station, Majority Leader Harry Reid declared he didn't want to consider an assault-weapons ban and asked for a "cautious" approach to other ideas.
Begich, who expressed a similar call for caution, has also said he's "not interested" in banning assault weapons, while Johnson has proposed that states, not the federal government, devise their own legislation.
Their caution is justified. Even as national polls show public opinion on gun-control shifting since the Sandy Hook Elementary School massacre, it remains unpopular among the voters Johnson, Begich, and their four colleagues need to court over the next two years.
With the exception of North Carolina, Obama last year failed to exceed 42 percent of the vote in the states the vulnerable senators represent. The electorates are brimming with the blue-collar white men and women who voted in droves for Mitt Romney. What's more, the United Technologies/National Journal Congressional Connection Poll released last week found that 61 percent of white men prioritize Second Amendment rights over controlling gun ownership, and a 49 percent plurality of blue-collar white women agree. Yet, overall, 51 percent of registered voters surveyed don't.
Few doubt this is an issue that will move voters to the polls. Taxes and spending have dominated the conversation during Obama's first term, but rarely do numbers on a ledger carry the same resonance as something as culturally significant as the gun. "It's a symbol that a lot of [red-state] Democrats use to separate themselves from the party," says Andy Sere, a Republican political consultant. "You had Democrats using it in part because they knew guns haven't been big issues since the mid-'90s. They had a free pass to separate themselves from the party while not actually having to be a rogue on an important vote."
It's not, however, a fait accompli that all gun-control measures will be scuttled in the Senate, leaving the chamber to approve only less-controversial initiatives such as increased mental-health funding.
The red-state Democrats could also decide that public opinion on gun politics has shifted enough to the left that they don't need to break from their party and anger their base. A scaled-back package, one that includes a broadly popular provision like banning high-capacity magazine clips, could still pass. Johnson, for one, signaled he would consider backing such a measure, and the Congressional Connection Poll found that even a majority of white men would back it.
"The success of the two sides here depends on who comes off as overreaching," Sere says. "It depends if gun-control advocates come off as if they're trying to make an ideological play here based on the tragedy, or if gun-rights advocates come across as unyielding and unreasonable and not willing to take a look at some of these measures that are being discussed."
Since the now-expired 1994 assault-weapons ban became law, culturally conservative Democrats have used the issue to assure constituents they aren't liberal. Whether the sextet of Democrats up for reelection next year follows suit will illustrate just how much — or how little — the debate has changed.
Their backing will indicate how much support Obama can count on within his own party. "What traditionally would happen is that the senators from generally safe seats would get up in caucus and demand action on gun control," says Jim Manley, a former aide to Reid. "And one by one, those up for reelection or those from marginal safe states would get up and raise concerns at some point. The initiatives always petered out. The question is whether this is going to change."