Could John Kerry Broker a Mideast Peace Deal? Probably Not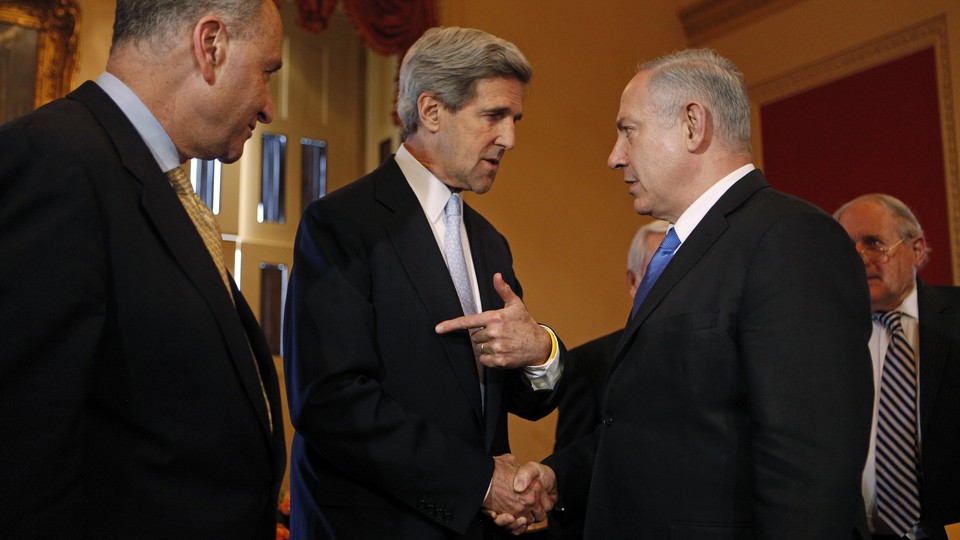 John Kerry says he's hopeful that the Israeli-Palestinian conflict can be resolved during his tenure as secretary of State. But that hope, shared by President Obama, might be a pipe dream.
During his confirmation hearing last week, Kerry made headlines for his optimistic view that a peace deal between the Israelis and Palestinians was possible.
"I pray that maybe this will be a moment that will allow us to renew the effort to bring the parties to the negotiating table and go down a different path than the one they were on in the last few years," Kerry said on Thursday. "I would like to try and do that."
But as he is set to be confirmed by the Senate Foreign Relations Committee on Tuesday, and eventually by the Senate, observers are less optimistic about his chances of brokering a peace deal.
"Every president, every secretary of State thinks that they can bring peace to the Middle East, and they have a 100 percent record over the last 65 years of failure," said Mitchell Bard, the executive director of the American-Israeli Cooperative Enterprise. "No plan developed by the United States has worked--and can't work, because it has to come from the parties themselves."
Until agreement on a peace deal is plausible, Obama is likely to delegate the issue to Kerry, as he did with outgoing Secretary of State Hillary Rodham Clinton and as President George W. Bush did with Secretary Condoleezza Rice.
However, the facts on the ground stand in Kerry's way. While their neighbors are entrenched in bitter conflicts — the insurrection in Syria or the riots in Egypt — Israelis and Palestinians are dealing with their own political storms that aren't conducive to a peace deal.
Palestinian Authority President Mahmoud Abbas has refused to sit down with Israeli leaders and has pursued unilateral action through the United Nations, which the U.S. has criticized. Additionally, Abbas has said he wants to pursue reconciliation with Hamas, an Islamic militant group that has been responsible for several attacks on Israel in recent years. Prime Minister Benjamin Netanyahu, on the other hand, has continued his support of Israeli settlements and has yet to formulate his government after the country's recent election.
However, with his conservative coalition weakened, Netanyahu will need moderate voices to form a government and that could lead to both improved relations with Obama and a better chance at a two-state solution. Michael Singh, the managing director of the Washington Institute for Near East Policy, said Kerry could seize this opportunity.
"The Israeli-Palestinian issue is not going to be the No. 1 issue on his agenda in the region," Singh said, speaking at an Israel Project event in Washington on Friday. "Having a fresh face — having Kerry in there as someone who wasn't involved in the last four years' tensions, could be quite useful for the United States right now."
Ziad Asali, president of the American Task Force for Palestine, sounded equally eager for Kerry to get started in this role. "It is encouraging that he's already talking to a wide number of people," Asali said at the same event.
Some members of the Israeli press are reporting that Kerry will visit the region in February to renew talks for a prospective peace deal. Aaron David Miller, an expert at the Woodrow Wilson Center, warns that such a trip would be ill-advised because of the current state of Israeli politics and other factors on the ground.
"I would argue that the downside is that you show too much interest at a time when neither Israelis and Palestinians are prepared to make the kinds of decisions that would allow a United States mediator to broker a deal," Miller said. "Is it a catastrophe if he goes? No.... But arguably as a tactical matter, it might be better to wait."
And although Kerry's office has yet to confirm that such a trip is in the works, Bard agreed, "It's really a mistake to rush over there, given Israel doesn't have a government yet and we don't know what it's going to look like."