Chastened by His Times, Obama Falls Short of History in Inaugural Address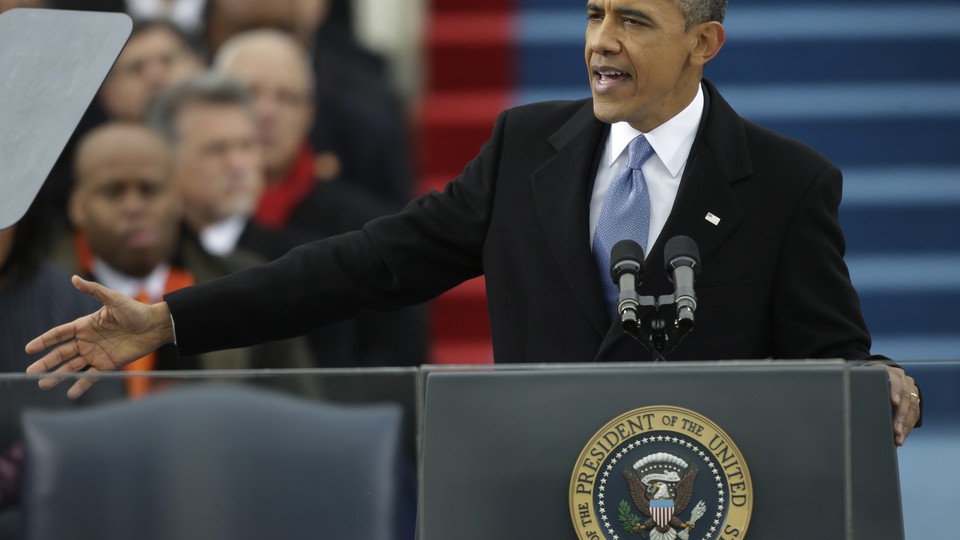 If there was a sentence or sentiment that will be carved in marble and remembered by history, it was not evident Monday. President Obama's second inaugural address was hampered by the fact that he governs in one of American history's most divided moments, grounded by the memory of promises he made four years ago to reform Washington.
The nation's 44th president, just the 17th to deliver a second inaugural address, Barack Hussein Obama called a bitterly partisan nation to "collective action," knowing his second-term agenda will be too ambitious for many and too meek for others.
And yet the address had a muscular undercurrent: Obama tied his left-of-center agenda to the nation's founding principles, the uniquely American ideal of reinvention and renewal in the face of what he called "outworn programs [that] are inadequate to the needs of our times." The deficit, health care, income equality, climate change, immigration, gay rights, women's rights, and the right to vote are part of the nation's long arc toward justice, Obama said.
"You and I as citizens, have an obligation to shape the debate of our time," Obama said. "With common effort and common purpose, with passion and dedication, let us answer the call of history and carry into an uncertain future that precious light of freedom."
Obama attempted to speak to both his rivals and allies, demanding leadership worthy of this era of economic and social transition. "We cannot mistake absolutism for principle, or substitute spectacle for politics, or treat name-calling as reasoned debate," the president declared.
If that was a nod to an obstructionist GOP-controlled House, the Democrat seemed to ask patience of his liberal allies in his next breath: "We must act, knowing that our work will be imperfect. We must act, knowing that today's victories will be only partial, and that it will be up to those who stand here in four years, in 40 years, and 400 years hence to advance the timeless spirit once conferred to us in a spare Philadelphia hall."
The president most obviously walked the line between pragmatism and ambition when he both vowed to keep Americans safe and denounced "perpetual wars." An antiwar candidate in 2008, Obama has pulled troops out of Iraq, overseen fluctuations in Afghanistan, and ordered the attack on Osama bin Laden.
With Iran's nuclear ambitions posing a stiff test of his presidency, Obama said, "We will defend our people and uphold our values through strength of arms and rule of law," he said. "We will show the courage to try and resolve our differences with other nations peacefully--not because we are naive about the dangers we face, but because engagement can more durably lift suspicion and fear."
The nation's first African-American president opened the address with a nod to the Declaration of Independence's promise that all men are created equal. "We recall that what binds this nation together is not the colors of our skin or the tenets of our faith or the origins of our names," he said.
It's a sentiment at risk of ringing hollow in a country deeply split between whites and nonwhites, rich and poor, and, as evident in his hotly contested reelection race, a medley of frustrated Democrats, Republicans, and independents. If Obama feels at all responsible for growing partisanship in Washington, he did not say so Monday.
Still, for the hundreds of thousands who witnessed the addressed, this was a moment to remember.
"You only get one minute of history in your life," said Desiree Armstrong, a barber from Wyandanch, N.Y., who traveled to Washington for hers.
Whether this was a moment for the ages will depend on Obama's ability to persuade both his rivals and allies to accept the difference between absolutism and principle.
Editor's note: This story was updated several times during and shortly after the address.