Cabinet Shuffle: Labor Secretary Hilda Solis Is Out
The unexpected departure puts another potentially contentious confirmation battle on the horizon.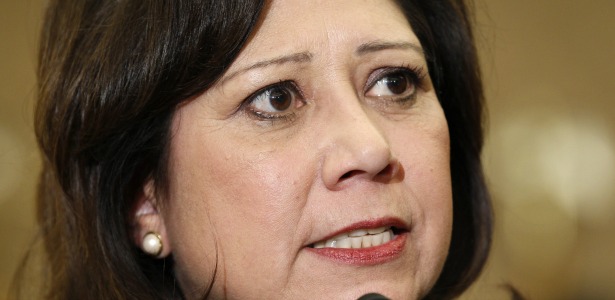 Reuters
Labor Secretary Hilda Solis announced her resignation Wednesday, creating another opening in the Cabinet reshuffle that will kick off President Obama's second term.
The departure of Solis means there's one less woman and one less minority in a White House that has recently come in for criticism for its lack of diversity. And it opens the door to another potentially contentious confirmation battle for Obama.
The president's nominees for Defense, former Senator Chuck Hagel, and Treasury, current Chief of Staff Jack Lew, have already come under fire from Republicans. Given the hot-button nature of environmental and labor issues, the candidates nominated to replace Solis and the outgoing administrator of the Environmental Protection Agency, Lisa Jackson, are also likely to face close scrutiny. (Solis's 2009 confirmation was delayed by tax issues and Republican concerns about her ties to a pro-union group.)
Combined with an upcoming welter of fiscal deadlines, the coming confirmation fights further cloud the picture for other potential policy priorities of Obama's second term, notably immigration reform and gun control.
Solis, a former congresswoman from Southern California, wasn't on most lists of likely Cabinet departures, so the possible replacements are purely speculative at this stage. Some of the names being tossed around late Wednesday included former Michigan Governor Jennifer Granholm, who recently ended the talk show she was hosting on Current TV, and former Rep. Betty Sutton of Ohio, who lost her reelection bid in November. Both are strong labor allies from Rust Belt states and, not coincidentally, women.
With Solis gone, the lone Hispanic member of the Obama Cabinet will be Interior Secretary Ken Salazar.
Apparently eager to tamp down the talk about departures, the White House also put out word late Wednesday that three non-white-male Cabinet members plan to stay on for the time being: Kathleen Sebelius (health and human services), Eric Holder (attorney general), and Eric Shinseki (veterans affairs).