A Fittingly American Ceremony, Without Much Pomp
A grayer, grimmer, more experienced Obama kicks off his second term by bringing back the Hope.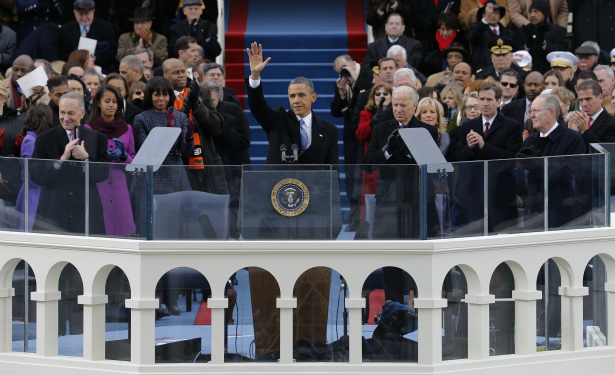 Just hours before a group of well-heeled Obama supporters with silver tickets trooped across the spot, a crew from the Masonry Division of the Architect of the Capitol was wiggling a loose paver back even with grade above the stairs of the West Front of the building.
Down below, a skein of wires flowed around the scaffolding that held aloft the still and video cameras of the visual press; on the other side of the door at the bottom of the construction was the platform area for the seated press, spouses of members of Congress, staffers and honored guests. Among them: a group of aged Tuskegee airmen, snug under khaki blankets in their wheelchairs, wearing the kind of glasses I've seen on my dad and come to think of as Veteran's Administration dispensary-style.
Though I arrived in D.C. in Clinton's first term, this was the first Inauguration I've attended. I'll have more to say later about the speeches -- not only the first time a president has used the word "gay" in an inaugural address, but likely the first time the word "namaste" was spoken from the inaugural stage (by poet Richard Blanco).
But first a word about the ceremony itself.
Television makes everything look more glamorous. It is a trick of the light.
There's a lot of talk on a day like today of the pomp and ceremony of state. But there was something charmingly plain about the inaugural ceremony itself. The fanciest thing about it was the heavy paper stock for the tickets (for those who had tickets), with their high-tech security hologram, and the enormously complex identifications badges required for Capitol access. (To get one, you had to go to the Government Printing Office for a fingerprint scan, then sit there until the F.B.I. ran your prints through their databases back in West Virginia, clearing the agent in Washington to sign off on your credentialing form.) The security perimeters that have turned downtown Washington, D.C., into a semblance of Tampa or Charlotte during the national political conventions may be complicated affairs to staff and build, but the American security state when it descends upon a town also has all the majesty of a T.S.A. screening station, perhaps in unconscious honor of our Puritan ancestors' rebellion against finery and design.
At the inauguration, those who had seats all sat in the same black plastic "Eventwares" chairs ("as low as $10.95" online). Many stood near the stage, as well as above it, and in standing-room only throngs that stretched back to the Washington Monument and beyond. They'd begun their day early, then stood or sat in the cold for hours (though the day began promisingly bright, the temperature dipped and the crowd started shivering by noon) to catch a direct or jumbotron glimpse of a ceremony that itself lasted less time than the wait for it. Cellphone signals crashed, and thousands of Twitpics and texts were doubtless left unsent.
Reporters compared notes about Inaugurations past -- that time it was 10 degrees colder, or that time it rained and the ground below the high-dollar donors turned to mud -- and complained of the challenges of finding a story on a day designed for, as one put it, "Savannah and Norah and Matt Lauer."
Sen. Lamar Alexander of Tennessee, the ranking Republican on the Senate Rules and Administration Committee, gave the tradition affirmation of America's peaceful transfer of power. "How remarkable that this has survived for so long in such a complex country with so much power at stake -- this freedom to vote for our leaders and the restraint to respect the results," he said.
Power of a different sort was all around in the personalities near the stage, from former president Clinton to the Supreme Court justices and members of Congress to Cyndi Lauper and Eva Longoria. Beyonce, the internationally famous singer, belted out "The Star-Spangled Banner" that closed a ceremony that opened with an invocation by Myrlie Evers-Williams, whose life stands as testament to a different sort of power -- that of citizens.
Obama invoked the power of those citizens, and while it is usually an unoriginal political trope to do so, the fact that his election and re-election were so dependent on turnout by those less connected to the political system made his phrases seem more authentic. "You and I, as citizens, have the power to set this country's course," Obama said. "You and I, as citizens, have the obligation to shape the debates of our time -- not only with the votes we cast, but with the voices we lift in defense of our most ancient values and enduring ideals."
Most importantly, though, his speech signaled openly what's been clear for some time now -- Obama's second term will show him being a more progressive force than did his first, and will see him continue to press the kind of bolder (but also politically astute) cultural stances he began to advocate during the campaign with his support for gay marriage and undocumented youngsters.
The speech's key passage invoked the spirit of activism, social change and the unending fight for human dignity that each generation renews:
peace in our time requires the constant advance of those principles that our common creed describes:  tolerance and opportunity, human dignity and justice. 

We, the people, declare today that the most evident of truths -- that all of us are created equal -- is the star that guides us still; just as it guided our forebears through Seneca Falls, and Selma, and Stonewall; just as it guided all those men and women, sung and unsung, who left footprints along this great Mall, to hear a preacher say that we cannot walk alone; to hear a King proclaim that our individual freedom is inextricably bound to the freedom of every soul on Earth.  (Applause.) It is now our generation's task to carry on what those pioneers began.  For our journey is not complete until our wives, our mothers and daughters can earn a living equal to their efforts.  (Applause.)  Our journey is not complete until our gay brothers and sisters are treated like anyone else under the law  -- (applause) -- for if we are truly created equal, then surely the love we commit to one another must be equal as well.  (Applause.)  Our journey is not complete until no citizen is forced to wait for hours to exercise the right to vote.  (Applause.)  Our journey is not complete until we find a better way to welcome the striving, hopeful immigrants who still see America as a land of opportunity -- (applause) -- until bright young students and engineers are enlisted in our workforce rather than expelled from our country.  (Applause.)   Our journey is not complete until all our children, from the streets of Detroit to the hills of Appalachia, to the quiet lanes of Newtown, know that they are cared for and cherished and always safe from harm. 

 

That is our generation's task -- to make these words, these rights, these values of life and liberty and the pursuit of happiness real for every American.

He may have mentioned the word only a few times, and without rhetorical flourish, but it was still clear: the grayer, grimmer, more experienced Obama of the second term wanted to kick it off by bringing back the Hope.