A Dude Named Weed Is Trying to Raise the Beer Tax in New Hampshire
And other lessons on how morality can affect policy, from New England to the Bible Belt
Some people like to smoke marijuana. Some people like to drink beer. And some people like to do both. The amount that they do each depends on incentives -- for example, easy accessibility or higher prices of one of them -- but it's fair to say that for many people weed and beer are what economists would call substitute goods: if your consumption of one goes up, the other will go down, a phenomenon scientists have quantified in various contexts.
Enter into this tension a dude named weed who's trying to decrease Granite Staters' consumption of beer.
Chuck Weed, a Democratic New Hampshire state representative, has proposed increasing the state beer tax by 33 percent, from 30 to 40 cents per gallon, to pay for infrastructure improvements. (The bill's co-sponsor is from Greenville, for what it's worth.) The proposal would raise an estimated $4 million a year, but there are other proposals for increased revenue, including a higher gas tax. What's more, newly elected Governor Maggie Hassan, also a Democrat, won't raise her glass to Weed's proposal. "I want to let the people of New Hampshire know I oppose increasing the beer tax and I will veto it if it gets to my desk," she told reporters. Hassan might be wise to steer clear of the measure. In the state with the nation's greatest per-capita consumption of beer, such a levy could very well be, uh, kryptonite. (The state is also among the nation's highest consumers of weed.)
Wait, don't go! This isn't just a bunch of pot jokes! There's a real policy lesson here!
Take a look at this map of beer taxes around the country from the Tax Foundation.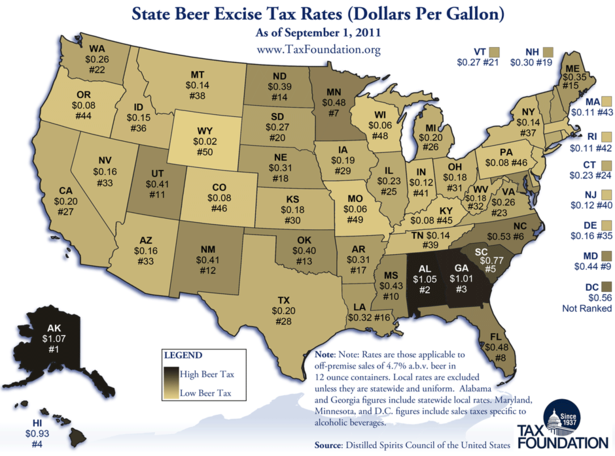 If Weed managed to puff up the tax in New Hampshire, it would put the state on the higher end of the national spectrum. Wyoming residents (all four of them) pay just 2 cents a gallon in beer taxes. In Wisconsin and Missouri, both of which just might have a strong beer lobbies, it's 6 cents. Colorado -- same story -- pays 8 cents, as does craft-beer-crazy Oregon pays 8 cents a gallon (of course, the fancy stuff is always more expensive, right?).
What sticks out most of all, however, is the Bible Belt. Look at southern states from Mississippi east to Georgia, and up the coast to North Carolina and south to Florida for a good lesson on how morality can influence public policy. Those states, which are among the nation's most religious, are easily the most highly beer-taxed states in the country. (D.C., at 56 cents, Minnesota, at 48 cents, and Alaska and Hawaii are outliers, so we'll set them aside.)
Of course, it's not that simple. Mississippi, for example, didn't repeal Prohibition until 1966 -- but it has a comparatively low beer tax to Alabama, just next door. And Kentucky, Tennessee, and Arkansas, all with low to moderate beer taxes, have some of the highest proportions of dry counties in the country today.
But anyway, Chuck Weed is toking a big chance with his political reputation by proposing this tax. Given its low popularity, it's unlikely to pass, so his chances at reelection could take a hit or even go up in smoke.
OK, I'm done for real now.
Hat tip: Sean Moroney