7 Reasons Why I'm Praying for Joe Biden and Hillary Clinton to Run in 2016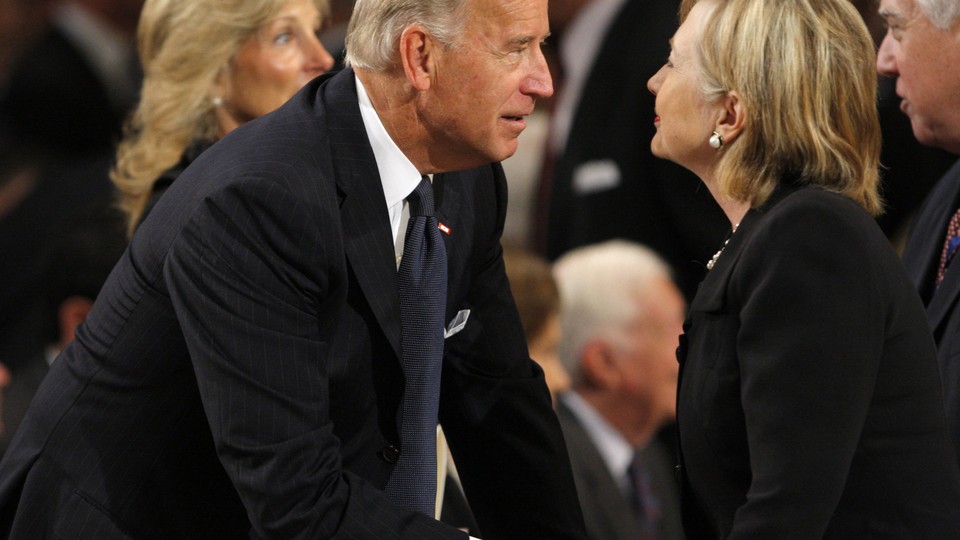 "Jolting Joe?" That was the reaction on Democratic operative Joe Trippi's Twitter feed to news that President Obama, after raising Vice President Joe Biden's profile via the gun violence issue, had decided to appear on CBS's 60 Minutes with outgoing Secretary of State Hillary Rodham Clinton.
Four years out from the next presidential election, political wonks are on hyperalert for any signs that Obama is taking sides. "Jiltin' Joe?" read a Politico headline. I retweeted the White House announcement with a faux quote from Biden himself: "Say it ain't so," says Joe.
Of course, the White House quickly (and credibly) rejected the idea that Obama was playing favorites. Not yet, anyhow. "Not meant as a nod. Meant as an appreciation," e-mailed a senior White House official. "Rivals turned partners and friends." Another top White House official (who also discussed the communications strategy only on condition of anonymity) e-mailed three points:
 "Nothing to do with '16.
"This is a great story and great TV, two rivals from a historic election, who work together and become friends."
"The president and (secretary of) State have clever (communications) staffers who know that the people and press will love this."
Damn straight. In fact, the news inspired me to push up publication of a list compiled with the help of Republican and Democratic operatives, senior aides to both Clinton and Biden, and readers who responded to my Twitter plea. So here is my list of reasons why I'm praying that Clinton and Biden run in '16.
1. Obama on the hot seat. There's nothing more enjoyable than tracking a president wavering on a tough decision. Choosing between two loyal, effective, and popular allies would give Obama fits. Obama had told associates he intends to remain neutral, but that is going to be easier said than done.
2. Third-term envy. Obama's legacy hinges largely his ability to cement any legislative successes with the election of a successor. President Reagan sealed his place in history with the election of his vice president, George H.W. Bush. A Biden presidency would be viewed as an extension of Obama's legacy. A Clinton presidency would be fuzzier. Would it be viewed as an extension of Obama's administration? Or would it be an addition to the two terms served by her husband, Bill Clinton, an administration in which she was an full partner? Which brings us to "¦
3. Bubba's blowups. Bill Clinton is the best politician of his generation, a successful president beloved by his party and a majority of Americans. But he can be a pain in the butt. Just ask his wife's 2008 presidential staff about Bill Clinton's meddling, jealous ways. He knows that Obama owes him big time for reframing the economic issue at the 2012 Democratic National Convention. He won't take kindly any slights against his wife. He loves her and owes her for that little impeachment crisis in the 1990s.
4. Destiny vs. Destiny. A Democratic operative and veteran of two presidential campaigns said, "I want to know why they run: Both claim it, both have a case for it. It's why it will be the clash almost everyone expects will happen."
5. Change you can believe in? This is an era of intense voter frustration and, therefore, we're due for a series of "change" elections. It would be fun to watch Democrats try to position a 70-something creature of the Senate and a 60-something former first lady as change agents.
6. The games they play. These are two tough nuts who would not hesitate to go negative. Reporters love conflict. We also like tracking the art and science of coalition-building, and it would be fascinating to watch these two pros go at it. Biden is already courting activists in key states. His advisers hope to lock down an organization and Obama's endorsement before Clinton makes her decision. Good luck with that.
7. Politico said it won't happen. Actually not the news organization itself, but one of its Democratic sources said it is extremely unlikely that Biden and Clinton would challenge each other. "They're both going to build up teams and see how it goes," the Democrat said. "One of them will fade away, as it becomes more obvious which one of them should be the standard-bearer for the Obama legacy. I can't see them both announcing for president. But both of them will have teams that try to get to that." Makes sense. And even if one of them cedes, the Biden versus Clinton show will provide tons of fun as they jockey toward formal announcements. But wouldn't it be a hoot if they run?
Biden associates say he is likely to take a shot unless Obama's second term fails, particularly if the economy tanks. Having covered the Clintons since the mid '80s, I believe the secretary of State when she says she is tired and uncertain about her political prospects. Hers is a grueling job.
But I also believe in the old adage that the only cure for the presidential bug is embalming fluid. If she is healthy, she will run. We can only hope.
Correction: An earlier version of this post misattributed the "Jolting Joe?" quote that appeared in Trippi's Twitter feed and was retweeted by Trippi.