Will Tax Debate Prompt GOP to Drop Role as Protector of Rich?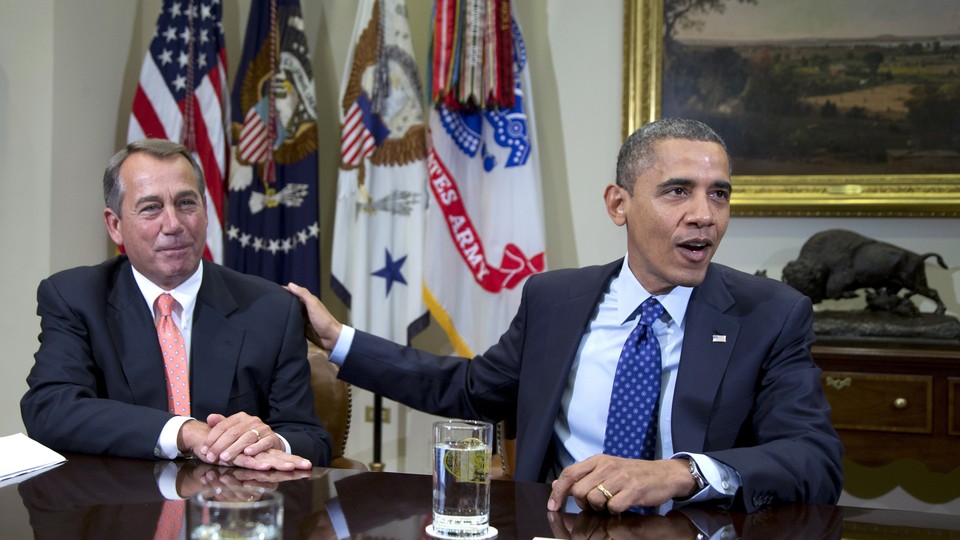 If Capitol Hill Republicans relent in their staunch opposition to raising taxes on the wealthy — as Sen. Tom Coburn of Oklahoma and others have suggested they should — some in the GOP will surely breathe a quiet sigh of relief.
The debate has once again put the GOP in the difficult position of defending the richest Americans, who, as a simple question of math, make up only a sliver of the nation's voting public. Amid talk of cutting popular entitlement programs like Medicare and Social Security, the risk is that Republicans will come off as callous to the needs and concerns of the middle class.
Some Republicans, including those close to House Speaker John Boehner, still feel confident it's a fight the GOP can win. But for a party desperate to regain popularity after November's setbacks, this first postelection stand is hazardous.
"Fighting to the death to protect a small segment of population, at the moment, is politically questionable," Tom Rath, a longtime Republican operative and senior adviser to Mitt Romney's campaign, told National Journal.
Giving in, in fact, could be part of a longer-term recalibration as the party seeks to reconnect with middle-class voters by taking fewer stances that seem to exclusively benefit the wealthy. It's an effort the party must consider, members of its political class say, after the disappointment of this year's returns.
"The old arguments aren't working anymore," said Steve Lombardo, a GOP strategist. "Or they're working with such a small segment with the public that they're no longer relevant."
The GOP has already lost this fight, politically at least. Romney not only sought to maintain current tax rates for the rich, he wanted to lower them (while keeping the overall tax burden on wealthy Americans the same). It was a marquee disagreement between him and President Obama, and it's not one that helped Romney or his party.
A Quinnipiac Poll released on Thursday found that nearly two-thirds of Americans support Obama's drive to raise taxes on household income over $250,000 to help reduce the deficit. The new poll mirrors preelection polling that showed Obama with a consistent edge on tax issues, unusual for a Democrat. He also bested Romney when voters were asked which candidate cared more about people. According to exit polls, on this question the president led 81 percent to 18 percent — even as Romney led on questions like which had a better vision for the country or is a stronger leader.
Among those who make less than $50,000, Romney received only 38 percent of the vote, exit polls found. That was the same percentage John McCain earned in 2008, despite the fact McCain did worse overall. And in 2004, President Bush won 44 percent of the middle- and lower-class vote, signs of a marked decline for GOP candidates in their appeal to these groups.
Romney's own gaffes and the Obama campaign's relentless attacks on him certainly contributed to the GOP nominee's downfall. But Romney still consistently outperformed his Senate candidate counterparts, like Republican George Allen in Virginia, indicating that the party's struggles did not rest solely with its standard-bearer. "It's a tough fight when you want to defend the 2 percent, or the 1 percent," said Jefrey Pollock, a strategist for Priorities USA Action, the Obama-allied super PAC. "This is where the policy adds to the caricature of a Republican Party that is fundamentally out of step with middle-class values."
The problems inherent in the GOP's tax-rate stance are exacerbated against the backdrop of fiscal-cliff negotiations. Voters are eager for an agreement, and Republican obstructionism over an unpopular policy isn't going over well. "They have a huge perception problem," said Lanae Erickson, director of social and political policy at the left-of-center Third Way. "Having this as the first fight only reinforces that."
That's what conservatives like Bill Kristol fear. "Surely Republican members of Congress understand there's something crazy about appearing to fight to the death for a tax code in which Mitt Romney and others pay a 14 percent tax on millions of capital income"‹ — "‹while silently allowing the payroll tax on labor to go up from 13.3 percent to 15.3 percent for all the working stiffs?" he asked recently.
Republicans accuse Democrats of failing to give ground on issues that are important to them, i.e., entitlement spending. But, politically, raising taxes on the wealthy and cutting entitlement spending aren't equivalent: A United Technologies/National Journal Congressional Connection Poll found that nearly 80 percent of adults don't want any changes to Medicare or Social Security as part of a deal, while a plurality wanted higher-income earners to both pay a larger rate and see their tax deductions scaled back.
Some Republicans see an escape hatch in Boehner's offer to raise tax revenue $800 million by closing loopholes and deductions in the tax code. GOP pollster David Winston says voters would rather raise tax revenues that way than by raising rates. But Obama so far is standing firm on the need to raise rates on the most affluent Americans, leaving Republicans with a difficult choice to make.
"The Democrats have done a very good job as painting this in the language that they need to win the debate," said Lombardo, the GOP pollster. "I don't see a way for Republicans to stop the marginal rates from going up and at the same time retaining some political legitimacy with the middle section of the electorate."
If they cave, on the other hand, Republicans could face fallout from their base, not to mention loss of their reason for being. As Frank Donatelli, a longtime GOP hand, put it, not raising tax rates is "something close to religion" for the GOP. "I just think the credibility of the party is at issue here," he said. "There would be tremendous dissatisfaction in the Republican base, among Republican-leaning independents."