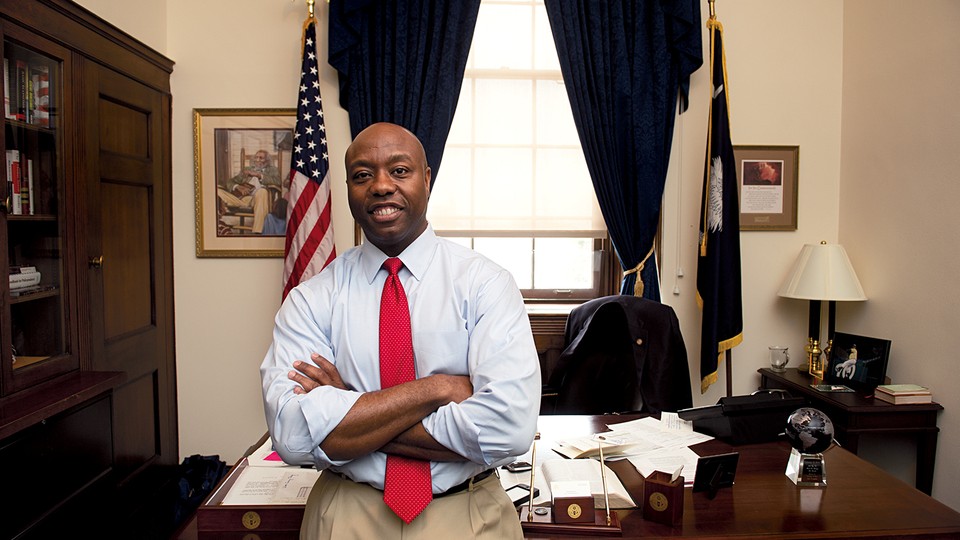 South Carolina Gov. Nikki Haley is expected to name Republican Rep. Tim Scott to fill Jim DeMint's Senate seat following DeMint's resignation for a top position with the Heritage Foundation. Scott will be the first black senator from the South since the 19th century. Read his profile, written by the Almanac of American Politics staff, below.
Rep. Tim Scott was elected to the House in 2010 to succeed the retiring GOP Rep. Henry Brown. Scott is one of two African-American Republicans in Congress and is a freshman-class representative to the GOP leadership. He earlier made history as the first black Republican elected to the South Carolina Legislature since Reconstruction.
Scott and his siblings were raised by a single mother who worked 16-hour days as a nurse's assistant. Scott got his first job at age 13. He was on the verge of flunking out of high school when he met the man who he says changed his life — John Moniz, the owner of the fast-food restaurant next to the movie theater where Scott worked, and where he would regularly buy french fries, the only food he could afford. Moniz, who considered himself a born-again Christian, became a father figure for Scott, teaching him the value of personal discipline and hard work, according to newspaper accounts of Scott's life. Scott finished high school and went on to earn a partial football scholarship to Presbyterian College. He eventually transferred to Charleston Southern University, where he earned a bachelor's degree in political science.
Scott ran an insurance company and owned part of a real-estate agency. His first elected office was a seat on the Charleston County Council in 1995. Just after his election, he received a handwritten note of congratulations from then-Sen. Strom Thurmond, R-S.C., who had run for president on a pro-segregation platform in 1948. Thurmond's past didn't stop Scott from accepting the job as statewide co-chairman of the now-deceased Thurmond's final senatorial campaign in 1996. Asked how an African-American could help Thurmond, Scott told The New York Times, "The Strom Thurmond I knew had nothing to do with that," and noted that Thurmond's views on race had evolved. Scott also said that Thurmond taught him the value of constituent service.
In the GOP primary, Scott faced opposition from candidates with better name recognition, including Carroll Campbell III, son of former South Carolina Gov. Carroll Campbell Jr.; and Paul Thurmond, the former senator's son. But Scott got help from national Republican organizations. He came in first in the primary and Thurmond took second, but neither got the necessary 50% to avoid a runoff. There were few differences between the two, although Thurmond did not share Scott's willingness to abide by term limits and to swear off earmarked spending. Scott claimed that in his 15 years in elected office, he has never voted for a tax increase. His conservative credentials won him praise from prominent Republicans such as former Alaska Gov. Sarah Palin and former House Speaker Newt Gingrich of Georgia. In the runoff election, Scott defeated Thurmond, 68% to 32%. In the general election, he easily beat Democrat Ben Frasier, a retired federal worker, 65% to 29%. His race appeared to be a non-issue for the district's voters, about 70% of whom are white.
Scott opposes many of President Barack Obama's major initiatives that are backed by the liberal Congressional Black Caucus. Scott favors repeal of the health care overhaul and opposes a proposed Democratic bill to limit carbon emissions. He says he will abstain from earmarking funds for his district. Scott supports school choice and government-funded tuition vouchers, and he opposes same-sex marriage. Scott has said he will serve no more than four terms. He has a brother in the Air Force and one in the Army, and takes a strong interest in military issues.