Who Is Brian Schatz, the New U.S. Senator From Hawaii?
The Hawaii lieutenant governor has been appointed to replace long-serving Senator Daniel Inouye.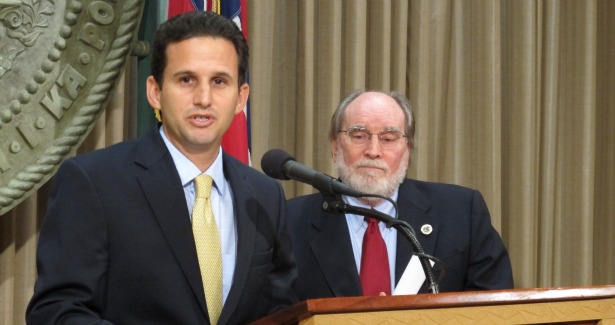 'Tis the season -- for new faces in the U.S. Senate. Just nine days after South Carolina Governor Nikki Haley appointed Rep. Tim Scott to a seat, her Hawaiian counterparty Neil Abercrombie announced on Wednesday that he is appointing Lieutenant Governor Brian Schatz to a seat vacated by the death of Senator Daniel Inouye on December 17. Schatz will serve until 2014, when Hawaiians will vote in a special election for the remainder of Inouye's term, which expires in 2017. So who is the newest U.S. senator? Here's what you need to know.
1. He Shares Some Weird Parallels With President Obama: Although he wasn't born in Hawaii like Obama was, Schatz grew up there. Like Obama, he attended the Punahou School, a prestigious Honolulu high school, before heading to the Los Angeles area for college (Schatz went to Pomona, Obama to Occidental). While he was there, he studied abroad in Kenya, from which Obama's father had traveled to Hawaii. And after graduation, Schatz worked as a community organizer, leading a beach-preservation group. Now, he has one more similarity with the president: Both entered the Senate at a young age: Schatz at 40, Obama at 44.
2. He's Not Who Daniel Inouye Wanted for the Seat: In Hawaii, replacement senators are chosen by the governor from a list of three candidates submitted by the party of the departed senator. In a theatrical turn, a dying Inouye made it known that he wanted Abercrombie to appoint Colleen Hanabusa, who has represented Hawaii's first congressional district in Washington since 2011. Hanabusa was on the shortlist that Hawaii Democrats sent to Abercrombie, along with Schatz and former congressional candidate Esther Kiaaina, but Schatz won out. Inouye's chief of staff said yesterday, "Sen. Inouye conveyed his final wish to Gov. Abercrombie. While we are very disappointed that it was not honored, it was the governor's decision to make. We wish Brian Schatz the best of luck." For his part, Schatz struck a note of humility: "No one can fill Sen. Dan K. Inouye's shoes. But together, all of us can walk in his footsteps."
3. He's Plugged Into Hawaii Democratic Circles: Schatz is now the youngest U.S. senator, but he has a long history in state politics. He served four terms in the Hawaii House of Representatives, from 1998 to 2006. He lost a U.S. House primary in 2006 to Mazie Hirono and Hanabusa. Hirono went on to serve in the House and then win election to the U.S. Senate in November, replacing retiring Senator Daniel Akaka. In 2008, Schatz was state spokesman for Obama's presidential campaign and then became chair of the state party. In 2010, he was elected lieutenant governor.
4. He's an Unknown Quantity on the National Scene: Since Schatz has never served in national office, and since lieutenant governors seldom lead on policy, he doesn't have a long track record to judge what sort of senator he will be. But he seems to be a consistent liberal in a reliably Democratic state. He supported a 2009 bill to legalize civil unions that was vetoed by then-Gov. Linda Lingle. In keeping with his work in saving beaches, he's also emphasized environmental concerns and served on energy- and environment-related committees in the Hawaii House.
5. He's Going to Have to Hit the Ground Running: Senate Majority Leader Harry Reid asked Abercrombie to move quickly to replace Inouye, because he didn't want Democrats to have an empty seat during crucial negotiations over the fiscal cliff. Schatz flew in to D.C. overnight, arriving midday Thursday, and will likely be sworn in today. Then he'll have to get up to speed quickly on Senate business. Thanks to his early swearing-in, he'll also leapfrog Hirono in Senate seniority, becoming Hawaii's senior senator. (Hirono was reportedly not pleased about this.) That's quite a chair to fill: Inouye had been the senior senator since 1977, when Schatz was four.
6. He May Have to Fight to Keep His Seat: Schatz says he intends to run for reelection in the 2014 special election. But he may face stiff competition -- brutal primaries are a hallmark of Democratic politics in deep-blue Hawaii. Hanabusa might still be interested in carrying out Inouye's wishes. "I fully respect the process and the governor's right to appoint a successor," she said Wednesday. "As a member of Hawaii's congressional delegation, I will continue to work to serve the people of our state, and support our delegation's efforts." Ed Case, a rogue Democrat and former U.S. representative who won Inouye's ire for challenging Akaka in a 2006 primary, might get in, too. Tulsi Gabbard, who was elected a U.S. representative in November, threw her hat in the ring for the Inouye seat and might do so again. Hawaiian senators have tended to serve for many years, but it won't be easy for Schatz to achieve the tenure that Akaka and Inouye enjoyed.