Washington Roundup, Part 2: Arguments for and Against Chuck Hagel's Nomination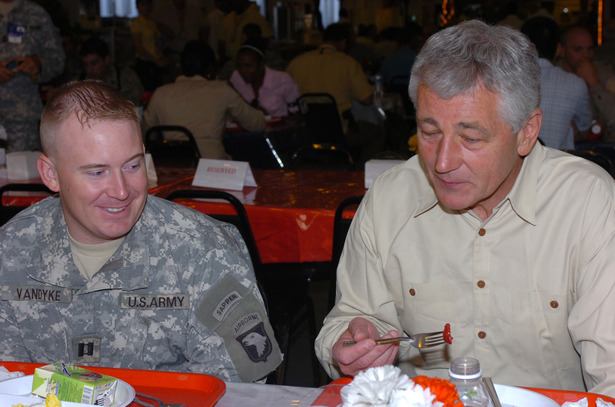 Reuters
As part of the roundup of perspectives on Senator Chuck Hagel's potential nomination as Secretary of Defense, I have received the responses noted below. Here at The Atlantic is an earlier installment of views that included David Frum, Bing West, Ari Melber, Robert Dreyfuss, Hattie Babbitt, Ambassador James Hormel, Adam Garfinkle, and Leslie Gelb.
This installment includes questions I posed to Foreign Policy CEO David Rothkopf, Bipartisan Policy Center Senior Fellow Dan Glickman, Century Foundation Senior Fellow Jeffrey Laurenti, Harvard Kennedy School International Affairs Professor Stephen Walt, Cato Institute EVP David Boaz, former National Intelligence Council Chairman and former State Department Intel boss Thomas Fingar, and former National Intelligence Officer for the Near East & South Asia and Georgetown University Visiting Professor Paul Pillar. Their responses follow beneath each question.

Clemons:  Can you share your thoughts on the strengths and/or weaknesses that Senator Chuck Hagel might bring to the position of Secretary of Defense?
Clemons:  Senator Hagel has been challenged as being an enemy of Israel - and for making homophobic remarks 14 years ago about the then nomination of US Ambassador to Luxembourg James Hormel.  Others argue that Hagel has been supportive of Israel's interests but in a way that doesn't make a false choice between Israel and Arab states and doesn't compromise core US national security interests.  Do you think his views on US-Israel relations are disturbing, unconstructive and disqualifying?  Do you believe that Hagel is an enemy of Israel?  Or do you find his views, if you are familiar with them, constructive and realistic takes on US-Middle East policy?



Clemons:  Hagel has also apologized to Ambassador James Hormel for his past remarks and has indicated support for 'open service' in the military and protection and support of LGBT families.  Do you believe that given the repeal of Don't Ask Don't Tell and the rise of LGBT issues in American society and culture that Hagel's remarks 14 years ago are disqualifying?  Given that he is likely to be asked about this issue in a Senate confirmation hearing and will be able to make clear his views, does he need to do more now to alleviate concerns about his views toward the LGBT community?
Clemons:  Any other thoughts, views, concerns, or insights you would like to share?