Tim Scott! 3 Takeaways From the Announcement of South Carolina's Newest Senator
The GOP does a delicate dance on race, the state's delegation closes ranks around Lindsey Graham, and Jim DeMint tries to consolidate a legacy.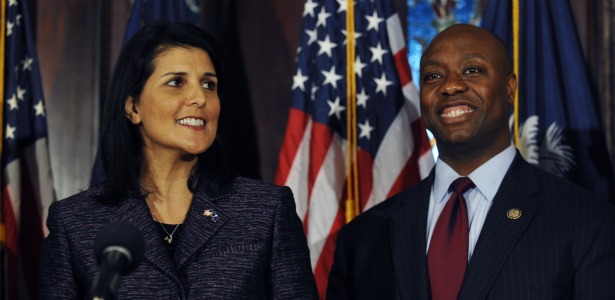 Rainier Ehrhardt/Associated Press
The Palmetto State has a new senator. At noon on Monday, South Carolina Governor Nikki Haley announced that she will appoint Tim Scott, a representative from Charleston, to the U.S. Senate seat being vacated by Jim DeMint, who will become president of the Heritage Foundation. The appointment isn't a huge surprise: Various outlets, including this one, named Scott as a leading contender almost immediately upon DeMint's announcement, and the senator made it known that he favored Scott as his replacement. DeMint is expected to formally resign January 3. Scott will then serve until 2014, when he'll have to run in a special election to serve the remainder of DeMint's term; and then, assuming he wins, again in 2016 for a full, six-year term.
Though the decision was expected, the press conference in Columbia, S.C., tells us a lot about the GOP, South Carolina, and the future of the Senate. Here are the three biggest takeaways.
1. An Uncomfortable Dance on Race: Tim Scott is making history several times over: He will be the first southern black senator from the GOP since Reconstruction; the first black Republican senator since Edward Brooke of Massachusetts lost in 1978; and the only currently serving black senator. (Your shocking fact for the day: Brooke remains the only black senator to ever be reelected.) Scott's departure from the House of Representatives means that body will have no black Republican members. But Scott has long resisted being defined by his race, even as he's notched milestones, and his party remains implacably opposed to affirmative action. He works hard to speak in terms that would have come just as easily to senators like Strom Thurmond and Fritz Hollings. "I'm just a country boy trying to take care of the country," he told me in 2011.
So today, Haley, Scott, and members of the South Carolina congressional delegation did a delicate dance. While Haley celebrated the fact that Scott's appointment made Monday a "historic day in South Carolina," she took great pains to add, "It is very important to me as a minority female, that Congressman Scott earned this seat. He earned this seat for the results he has shown." The GOP understandably wants to celebrate its diversity -- a black senator being appointed by an Indian-American female governor, no less -- but wants to avoid the appearance that Scott's appointment carries any whiff of affirmative action.
2. Lots of Love for Lindsey Graham: One of the quirks of the DeMint resignation is it means there will be two separate U.S. Senate elections in South Carolina in 2014, something that's only happened 49 times before in the nation's history. Conventional wisdom says this is good for Lindsey Graham (no relation to the author), who has been criticized for willingness to work across the aisle, because it means he may not face the strongest challenger. At the Columbia press conference, there was lots of love for the state's senior senator. He stood at Haley's right, with Scott on the left. Scott, after praising the man he will replace, had many kind words for Graham, saying he looked forward to serving alongside him and learning about foreign affairs from him. Next up was DeMint, who is well to Graham's right and has clashed with him repeatedly over the years. "Senator Graham has been a good partner to me," DeMint enthused. "We've worked real well together and he's a great senator. He's done a great job on so many different issues. I've been proud to serve with him and I'll be proud to work with him from my perch at the Heritage Foundation."
Then it was Graham's turn to speak, and he did so for longer than Haley, DeMint, or Scott. He praised DeMint. He celebrated Scott. He told Haley admiringly, "You put up with more crap than anybody I know in politics." Then he turned to fawn over the rest of the South Carolina delegation -- including Reps. Joe Wilson, Mick Mulvaney ("you're going to be the next Paul Ryan"), and Trey Gowdy. He also spoke warmly of Rep. Jeff Duncan, the only member of the GOP delegation not present. (Duncan's spokesman said his boss was already in D.C., without time to make it home, when he learned of the press conference.) Maybe the lovey-dovey atmosphere won't last, but getting this kind of vocal backing from DeMint and Haley suggests a closing of ranks around Graham. As for the congressmen, Mulvaney and Duncan have both expressed interest in higher office, so it makes sense that he'd try to charm them now.
3. Jim DeMint Wrestles With His Legacy. DeMint leaves the Senate with his legacy up in the air. On the one hand, his legislative achievements are thin at best. On the other, he has helped to cultivate a new crop of conservatives in Washington, and he can boast a major role in getting senators like Marco Rubio, Mike Lee, and now Scott into office. DeMint, with a chuckle, acknowledge that the praise he got at home was a bit different from much of the establishment's reaction: "Governor, when you say there will never be anyone like me in the Senate again, most of Washington says, thank goodness!" But a moment later, he pointed to the strange situation created by his abrupt departure with an unfinished term and, it seems, an unfinished mission. "The reason I'm leaving the Senate is I believe the idea of taking the [conservative] case to the American people is something I can do much more effectively from the Heritage Foundation knowing that my seat is going to be filled by someone who's going to continue to take the stands we need to in the Senate," DeMint said.
But even at the press conference, there was evidence on the differences between Scott and DeMint. Pressed on why his rating from the American Conservative Union was lower than DeMint's, the incoming senator assured the audience that "philosophically, we're on the same page," but noted that reauthorization of the Export-Import Bank was one area on which they parted ways. Haley, in reciting Scott's accomplishments during his two years in the House, extolled his work to get federal funds to deepen Charleston Harbor, another issue on which he and DeMint diverged, the latter viewing it as pork-barrel spending. DeMint's legacy will depend not only on his work at the Heritage Foundation, but also on what kind of senator Scott turns out to be -- and whether he's able to hold on to the seat in 2014 and 2016.