A hard-fought presidential election, sea changes on gay rights and marijuana, and intractable disputes over the budget are standout stories in a busy year.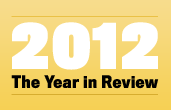 Atlantic
writers survey the biggest stories and ideas on their beats.
See full coverage
2012. What a year.
We name political cycles by the year the voting happens, but in reality they are two-year affairs. 2012 kicked off with a continuation of the battle started in 2011 for the Republican presidential nomination. It took Mitt Romney longer than he hoped to put it away, but in the end the veteran of the 2008 cycle vanquished Rick Santorum and Newt Gingrich with the help of outside groups and negative ads. Those proved less effective in the general election, where demographic changes and on the ground organizing triumphed over a bad economy and a well-funded challenger to reelect President Obama.
But not all the stories of the year were decided by the evening of November 6. While gay marriage and marijuana decriminalization triumphed at the polls, the movements that changed society enough to achieve these legislative victories have been hard at work for years. Here's a look back at the stories we turned to again and again.
We want to hear what you think about this article. Submit a letter to the editor or write to letters@theatlantic.com.
Molly Ball
is
Time
magazine's national political correspondent and a former staff writer at
The Atlantic
.