The Most Paranoid, Fear-Mongering Lines in Wayne LaPierre's Call to Expand the Gun Market to Schools
The CEO of the gun industry lobbying group's call for the placement of armed guards in schools followed a well-worn sales script.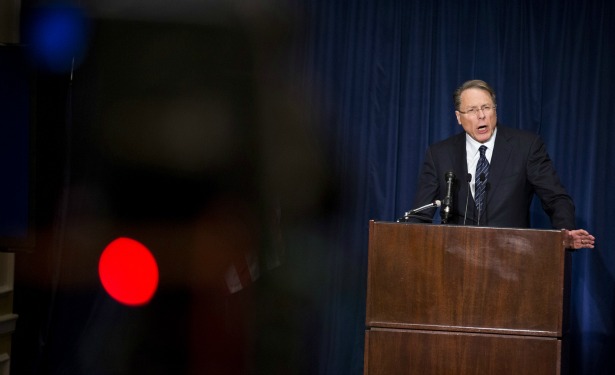 Anyone expecting the NRA to be chastened at all by the shooting in Newtown, Conn., was quickly disabused of that expectation as Wayne LaPierre, CEO of the gun industry and enthusiast lobbying group, delivered a blistering speech effectively arguing today for a major expansion of the market for the product his group represents.
It was an extraordinarily tone deaf performance, but it followed a well-worn script for product sales: Provoke anxiety -- and pitch your product as the one and only solution to it. Here's what it all boiled down to:
THE SET-UP
....schools are their safest place to inflict maximum mayhem with minimum risk....when it comes to the most beloved, innocent and vulnerable members of the American family -- our children -- we as a society leave them utterly defenseless, and the monsters and predators of this world know it and exploit it. The truth is that our society is populated by an unknown number of genuine monsters -- people so deranged, so evil, so possessed by voices and driven by demons that no sane person can possibly ever comprehend them. ...does anybody really believe that the next Adam Lanza isn't planning his attack on a school he's already identified at this very moment? How many more copycats are waiting in the wings for their moment of fame -- from a national media machine that rewards them with the wall-to-wall attention and sense of identity that they crave -- while provoking others to try to make their mark? A dozen more killers? A hundred? More? How can we possibly even guess how many, given our nation's refusal to create an active national database of the mentally ill? ...Killers, robbers, rapists and drug gang members...have spread like cancer in every community in this country....Add another hurricane, terrorist attack or some other natural or man-made disaster, and you've got a recipe for a national nightmare of violence and victimization. ...Isn't fantasizing about killing people as a way to get your kicks really the filthiest form of pornography? In a race to the bottom, media conglomerates compete with one another to shock, violate and offend every standard of civilized society by bringing an ever-more-toxic mix of reckless behavior and criminal cruelty into our homes -- every minute of every day of every month of every year. ...when you hear the glass breaking in your living room at 3 a.m. and call 911, you won't be able to pray hard enough for a gun in the hands of a good guy to get there fast enough to protect you.
And THE SELL
The only way to stop a monster from killing our kids is to be personally involved and invested in a plan of absolute protection. The only thing that stops a bad guy with a gun is a good guy with a gun. ...With all the foreign aid, with all the money in the federal budget, we can't afford to put a police officer in every school? Even if they did that, politicians have no business -- and no authority -- denying us the right, the ability, or the moral imperative to protect ourselves and our loved ones from harm. ...I call on Congress today to act immediately, to appropriate whatever is necessary to put armed police officers in every school -- and to do it now, to make sure that blanket of safety is in place when our children return to school in January. ...the National Rifle Association, as America's preeminent trainer of law enforcement and security personnel for the past 50 years, is ready, willing and uniquely qualified to help... act now.
The office of New York City Mayor Bloomberg, a leader of Mayors Against Illegal Guns, tweeted "Instead of solutions to a problem they have helped create, @NRA offered a paranoid, dystopian vision of a more dangerous and violent America."
But that was the whole point. Offer fear in a time of mourning -- and propose your product as the solution at a time when others say it's the problem. It's called advocacy, and it's why LaPierre gets paid nearly $1 million a year.