The Michigan Right-to-Work Battle: A Preview of Labor Battles to Come
The clash between Republican legislators and unions, two groups facing major demographic challenges, will be replayed across the nation.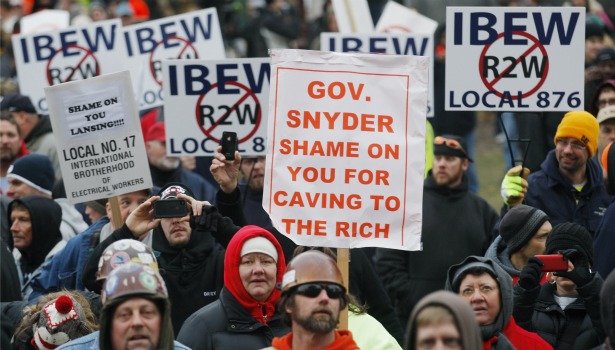 Reuters
Michigan is currently Ground Zero in the fight between labor and conservatives who believe its influence is hindering job growth. But the Wolverine State skirmish over right-to-work legislation is just a preview for one of many hotly contested 2014 gubernatorial battles that will determine what role unions will play in the economy for future generations.
Among Republican incumbents, Michigan's Rick Snyder, who held solid approval ratings before this latest fight, will be tested anew as Democrats mobilize and look for a credible recruit. Wisconsin's Scott Walker, having survived a contentious recall, is on the ballot again in 2014. Ohio's John Kasich, whose legislation reducing collective-bargaining rights for public employees was overturned by referendum, will be facing voters himself. New Jersey Gov. Chris Christie's pension reforms and frontal attack against teachers' unions will be the central line of criticism for whichever Democrat emerges to challenge him in 2013. And these are not just GOP issues: A popular Rhode Island Democrat and prospective gubernatorial candidate, state treasurer Gina Raimondo, engineered pension reform and is now tweaking independent Gov. Lincoln Chafee for undermining her efforts.
While all of Washington debates whether we'll fall over the fiscal cliff, the most consequential decisions over the economy's future are taking place in these gubernatorial contests. Many Republican governors in the industrial Rust Belt are aggressively challenging union power, and hoping to see the fruits of their own labor rewarded. For a Michigan governor to sign antilabor legislation and live to tell the tale would be truly historic, in the birthplace of America's labor movement.
It's part power play -- labor is a critical engine for Democratic political engagement in Michigan and other states -- but it's mostly rooted in the view that inflexible work rules and regulations curtail economic growth. Michigan Republicans point to neighboring Indiana, where the unemployment rate has dipped sharply under fiscally conservative measures implemented by Gov. Mitch Daniels, as an example. The reality is more complicated, but at a time when state budgets are awash in red ink, providing generous benefits to public employees is a luxury most can't afford.
Labor is confronting the same challenges as Republicans -- its core voters are aging and its mission for much of the 20th century doesn't match the necessities of a changing America. The new economy, filled with workers regularly switching jobs, isn't the same as a generation ago, when most employees stuck with the same firm for life and negotiated benefits accordingly. Labor badly needs a retooling, to focus as much toward building worker-education programs to train employees for service-sector jobs as on fighting laws designed to crack down on their political power, which has been declining without any external involvement. Historian Walter Russell Mead argues that we're undergoing a sea change in American life, the demise of what he calls the blue economic model: "The core institutions, ideas and expectations that shaped American life for the 60 years after the New Deal, don't work anymore. The gaps between the social system we inhabit and the one we now need are becoming so wide that we can no longer paper over them."
One glaring irony about the 2012 presidential election is that unions were able to provide a bulwark of support to President Obama in many battleground states, even as their numbers dwindled sharply. In Ohio, union households made up only 22 percent of the electorate, down 6 points since 2008. In Michigan, labor households made up just 28 percent of the electorate, a steep drop from 34 percent four years earlier. Even outside the Rust Belt in Nevada, the labor proportion of the vote dropped from 23 percent to 16 percent.
These upcoming gubernatorial races will be a test for how much influence labor can still muster. The fights over the past several years resulted in something of a draw. Labor reelected an ally in Obama and successfully rolled back Kasich's moves. They boast that Walker, Kasich, and Pennsylvania's GOP Gov. Tom Corbett aren't proposing any more crackdowns on union influence, taking a much more conciliatory tone. Obama sounds more eager to join the fight in Michigan than he did a year ago in Wisconsin. But unions lost a costly battle in Wisconsin, could suffer a significant setback in Michigan, and are seeing even Democratic officeholders sound more comfortable talking up reforms requiring union concessions.
Over the next two years, the AFL-CIO will be focusing its involvement on six states, all with high-profile gubernatorial races: Florida, Michigan, Nevada, Ohio, Pennsylvania, and Wisconsin. The stakes are high: If labor wins, there will be serious second-guessing over Republicans' aggressive agenda and the results could cost the GOP its base of working-class whites. But if Republicans emerge from 2014 with their governors largely intact, they'll enter 2016 with a rallying cry, unafraid to call for deep-seated economic reforms as a major element of the party's future platform.