The Hagel Watch: Former U.S. Ambassadors to Israel Weigh In
A fight over a not-yet-named candidate for defense secretary becomes a larger measure of the battles the administration will choose to fight.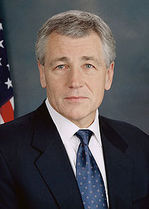 This could be an encouraging sign. A refresher:
As part of the pre-formal-nomination "mentioning" process, former Senator Chuck Hagel (right) a Republican from Nebraska, has emerged as a contender to succeed Leon Panetta as secretary of defense;
William Kristol and various neocon allies launched a preemptive disqualifying strike by saying that Hagel was not simply "anti-Israel" but actually had a "Jewish problem";
The Washington Post's lead editorialists weighed in with a complementary, extraordinarily strained, out-of-nowhere proclamation that Hagel would be "not the right choice" because he believed the Pentagon budget to be "bloated" (as of course it is), and because he is softer than Obama on Iran, etc. Andrew Sullivan went into the editorial here.
People who have seen this sort of cycle before know how it typically ends. The nominee becomes "damaged" or "toxic" or "too hot to handle" or merely "embattled" or "controversial." An administration that has to choose its battles, chooses not to get messed up in one like this. That's what appeared to happen with Susan Rice last month, and with a number of proposed Obama selections four years ago.
This time, the preemptive strike may possibly have gone too far and been too crude. The most promising recent development is a letter today from nine former ambassadors, who individually and collectively embody "respectable" U.S. government views (including five former U.S. ambassadors to Israel). They all speak on Hagel's behalf, and against the smear campaign to force Obama to drop him. The letter is at the
Foreign Policy
site, and you can see it there (if you want to deal with a new mandatory sign-in process that
FP
has instituted). Or you can read about it
in Politico
. It begins this way: "We support, most strongly and without qualification, President Obama's reported intention to nominate Senator Chuck Hagel to be the next secretary of defense." Here's
the final part
, with the list of names:
Each of us has had the opportunity to work with Senator Hagel at one time or another on the issues of the Middle East. He has invariably demonstrated strong support for Israel and for a two state solution and has been opposed to those who would undermine or threaten Israel's security.

We can think of few more qualified, more non-partisan, more courageous, or better equipped to head the department of defense at this critical moment in strengthening America's role in the world. If he is nominated, we urge the speedy confirmation of Senator Hagel's appointment.

Nicholas Burns, former Under Secretary of State for Political Affairs, Ambassador to NATO and Greece 

Ryan Crocker, former Ambassador to Iraq and Afghanistan

Edward Djerejian, former Ambassador to Israel and Syria 

William Harrop, former Ambassador to Israel 

Daniel Kurtzer, former Ambassador to Israel and Egypt

Sam Lewis, former Ambassador to Israel 

William H. Luers, former Ambassador to Venezuela and Czechoslovakia

Thomas R. Pickering, former Under Secretary of State for Political Affairs, Ambassador to Israel and Russia 

Frank G. Wisner, former Under Secretary of Defense for Policy, Ambassador to Egypt and India
To be clear: I have never met Chuck Hagel, I have only general rather than detailed familiarity with his career, and I am not saying that he is necessarily the only good choice for this job. He hasn't managed large-scale enterprises; David Ignatius argues that he is not a "defense intellectual" and explains what the ramifications of that fact are. On the other hand, these nine ambassadors say they do know him and his career in some detail, and that on that basis they think he is very well qualified for the job.
In either case, arguing on those terms is entirely different from saying that Hagel is taboo because he is "anti-Israel" or has a "Jewish problem." It will be good for American politics if the Obama administration can stand up against this kind of bullying, and bad for American politics if the president gives in.
Update
: Please be sure also to read Jeffrey Goldberg's
recent item
on the Hagel controversy (though I disagree with him about Steven Walt). Plus
this letter
in response to the egregious WaPo editorial from Jan Scruggs, of the Vietnam Veterans Memorial Committee. It ends, in response to the Post's allegation that Hagel is too dovish and gun-shy, "He knows well that war is terribly unpredictable and needs to be avoided. He has shown some fury at those who have never seen war but encouraged it during the past decade."  Plus
this very good response
to the grows-more-egregious-the-more-you-think-about-it WaPo declaration, by Michael Cohen in the Guardian.