The Democratic Party's Future Now Depends on Hillary Clinton
More than any other politician in America, her candidacy would change the contours of the next election.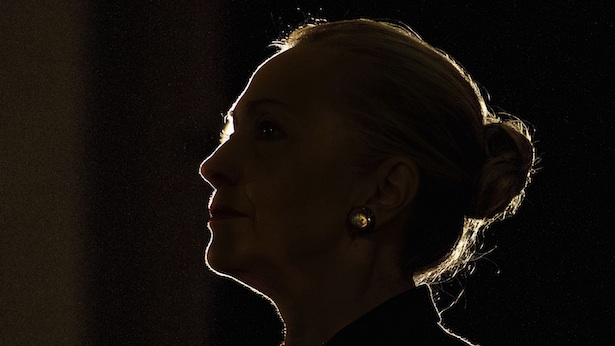 Reuters
Every Democrat with ambitions to succeed President Obama wants to know the answer to one question: Is Hillary Clinton going to run? If so, many will decide against doing so themselves. Who wants to square off against an opponent who'll have a better fundraising operation, a better resume, and a spouse who happens to be America's best surrogate? At the moment when the first black president is preparing to leave the White House, who will want to run against someone with a more than viable chance of becoming the first woman president?
"She seems like Democrats' best bet, perhaps by some margin, to extend their winning streak to three or more terms in the White House," Nate Silver notes. "If she ran even a point or two stronger than a 'generic' Democrat, the odds would shift meaningfully in her favor, holding other circumstances equal."
But say Clinton doesn't run. That changes everything, doesn't it? Any Democratic primary without her would be dubbed "wide open." Joe Biden may try to succeed his boss either way. But he is eminently beatable, as every aspiring alternative knows. He wouldn't scare anyone away.
I won't speculate about whether she'll run. We'll know in time. I'll just say that it matters now that we don't know, insofar as the uncertainty itself affects present behavior among certain Democrats.
I'd prefer it if Hillary Clinton stayed out of future races. My instinct is that she'd abuse executive power and civil liberties every bit as much as the man who appointed her to be secretary of state, especially now that he has acclimated the left to transgressing against transparency and the rule of law. What I can't deny to Democrats is the likelihood that her foreign policy experience would permit her to retain her party's edge on those issues, especially if she ran against someone as inexperienced as Marco Rubio, whose foreign-policy chops are hard to take seriously.
Grizzled feels more reassuring than boyish, does it not?
That isn't to say she'd be a lock in the general election. About the only prediction I'm willing to make about Election 2016 is that Hillary Clinton would be a strong candidate barring a scandal.
But "likeable enough" to win?
What I'll be most interested to see, if she does run, is how the conservative movement reacts to her candidacy. With relative sanity, insofar as they can't very well accuse her of being a Kenyan anti-colonialist? With a return to the anti-Clintonian fervor of the 1990s? I suspect the latter reaction wouldn't play well. Politicians who hang around long enough seem to become inured even to scandals in which they were actually caught red-handed. There isn't anything so clear cut in Clinton's past, and if many Americans are like me, the word "Whitewater" would send an involuntary shudder of dread coursing through the population, as if we were collectively told we'd have to re-watch the pre-trial motions from the O.J. Simpson trial while sequestered in a cheap hotel with nothing for diversion but Clinton-era back issues of The American Spectator.