The Case for Tim Scott Replacing Jim DeMint in the Senate
With the South Carolina stalwart leaving to head the Heritage Foundation, the GOP could have its first Southern black senator since Reconstruction.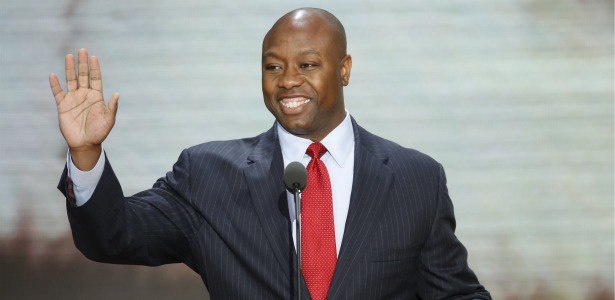 Mike Segar/Reuters
In seismic political news, Jim DeMint, the senator form South Carolina and leading light of the hard-right wing of the Republican Party, announced Thursday that he's leaving office in January to head the Heritage Foundation.
That means Governor Nikki Haley will need to appoint a successor to hold the seat until a special election can be held in 2014. Another election, for a full six-year term, will occur in 2016. For a small state, South Carolina has an impressive bench of possibilities, but there's one name that immediately sticks out: Rep. Tim Scott.
Scott, who represents Charleston, was elected to the House as part of the Republican wave of 2010. Strongly aligned with the Tea Party, Scott would not only be a strong conservative successor to DeMint, he would be the first black Republican senator from the South since Reconstruction, when two were elected from Mississippi, and the first black Republican senator since the 1970s, when Edward Brooke held one of the Massachusetts seats. For Scott to ascend to the Senate from the city where the Civil War started, during the sesquicentennial of the war no less, would constitute powerful symbolism for a party that has struggled to appeal to minorities and is looking at potential demographic oblivion at the national level. Although Scott has said he wants to be known as a conservative leader, not a black leader, it would be hard for him to not be seen as one should he be appointed to the post, as he would also be the only African-American in the U.S. Senate. Already, the influential conservative writer Erick Erickson is putting Scott's name forward, and The Hill reports DeMint favors him too.
An insurance agent and financial adviser by profession, Scott previously served on the Charleston City Council and in the state General Assembly. He's demonstrated his conservative bona fides in Washington as a prominent member of the group of Republicans who withstood fierce pressure from House GOP leaders to vote for a debt-ceiling increase in 2011. And Scott has cultivated a statewide profile through his close partnership with the three other Republican congressmen elected in 2010, all of whom joined him on the debt-ceiling vote. Those ties could give him a leg up to win election in 2014 and keep the seat for the remainder of what would have been DeMint's term.
Scott isn't the only possibility, though. Here are a few more:
Nikki Haley: The governor was pegged as a rising star when elected two years ago, and while her popularity has faltered since, she may retain national ambitions. She could try appointing herself to the seat -- although the track record of governors who do so is impressively dismal.
A Haley Challenger: Haley is expected to face a primary challenge in 2014, so she could try to make her life easier by appointing one of her rivals -- although appointing a bitter enemy to a lofty seat is not, of course, the most obvious move. In any case, two names on that list would be state Treasurer Curtis Loftis and state Senator Tom Davis.
A Caretaker: Governors also often appoint a party loyalist to fill out a term with the understanding that he or she won't run for the seat on a permanent basis -- such as when West Virginia Governor Joe Manchin appointed Carte Goodwin to replace Robert Byrd. One name already in the mix: Henry McMaster, a former state attorney general who lost to Haley in the 2010 gubernatorial primary.
Another Representative: If not Scott, Reps. Mick Mulvaney; Trey Gowdy, a fiery speaker who hails from DeMint's old district; Jeff Duncan, or Joe "You Lie!" Wilson could also be in line for an appointment.
Mark Sanford: Don't laugh! Let's muddy the waters a bit by throwing in this name from left field. The former governor, he of Appalachian Trail fame, who might have trouble winning an election these days but is a strong conservative and also served several terms in Washington in the House.
Meanwhile, if you want to know where corks are popping this morning, a strong bet is Senator Lindsey Graham's office. The senior senator's stated openness to tax-revenue increases and general willingness to reach across the aisle puts a big target on his back for his 2014 reelection campaign. With the special election for DeMint's seat falling at the same time, Graham will likely not have to face as strong a challenge from the right as he might have.