Just because it's an off year doesn't mean no one is running. Here are the top House, Senate and gubernatorial contests to pay attention to in the year ahead.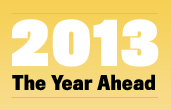 Atlantic writers preview the stories, trends, and ideas to watch.
See full coverage
You know the political personalities to pay attention to (we hear Marco Rubio might be important). The tweeters to read ("assume deer dead"). From immigration reform to deficit reduction, you know what issues will dominate the political calendar.
But with no big defining campaign contests, political junkies looking for a campaign drama fix will have to make do with an electoral landscape featuring just a handful of scattered special elections -- plus two major gubernatorial contests featuring highly entertaining political personalities, and two mayoral races to govern America's biggest cities.
From the Garden State to the City of Angels, here are the contests to watch in 2013.
We want to hear what you think about this article. Submit a letter to the editor or write to letters@theatlantic.com.
Molly Ball
is
Time
magazine's national political correspondent and a former staff writer at
The Atlantic
.