Susan Rice Learns What It's Really Like to Be Hillary
Sure, everyone loves Clinton now. But first she had to survive a decade and a half of right-wing attacks.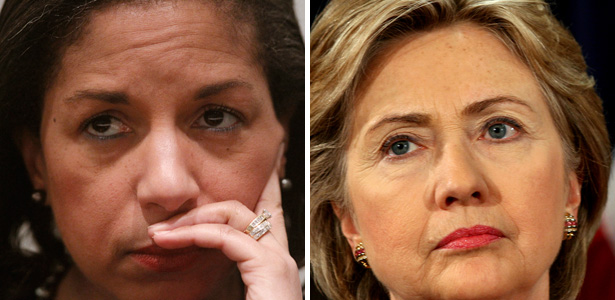 Reuters (Rice); Associated Press (Clinton)
U.S. Ambassador to the U.N. Susan Rice has withdrawn her name from consideration for nomination to be secretary of state. "If nominated, I am now convinced that the confirmation process would be lengthy, disruptive and costly," she said in a letter formally taking herself out of consideration.
And with that admission, the woman who would succeed Hillary Clinton as secretary of state has revealed she's gotten just a small taste of what it actually has been like to be Hillary Clinton over the years.
Rice, like Clinton before her, has been attacked relentlessly by the GOP for what she's said, for her temperament, and over her financial ties; she's been attacked by left and right alike for her foreign-policy views (the criticism of Rice's ties to African despots has been nothing compared to the intra-party criticism Clinton got for backing the authorization of military use force in Iraq, launching Bush's war there); and she's been denied an upsurge of support from her party just when she positioned herself or her ideas as most inevitable (from Hillarycare to the 2008 presidential contest, Clinton's never been so vulnerable as when she's been inevitable). Like Clinton, Rice also has been subjected to a steady stream of rough questioning in the MSM and excoriated on Fox. But unlike Clinton, Rice has experienced all of this only on a small scale and for a only few months.
Hillary Clinton went through 15 years of this stuff before becoming, under Obama, the woman everyone loves, a woman whom Chris Cillizza just dubbed "the new Teflon Clinton." It was only a few years ago she was "likable enough," according to Obama -- a woman whose "vocal range" revealed her to be "the stereotypical bitch," as Glenn Beck put it.
So Susan Rice once gave Richard Holbrooke the finger. She certainly wasn't the only person to jab a finger in his direction on account of his "outsize" personality, according to James Mann's The Obamians. Clinton was accused of murdering Vince Foster! Even now that's a charge even being repeated on right-wing blogs, thanks to a new book out at the end of November on the former Clinton lawyer.
"I am grateful that Susan will continue to serve as our Ambassador at the United Nations and a key member of my cabinet and national security team, carrying her work forward on all of these and other issues," Obama said in a statement accepting Rice's letter. "I have every confidence that Susan has limitless capability to serve our country now and in the years to come, and know that I will continue to rely on her as an advisor and friend. While I deeply regret the unfair and misleading attacks on Susan Rice in recent weeks, her decision demonstrates the strength of her character, and an admirable commitment to rise above the politics of the moment to put our national interests first."

The two will meet on Friday, a White House source confirms.

Rice may have been just been thwarted in her hoped for next move in the Democratic foreign policy world. But if there's any lesson in Clinton's career, keeping on keeping on has a way of taking a gal in some amazing directions no matter what people say -- and no matter who goes out of their way to block her. As Tina Fey so memorably noted all those years ago about the woman now hailed for her diplomatic finesse, "Bitch is the new black."