Starbucks Gets Into the Microlobbying Game
Handwritten messages on coffee cup sleeves in Washington, D.C., are urging residents to "Come Together" to address the fiscal cliff and national debt.
The first Twitter report came from Lyndsey Fifield, a social media and outreach manager at the D.C.-based CRAFT digital media firm, on December 15:
The barista, Fifield wrote me in a follow-up tweet, was "was shockingly well versed on #fiscalcliff and [Starbucks CEO] Howard Schultz."
Now the small-scale effort to urge Republicans and Democrats to "come together" to avoid the fiscal cliff is official company policy for the approximately 120 Washington, D.C.-area stores for the remainder of final workweek of the year. Schultz made the announcement on the Starbucks blog this morning:
Rather than be bystanders, we have an opportunity--and I believe a responsibility--to use our company's scale for good by sending a respectful and optimistic message to our elected officials to come together and reach common ground on this important issue. This week through December 28, partners in our Washington D.C. area stores are writing "Come Together" on customers' cups.

It's a small gesture, but the power of small gestures is what Starbucks is about! Imagine the power of our partners and hundreds of thousands of customers each sharing such a simple message, one cup at a time.

Never before have we asked our partners to write something specific on our customers' cups. These words express the optimism that's core to the holiday season, to our country's heritage, and to our Starbucks Mission. This effort is also being amplified by our friends at AOL and Patch who are joining us in activating their hyper-local network of websites to share the "Come Together" message.
"Schultz is part of the well-funded [Campaign to] Fix the Debt group, members of which have met with White House officials and House Republican leaders," National Journal reports. It's not clear what kind of impact the Sharpie-written messages might have, what with the House still being out of session for the remainder of the week and Obama only scheduled get back from Hawaii Thursday. But lack of immediate impact won't deter the force behind D.C.'s latest microlobbying campaign. "If (the talks) do not progress, we will make this much bigger," Schultz told Reuters about the hand-written messages.
He might need to take the effort national if he really wants to reach people during this holiday season: White House reporter Michael Memoli, traveling with the president in Hawaii, noted in a pool report this afternoon that he'd "stopped at Starbucks, where my coffee cup is free of fiscal cliff-related messaging."
Via Christina Bellantoni, here's what today's version of the campaign looks locally: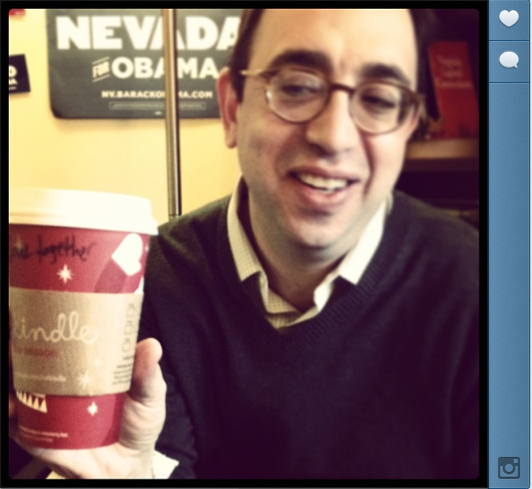 The Starbucks announcement got a fair bit of attention among the D.C. Twitterati this morning, as well, much of it lightly mocking. My favorite response so far comes from @HuffPoHill:
"You paid five dollars for this cup of coffee and you're supposed to fix our country's fiscal problems?"

— HuffPost Hill (@HuffPostHill) December 26, 2012