Rubio PAC Spends Big on Consultants, Not Candidates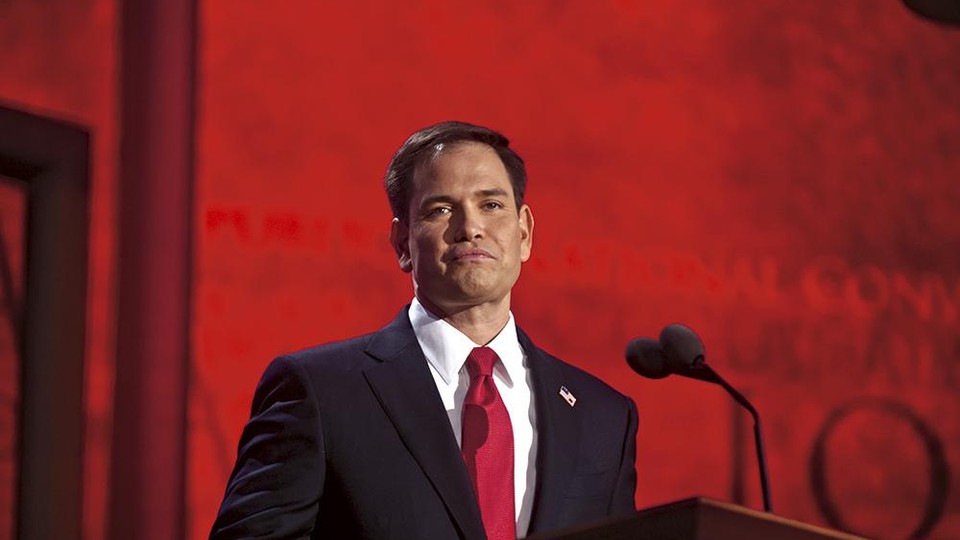 Like most ambitious members of Congress, Sen. Marco Rubio of Florida controls what's called a leadership PAC separate from his reelection campaign. Reclaim America's goal is "electing conservatives to the United States Senate," according to its website.
But of the more than $1.6 million the PAC spent between July 2011 and late November, only $75,484 went to candidates, Federal Election Commission records show. The biggest chunk, $478,060, went to consultants, including several who have advised Rubio for years.
Those figures mean the committee gave less than $1 to candidates out of every $20 it spent, a 4.6 percent rate and one of the lowest of the nearly 500 leadership PACs that spent money in the 2012 election, according to a National Journal analysis of total PAC spending through mid-October.
The average of all of the leadership PACs: a 46 percent give rate to candidates.
Rubio's give rate "tells me he is using it as a political slush fund, most interested in advancing his political ambitions, and maybe his strategists have determined that giving to other candidates is not the best way to do that," said Meredith McGehee, policy director at the Campaign Legal Center.
While campaign committees can't be used for personal purposes, there are few restrictions on leadership PACs. "You can pay for your country club fees out of a leadership PAC,'' said Bob Biersack, a senior fellow at the Center for Responsive Politics. "It's a game without rules."
According to National Journal's analysis, only five leadership PACs that gave money to candidates in the 2012 election donated less money to other candidates as a percentage of their overall spending than Rubio: failed 2012 presidential candidates Michele Bachmann and Jon Huntsman, ex-Rep. David Wu, D-Ore., outgoing Gov. Luis Fortuno of Puerto Rico, and Rep. John Conyers, D-Mich.
The members of Congress who gave roughly the same dollar amount to candidates as Rubio are virtual unknowns next to the Florida senator, one of the party's fastest rising stars and a possible 2016 White House contender. They include Reps. Candice Miller, R-Mich., John Campbell, R-Calif., and Phil Gingrey, R-Ga.
In contrast, other high-profile, potential Republican presidential candidates spent a higher share of their leadership PAC on donations to other candidates, including Rep. Paul Ryan, R-Wis., (26 percent), Sen. John Thune, R-S.D., (30 percent), and Sen. Rand Paul, R-Ky., (10 percent to candidates, plus hundreds of thousands of dollars on TV ads attacking Democrats).
Rubio's national PAC spending mirrors the pattern he set as a member of the Florida House with two political action committees that funneled much more money to consultants and travel than to candidates. His office did not respond to specific questions about why his current rate of contributions to other candidates is so low.
In a written statement on Thursday, Rubio spokesman Alex Conant said that the PAC helped the senator do more than 100 events for Republican candidates this year, including 60 events for presidential nominee Mitt Romney. "The majority of the events were fundraisers where Senator Rubio raised hundreds of thousands of dollars directly for the campaigns," Conant wrote in an e-mail. "Every penny the PAC spends is to further its mission of electing more conservatives." He said that Rubio was not available for an interview.
Traditionally, members of Congress use leadership PACs to curry favor with their colleagues as they seek plum committee assignments and leadership posts, or to groom like-minded candidate recruits as they expand their power base. But these PACs can also be helpful to candidates more interested in raising their national profile and bankrolling a political apparatus as they explore bids for higher office. PACs with those goals tend to give less money to candidates, and Rubio's spending rate suggests his PAC falls into that camp.
Several politicians who have gone on to run for president have given much more money to candidates than Rubio did over similar two-year periods.
Barack Obama's leadership PAC, for example, donated $770,968 to candidates in the first two years of his first term as an Illinois senator, about 21 percent of its spending. While Hillary Clinton served as a senator from New York, her leadership PAC gave $477,500 to candidates (19 percent of its spending) in the 2004 election, and 17 percent to candidates in the 2006 election. About 15 percent of Joe Biden's PAC spending for the 2006 election was donations to candidates.
All three of them started their presidential races with national profiles — including Biden, a senator for three decades and a fixture on Sunday talk shows.
In contrast, Rubio's PAC spending resembles that of past insurgent presidential candidates, including Bachmann, Huntsman, and Rick Santorum, whose America's Foundation donated only about 3 percent of its expenditures to candidates in the 2008 and 2010 elections. Mitt Romney's Commonwealth PAC gave 9 percent of its money to candidates in the 2006 election, before his first presidential bid.
Rubio endorsed five candidates in the 2012 election. His PAC directed $38,941 to Republican Josh Mandel, who lost to Democratic Sen. Sherrod Brown of Ohio. The second biggest recipient of Rubio PAC money was Republican Sen. Scott Brown of Massachusetts, who got $7,999. He also lost.
Rubio's PAC gave smaller donations to two winning candidates: incoming Sen. Deb Fischer of Nebraska and Sen. Dean Heller of Nevada. Rubio also directed $5,412 to Republican Richard Mourdock, who lost a Senate bid in Indiana. The PAC sent another $15,000 to the National Republican Senate Committee, which helps Republicans throughout the country.
Some big donors said they are fine with Rubio's spending. "I donated because I knew it was something that would enhance and assist the message of Marco Rubio, who I think is a bright star in our party," said Tallahassee lobbyist Brian Ballard, who gave $5,000. "If I want to give to other candidates, I can do that. I can write checks to them."
"I trust Marco Rubio, I believe in him,'' said Miami businesswoman and conservative activist Remedios Diaz, who also gave $5,000. "I think Marco is a rising star and he will use good judgment."
Rubio's biggest expense, totaling $478,060, was on strategic, communications, compliance, and fundraising consulting. Recipients included political strategists who helped him win election and have remained as political advisers, including Todd Harris, whose clients have included Sen. John McCain and former Gov. Jeb Bush; Heath Thompson, who worked on presidential campaigns for George W. Bush and Rudy Giuliani; and Albert Martinez, who helped run Mitt Romney's 2012 campaign in Florida. Thompson and Harris, along with Malorie Miller, another Jeb Bush veteran, are partners in Something Else Strategies.
Printing and postage accounted for $308,703, while direct mail cost $303,808. The PAC spent $101,362 on Web services, $65,199 on travel and $28,355 on polling.
Overall, only 22 leadership PACs spent more than $1 million through mid-October in the 2012 cycle; Rubio's PAC was the eighth-biggest spender of that group. But only one of those big PACs, the one controlled by Bachmann, gave less money to candidates than Rubio's. Nineteen of the 22 gave more than $100,000.
Conant said on Thursday that Rubio doesn't have any "specific plans" for the PAC "but we expect it will continue to be very active in the 2014 cycle since Republicans have so many opportunities to pick up seats."
Reclaim America and other leadership PACs were required to report the money they raised and spent in the last three weeks of the campaign to the FEC by midnight Thursday.
Rubio's spending on political activities outside his campaigns has drawn attention before. As a rising member of the Florida House, he stowed more than $600,000 in two political committees. Floridians for Conservative Leadership was set up to "support state and local candidates who espouse conservative government policies," according to IRS records. It raised about $228,000 but gave only $4,000 to candidates in 2003 and 2004, according to reports in The Miami Herald and The St. Petersburg Times. Most of the money was spent on political consultants and travel expenses.
Floridians for Conservative Leadership in Government raised more than $386,000. It helped fund Rubio's "100 Ideas'' initiative, a statewide tour to solicit public-policy ideas from the public, though about two-thirds of the money went to political consultants.
The newspapers also reported Rubio charged tens of thousands of dollars in personal expenses to a Republican Party of Florida credit card in 2007 and 2008. Rubio insisted he covered all his personal expenses in payments to American Express, though he did reimburse the state party for several plane tickets that were double-billed to the party and state taxpayers.
Rubio went on to run for the U.S. Senate in 2010, in which he forced then-Gov. Charlie Crist out of the GOP primary. On his PAC website, Rubio says he won despite being dismissed by the Washington establishment. "That's why Marco Rubio started Reclaim America PAC," the website says, "in the hopes of supporting candidates just like him all across the country that will go to Washington to make a real difference for America's future."
---
Jim Tankersley contributed. contributed to this article