Obama Will Officially Nominate John Kerry for State Department
Meanwhile, Massachusetts faces electoral ennui: The Bay State is on track to hold five U.S. Senate elections in six years.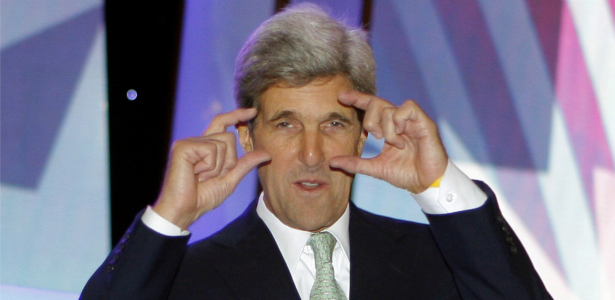 Reuters
John Kerry will finally get the nomination he craves. President Obama will nominate the Massachusetts senator to lead the State Department on Friday, replacing current Secretary Hillary Clinton.
The appointment had been widely rumored for weeks, and became all but certain after Susan Rice, the U.S. ambassador to the UN, withdrew her name from consideration under withering criticism of her early comments about the attack in Benghazi. And as of now, it looks like Kerry should have a relatively smooth path to confirmation: The Senate tends to look favorably on elevations of its own, Kerry is well-vetted and a known quantity, and several high-profile Republican senators praised him publicly in the wake of Rice taking her hat out of the ring. Kerry's nomination has been at least five years in the making -- ever since he was an early backer of Barack Obama's presidential bid in January 2008.
So perhaps the most interesting thing here is what happens in Massachusetts. Here's a quick rundown of recent and future elections there:
2004: With Kerry vying for the presidency and a Republican -- Governor Mitt Romney -- in the statehouse, the Democratic legislature passes a law saying that instead of the governor appointing a replacement for any departing senator, there must be a special election.
2008: Kerry runs for reelection.
August 2009: An ailing Senator Ted Kennedy says he's worried that if he has to step down, the delay for a special election may leave Massachusetts short one vote on the crucial heatlh-care reform bill. The legislature again changes the rules. Now the governor first appoints a short-term placeholder and then there's a special election. Kennedy dies shortly after making the request.
September 2009: Governor Deval Patrick appoints Paul Kirk, a former Kennedy aide, to fill his seat temporarily.
January 2010: In a surprising upset, Republican Scott Brown defeats Democrat Martha Coakley for a chance to fill the remainder of Kennedy's term, which expires in 2012.
November 2012: Elizabeth Warren, a Democrat, defeats Brown in a regular U.S. Senate election, winning a six-year term.
December 2012: Obama appoints Kerry to the State Department.
Early 2013: A special election must be held to fill the remainder of Kerry's term, which ends in 2014.
November 2014: Yet another election will be held for U.S. Senate.
As you can imagine, there's a certain degree of election ennui in the Bay State. And this special election probably won't help. Three Democratic members of the state's U.S. House delegation, at least one Kennedy (Ted Jr.), and actor Ben Affleck have been mentioned as possible candidates. The hands-down frontrunner on the Republican side is Brown, who might not end up spending much time out of the Senate after all. A recent poll from WBUR in Boston showed Brown with a healthy lead on pretty much any candidate.
In the meantime, the question to watch is who Patrick appoints to be a placeholder (Senator Barney Frank, anyone?). The date of the special election, which must occur between 45 and 160 days after the vacancy, depends on when Kerry is confirmed and resigns his seat.