Obama: 'Will Not Play That Game' on Debt Ceiling Again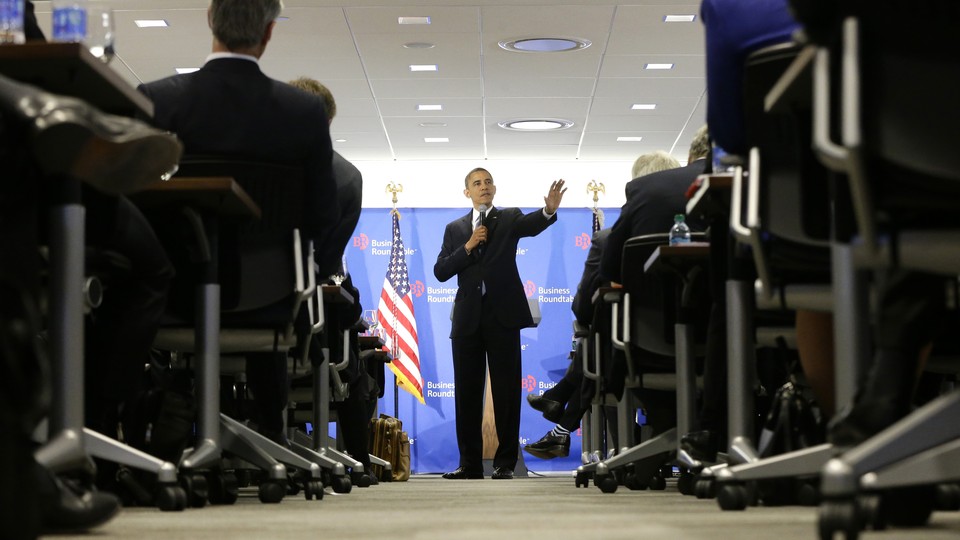 President Obama on Wednesday issued his strongest warning yet to Republicans that he will not let the nation's debt ceiling become part of the current negotiations over tax and deficit policy, declaring, "We will not play that game."
The president's warning came at the end of remarks to the Business Roundtable, an organization of CEOs. After making his now-familiar argument for higher tax rates for top earners, Obama said he wanted to "send a very clear message" in response to reports that Republicans hope to extract concessions from him by refusing to raise the debt limit next year.
The ceiling is currently $16.4 trillion, a number that will be hit by the end of this year. But the Treasury Department can use emergency measures to avert default until early in 2013 when congressional action would be needed.
Citing what he acknowledged were unconfirmed reports of Republican thinking, the president said "the thinking is the Republicans will have more leverage"¦ and they will try to extract more concessions with a stronger hand on the debt." But, he told the business leaders, "I have to just tell you. That is a bad strategy for America. That is a bad strategy for your businesses and it is not a game that I will play."
Calling the last debt battle in 2011 a "catastrophe" that led to the lowering of the nation's credit rating and stalled economic recovery, he said a repeat of that battle would cause great uncertainty around the world. "There is no uncertainty like the problem if the United States of America, the largest economy, the world's reserve currency, potentially defaults on its debts."
He added, "If the Congress in any way suggests they are going to tie negotiations to the debt ceiling and take us to the brink of default once again as part of a budget negotiation"¦ I will not play that game because we've got to break that habit before it starts."