Obama Faces Risks in Call to Action on Guns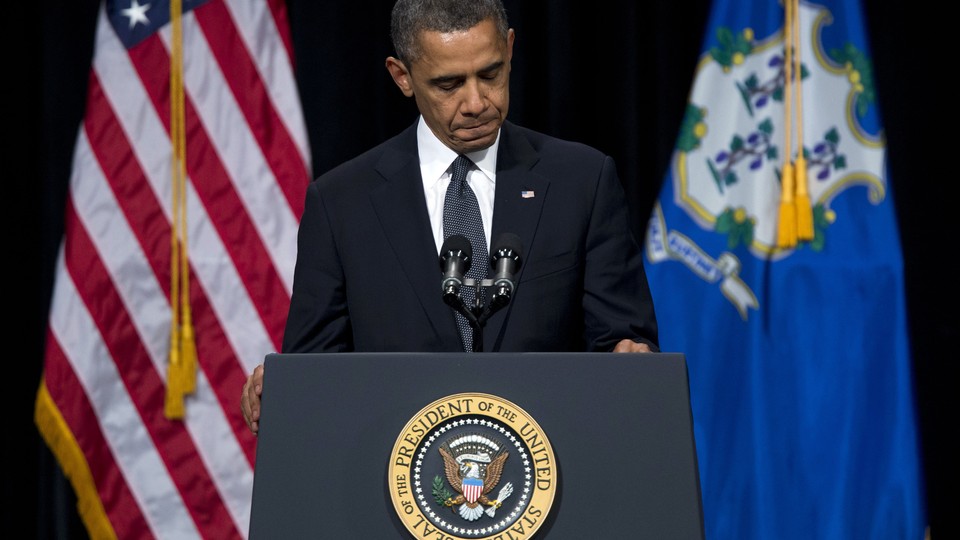 In forcing a national debate on guns, President Obama risks raising expectations he cannot meet and shifting the White House's focus away from issues that currently top the national agenda.
The public revulsion at this latest outburst of gun violence does not delay the looming deadline on the fiscal cliff or mitigate the need to create more jobs to keep the country from slipping back into recession. Nor does the overwhelming grief over the deaths of so many children shift the political dynamics of a House controlled by pro-gun Republicans or a Senate led by Democrats wary of provoking the powerful gun lobby.
All this, of course, is well known to the president, the man with a well-deserved reputation as "no-drama Obama." But this time, he seems willing to play a starring role in a legislative drama over guns. If he follows through, it will be the triumph of Obama the doting father over Obama the careful politician.
From the moment he learned of Friday's horrifying attack in Connecticut, the president has responded first as a father anguished over so many parents plunged into despair by the brutal deaths of their young children. It was, he told Connecticut Gov. Dannel Malloy, "the most difficult day of his presidency." The stoic Obama cried on Friday. And Sunday was even more emotionally wrenching when he spent time with the surviving families who wept, embraced, and shared stories about their lost children, sisters, and mothers.
So it was no surprise that in his remarks at the memorial service, the president abandoned the caution so evident in his speeches at prior massacres, declaring, "Surely, we can do better than this," and promising "to use whatever power this office holds" to try to prevent more violent episodes.
The remarks excited gun-control advocates who have been begging for White House action for four years, spurring even more calls for speedy action in Congress on a range of gun issues, from reinstating the assault-weapons ban to outlawing the type of large ammunition magazines that enable shooters like the one at Sandy Hook Elementary School to claim a maximum number of victims. Given the congressional realities, though, it is highly unlikely Obama could quickly deliver any such measure. So it should be no more surprising that the White House moved firmly on Monday to lower expectations and to throw water on the notion that anything will be done quickly.
In a briefing that lasted 49 minutes, press secretary Jay Carney repeated 16 times — or about three times a minute — that the president's timetable is "the coming weeks," not today and not this week. Eleven times, Carney stressed how "complex" the issue is and how complex the solution will be, and how the administration has no proposal ready to unveil. To a reporter who asked whether combating gun violence may crowd jobs or fiscal issues off the top of the president's agenda, Carney warned, "You're getting way ahead of yourself." He stressed that Obama can work on "a series of issues" at the same time, adding, "We all as a country need to have the bandwidth to move forward on all of them."
Pushed on the topic, Carney called gun violence "extremely important" but said, "I'm not going to rank priorities." Noting that the president had met earlier in the day with House Speaker John Boehner, R-Ohio, on fiscal-cliff issues, Carney said that Obama will keep working on those issues, on jobs, and on immigration reform. "We need to do all of it. And this president is committed to just that," he said.
Past presidents have found it difficult to succeed with an "everything at once" agenda. Choices had to be made; priorities set. Because the painful images of a gunman slaughtering first-graders remain so vivid, this White House knows that now is the best time to show leadership on gun violence. But that does not change a fiscal-cliff deadline looming only 13 days away. With no ready legislative vehicle handy and no consensus on what changes in the law could have prevented the Connecticut tragedy, Obama probably has no choice but to go slower than the antigun lobby would like. The belief in the White House — as the sorrowful run of funerals begins — is that this time memories will be longer and what is normally a political moment will last, as the president says, for the "coming weeks."
"I think that it's hard to imagine people in any near term somehow forgetting the rawness of what happened on Friday," Carney said. "It is hard to think about 20 6- and 7-year-olds and what happened to them on Friday and imagine that in a few weeks or a few months that pain would not still be incredibly intense and present."