Louie Gohmert Really Wants the U.S. to Keep Referring to People as 'Lunatics'
The wacky Texan cast the only vote against a bill stripping the outdated term from federal books.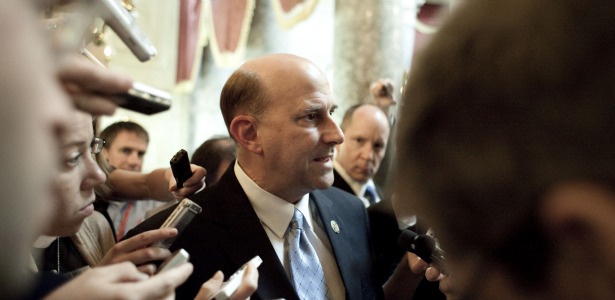 Harry Hamburg/Associated Press
No, seriously, there was a vote on whether the federal government should call people "lunatics" today. The rest of Congress has to do something to while away the time while their party leaders negotiate (or don't negotiate) with President Obama on the fiscal cliff. Here's a snip from the Associated Press story on the vote:
"The term 'lunatic' holds a place in antiquity and should no longer have a prominent place in our U.S. code," said Rep. Bobby Scott, D-Va., shortly before the 398-1 vote in the House. The word is derived from the Latin word from moon and ancient beliefs that people could become "moonstruck" by lunar movements.

The legislation cites one instance in banking regulation that refers to the authority of a bank to act as "committee of estates of lunatics" on guardianship issues.

The measure passed in the Senate in May, sponsored by Sens. Kent Conrad, D-N.D., and Mike Crapo, R-Idaho. "Federal law should reflect the 21st century understanding of mental illness and disease, and that the continued use of this pejorative term has no place in the U.S. code," Conrad said.
Yes, you read that right: It took six months to get this through both houses of Congress. What's more, the bill made it through the Senate despite the objections of one man: Texas Rep. Louie Gohmert. His office issued this statement explaining his stand as the lone "no" vote on the measure.
"Not only should we not eliminate the word 'lunatic' from federal law when the most pressing issue of the day is saving our country from bankruptcy, we should use the word to describe the people who want to continue with business as usual in Washington."
I asked Gohmert's office to clarify the statement as to whether his objection was to the removal of lunatic or just to the House focusing on issues like this rather than the fiscal cliff, but I've received no response.
You may remember Gohmert as the greatest exponent of the theory of "terror babies," the idea that Islamist groups like Hamas were sending women to the United States to have babies in the U.S. who would be citizens, allowing them to return later to perpetrate terror plots, an idea for which no evidence exists. A writer with a less discerning sense of humor might suggest the idea came from the lunatic fringe.
In any case, Obama is expected to sign the bill into law.