Liberals Still Wary About Obama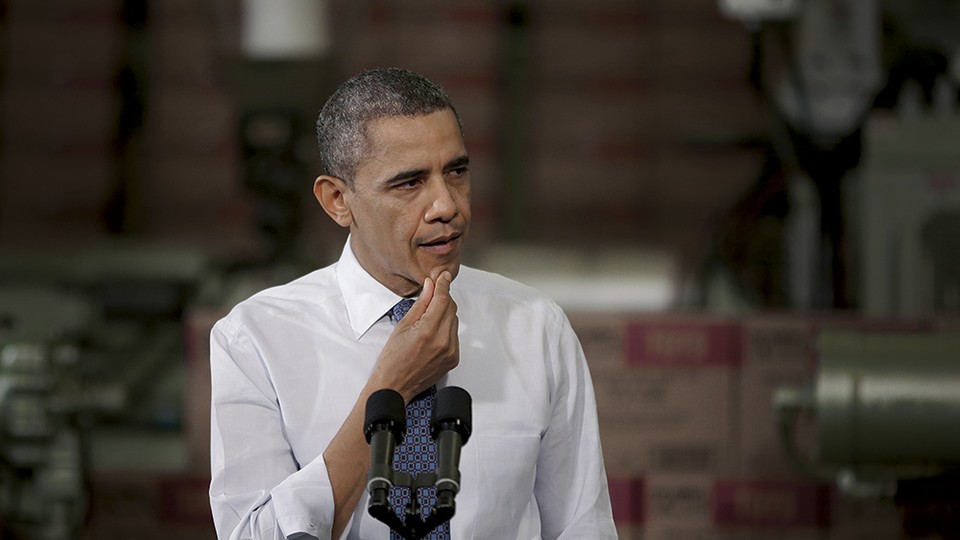 These are heady times for liberal activists. They provided the troops on the ground to help reelect a Democratic president; they secured victory for progressive candidates for the Senate; they are being courted by a White House that often fought with them earlier; and they are pleased with the way the fiscal-cliff talks are unfolding. While their counterparts on the right are fulminating over Republican defections from conservative orthodoxy on taxes, they are riding high.
But even at this triumphal moment, progressive leaders are wary, very wary. They know that compromise is inevitable as President Obama struggles to strike a deal with House Speaker John Boehner and congressional Republicans on extending the Bush tax cuts, implementing spending reductions, and raising the debt ceiling. And liberal activists are no different from conservative activists in that they really don't like compromise.
The resistance to any kind of a deal on entitlements is so strong that most of the activists would prefer that Obama let the country go over the cliff rather than make concessions. They believe that the benefits of higher taxes are greater than the pain of entitlement spending cuts — a view not entirely embraced by other groups trying to protect programs for students and the poor.
"There's a significant amount of wariness, no question," said Robert Borosage, codirector of the Campaign for America's Future and one of the most influential progressive leaders. "Given the president's position a summer ago with the Boehner negotiations, there is very good justification to be wary." Adam Green, cofounder of the Progressive Change Campaign Committee, sees the White House in sync with the party's liberal base "at the moment." But, he quickly added, "there is definitely a wariness."
Some of that comes from progressives' disappointment in Obama's first term. The president rejected a single-payer system for health care; did not push prosecutions of those Wall Street titans who were responsible for the financial collapse of 2008; was not aggressive enough on housing; let the Bush tax cuts be extended; and drove activists to distraction during his negotiations with Republicans on the debt ceiling. As former Obama adviser Van Jones said at this year's Netroots Nation conference, "We like this president, but we're not in love with him like we used to be. We went from having a crush to feeling crushed." In his speech, Jones added, "We have to have a president who's willing to be moved, and you have to have a movement that's willing to do the moving. And we have not had both at the same time."
But today, in the wake of Obama's comfortable reelection victory and under pressure from Republicans to surrender some of their most cherished priorities, the president and the progressive movement may come together. Certainly, the White House is making more of an effort to communicate with movement leaders. Before the drubbing it took in the 2010 elections, the White House had relationships with progressives that often consisted of Obama aides calling movement leaders and "screaming at anybody who disagreed with them," recalled one activist, who drily noted on background, "It was not effective." But today,  the same activist said, "the overall tenor has shifted.... It seems like they realize that the outside groups could be a useful partner."
Many of the leaders now find themselves invited to off-the-record Tuesday meetings at a Washington hotel with Jon Carson, director of the White House Office of Public Engagement and a man widely praised by the progressives for his work as their liaison to the White House. Additionally, several of the movement's top leaders — including the heads of major unions — were invited to an hour-long meeting with the president just days after the election. Justin Ruben, executive director of MoveOn.org, was at that meeting and said he was blunt in urging Obama to hang tough in the fiscal-cliff talks. "We always say what we think," he said. And his message to Obama was to ignore anyone who advises him to agree to any cuts in Social Security, Medicare, or Medicaid. "Trying to cut Social Security was the undoing of George Bush's second term," Ruben said. "It would be ironic if this president started out his second term by going after Medicare or Social Security."
That is the bottom line for all the progressive groups watching the talks, from the AFL-CIO to MoveOn to PCCC. "He said that he won't do an agreement that balances the budget on the backs of the middle class and the poor. That is a key test for our members," Ruben said. Ending tax breaks for the rich is essential, he added. "But any deal that accomplishes that with cuts to Medicare, Medicaid, or Social Security is a nonstarter for our members."
Borosage praises Obama for taking Social Security off the table during the current talks. But he and Green worry that the president has not also ruled out changes to Medicare or Medicaid. "The wariness comes from his loose language around the word "˜entitlements,' " Green said. "If he came out and said we will not cut benefits ... that would allow there to be 100 percent alignment. But, so far, he has not made that commitment, so that is why we are holding his feet to the fire."
And that is why PCCC and the other groups are stepping up their public pressure on Democrats. Amaya Tune of the AFL-CIO notes that just this week, the labor group had more than 114 events at House and Senate offices. "We will continue the drumbeat this week and keep going into the holidays as well," she said. At the same time, Green pledged to rally "tens of thousands" in the states to "hold any Democrat accountable who supports benefit cuts." That, he said, includes primary challenges to Democrats who stray.
All the progressive leaders know that the fiscal-cliff talks are just the start. They are in this for the long haul, and are looking ahead to next year when they fear that aides will push Obama to strike a "grand bargain" with Republicans as part of his legacy. "The battle is not going away," Tune warned. And neither are the liberals who fully understand that today's warm feelings can prove fleeting.