How a Community Demolished Its Way Out of a Crisis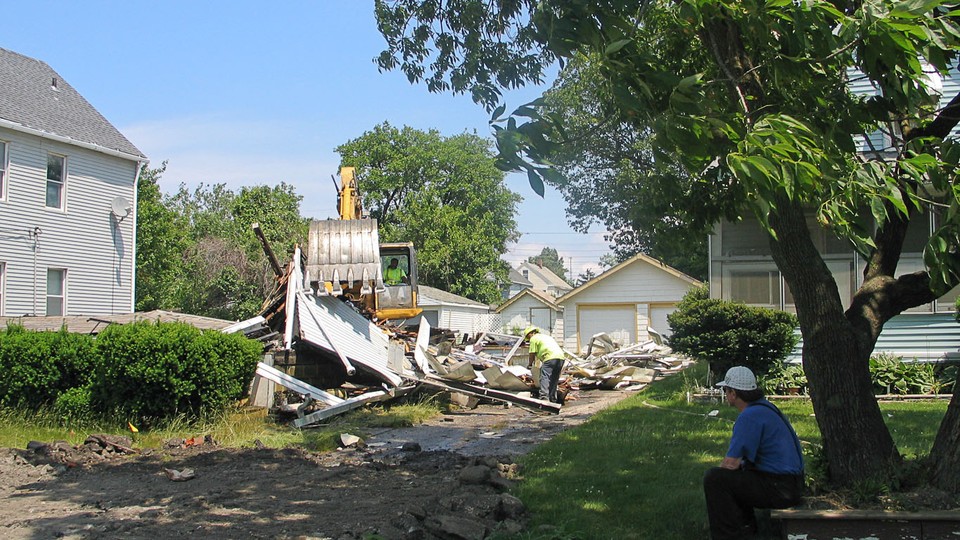 CLEVELAND - To outsiders, the Polish Constitution Day parade wending its way down Cleveland's East 65th Street did not seem anything special. Though it was spirited and the participants undeniably put a lot of work into the 130 units, it couldn't match the city's much larger St. Patrick's Day parade, whose 245 units drew half a million people downtown just a month earlier. Nor could it rival the nation's most famous Constitution Day event, the Chicago parade that would attract 250,000 to Grant Park six days later.
But to Anthony Brancatelli and the other residents of Slavic Village and its Warszawa Historic District, folks who have had to fight so hard in recent years to save their neighborhood, this parade was about as special as it gets. Almost no neighborhood in the country has been hit harder over the last decade than Slavic Village. In 2007, it drew international attention when it suffered more home foreclosures than any other place in the country. Abandoned houses suddenly blighted every street. Crime soared as gangs got emboldened. Churches were shuttered. And, yes, even the Constitution Day parade that had been so much a part of the community for so many decades was taken away from them, moved in 2010 by a skittish Ohio Polish American Congress intent on fleeing to a suburb they viewed as safer.
It was a low point in an already bleak time for one of Cleveland's oldest and proudest neighborhoods, one built a century ago by the Poles, Bohemians, and Slovenians who came to work in the city's gritty factories and steel mills and now lived in a multiracial mix of ethnicities.
But, in what has become a symbol of a feisty community's refusal to die, Slavic Village fought back and staged its own parade despite what was going on in the suburbs. "We didn't miss a beat," boasted lawyer and parade chairman Teddy Sliwinski, recalling an emergency meeting of Polish veteran and fraternal groups after the announcement of the move. "We got it back, back to where it belongs," said Polish-born Eugenia Stolarczyk, whose Polish-language radio show has her known here as "the golden voice of Polonia," and who was the grand marshal of this year's parade. In that role, she got a warm reception from the crowds lining Fleet Street and East 65th.
But not as warm as the applause that greeted another marcher — Brancatelli, the Cleveland city councilman who has long been the most vocal champion of the neighborhood and an architect of its comeback, one that carries important messages for other neighborhoods across the country that are struggling with either urban blight or the foreclosure crisis that continues to rage.
That a politician would get the loudest cheers — louder than for the men of the World Apostolate of Fatima who carried the statue of the Virgin Mary, louder than for Don Wright who bills himself as "Ohio's No. 1Elvis impersonator," louder even than for the extraordinarily cute little girls in native garb from the Konopnicka Polish School — may seem odd in an era of disdain, disappointment, and deep distrust of politicians and government. But the story of the still-nascent recovery of Slavic Village is a story of a citizenry absorbing a body blow and politicians and government responding effectively and working to get ahead of the crisis.
And Tony Brancatelli is at the center of that story. He grew up in the neighborhood, the grandson of Polish and Italian immigrants, but then watched it change from ethnic to mixed-race and saw both his childhood parish (Transfiguration) and his high school (South High) close. But he stayed throughout the changes, spending 17 years as executive director of the nonprofit Slavic Village Development Corp. before moving to the City Council in 2005. He helped build and rehab hundreds of homes in the first part of his career only to find himself as the champion of demolition, pushing the city to tear down thousands of houses.
"Tony is a hero in this story," said Jim Rokakis, the former Cuyahoga County treasurer who has been at the councilman's side throughout the battle and is himself considered a hero to those who have watched the duo fight at City Hall in Cleveland, the Legislature in Columbus, and the Congress in Washington. "Tony's just out there fighting this fight every day, more than anybody I know. I don't have that kind of strength or energy," said Rokakis. "Cleveland was the center of the crisis in Ohio and the area he represents was the epicenter of that crisis. So he represented the area most devastated nationally by the foreclosure crisis."
LOCAL DEVASTATION
Even five years after the worst of the foreclosures, that devastation is impossible to miss. Drive down almost any street off of the main drags of Fleet or Broadway — as Brancatelli does almost every day. Behold empty lot after empty lot where five years ago houses stood. Worse, witness the still-standing but abandoned houses — windows boarded up, innards ripped out by scavengers determined to take any scrap of copper or plumbing, and, over and over again, the aluminum siding torn off as high as vandals could reach. RealtyTrac, which came up with the numbers in 2007 that gave zip code 44105 its unenviable No. 1 ranking, has tracked the damaging statistics:
2007 "" 783 foreclosures, #1 ranking nationally
2008 "" 1,607 foreclosures, # 105 ranking
2009 "" 981 foreclosures, # 508 ranking
2010 "" 1,001 foreclosures, # 436 ranking
2011 "" 627 foreclosures, # 457 ranking
2012 "" (first quarter) 165 foreclosures, # 675 ranking
The zip code does not perfectly match Slavic Village. But the national ranking fell not because the situation improved here, but because it worsened so significantly in suburban parts of Cuyahoga County and, nationally, in Sun Belt states such as Arizona, California, and Nevada. That the crisis has not ended is clear from the Cuyahoga County numbers. In 1995, before the crisis hit, the county had 3,345 foreclosures. This was considered a normal year, the baseline. In 2005, that had tripled and it climbed from there to reach a peak in 2009 of 14,171. In 2011, it had declined to 11,544 — still four times what had been a normal year.
The numbers don't hint at the human devastation. Ed Rybka, who lives in Slavic Village, is now the Cleveland housing director. But before that he was Brancatelli's predecessor as the neighborhood's councilman. He started noticing something troubling in the early 2000s. Before then, he spent time looking for absentee landlords who lived in Cleveland's suburbs and who had family ties to the ward. "Suddenly, it was no longer chasing property owners in Cuyahoga County or Greater Cleveland," he said. "Now, we had them in Russia, we had LLCs on the West Coast. They were everywhere." As county treasurer, Rokakis said he started noticing that homeowners who had always paid their taxes on time were suddenly delinquent.
It amounted to "flipping on steroids," Rokakis said, with buyers snatching up houses on the Internet and reselling them within days. "Buy a house for a thousand dollars on a Monday and sell it for $5,000 on Friday," he said. "Usually, there was a conspiracy involving a bank, a buyer, a seller, and an appraiser." Rokakis tried to sound the alarm in December 2000. "We approached the Federal Reserve Bank in Cleveland and said, "˜We need your help. There are some really bad things going on here and we think you can do something about it because you have some unique authority'," he said. The Fed hosted a conference on the topic.
Rokakis and his allies then turned to City Hall. Cleveland, followed by Dayton and Toledo, passed bills cracking down on real-estate fraud and predatory practices. But the banking lobby descended on Columbus and the Republican-dominated state Legislature stripped cities of the right to regulate the practices. "So we failed at the federal level. We failed at the state level," said Rokakis, who then turned for help to law enforcement — FBI, U.S. attorneys, county prosecutors, postal authorities. "The county prosecutor said this is fraud at an industrial scale. This wasn't just one or two people committing fraud. Appraisers were lying. Mortgage brokers were lying." Rokakis estimated that two-thirds of the 100,000 foreclosures in the county over the last decade involved fraud.
But no one acted at that early stage. Until then, the people of Slavic Village were being failed by Washington and Columbus. Older residents who owned their houses free and clear were being pushed by door-to-door solicitors, by ads — and, in one case related by Brancatelli, by their minister — to refinance and take cash out for repairs, vacations, or medical bills. Then, when rates rose or bills came due, they were losing their houses. And new owners were moving into the neighborhood after they were allowed to buy houses with no proof of finances and no ability to pay their mortgages.
"˜HURRICANE GREED'
It was, said Brancatelli somberly, as if the neighborhood had been struck by "Hurricane Greed." Rokakis said that the most obvious impact in Slavic Village "is it has helped to empty it out and in doing so completely destabilize it." The two men began to try to track down the owners of the many abandoned houses. Many were fly-by-night corporations; some were well-meaning individuals who felt they couldn't pass up Internet offers to buy houses for $1,000 or $2,000. But they did not do their homework. They did not understand the housing stock or history of Slavic Village. These were tiny houses built between 1890 and 1920 to handle the big influx of immigrants being brought in to work in Cleveland's thriving nearby steel mills and factories. They were needed for Cleveland's population boom. In 1950, Slavic Village held 70,000 people in a several-block area that could barely handle the crush.
But from there, the municipal decline began and Slavic Village's population declined to 23,000. There was a glut of housing and it was outdated and undesirable, except to those looking for easy profits. Just look at 3456 East 72nd St. A tiny one-bedroom, one-bath house built in 1900, it has 864 square feet, less than one third what the U.S. census shows as the average-sized house. On a recent drive on East 72nd Street, Brancatelli saw that though the windows were boarded up, the door was open. Going past the uncut grass and into the house, he pointed out the gaping holes in the walls where vandals had used a sledge hammer to get to the wiring. All the plumbing had been ripped out, as had the outdoor siding that could be reached without a ladder.
Checking the ownership records, he noted that it had been sold seven times since 2004. Since its foreclosure in 2008, it was sold in April 2009 for $3,000, in August 2009 for $2,700, and in October 2009 for $4,000. "It's been traded like frigging bubble-gum cards," he said. "You try to chase down responsible parties and it just keeps getting transferred and transferred and transferred and they're all corporate XYZ corporations." In fact, the many sellers included one called "XBY, llc." In this case, the paper trail stretched 4,560 miles from gritty Cleveland to balmy Hawaii. There, amid palm trees, the current owners live, desperately trying to get rid of a house they bought in hopes of an easy flip.
"We never even saw the property. We did it online," confessed Lisa Balicki, an amiable yet somewhat embarrassed 46-year-old woman who works nights for a cable company in Honolulu. "We were just online looking for something that would bring rental income. I don't know why Cleveland." When told of the earlier prices paid for the house, she said, "Oh my God," adding matter-of-factly, "It was not one of our better deals, I'll say that." Insisting that she and her husband are trying to either sell it or give it away, she described the house to National Journal as "one pain in the butt after another after another after another after another."
In another stretch of East 72nd, another owner took drastic steps to avoid those headaches. Mike Malak, a retired city water department worker, sat quietly in a neighbor's yard as he watched a demolition crew tear down the house that had been his home for most of his 60 years. When his mother died two years ago, Malak tried to sell the 92-year-old house, hoping to get $10,000. But he quickly learned its value was almost non-existent. In desperation, he contacted "webuyhouses.com." But there was no deal and he ended up taking $2,000 from the Slavic Village Development Corp., fully aware they would demolish it. When that day arrived, he got to the house before the crew and went upstairs to what had been his bedroom. There, he sat for half an hour, silently taking in the view and memories of his boyhood.
But the street had been much different in those days. There were 30 houses, a factory, an ice cream store, and a corner grocery. Today, only 10 of the 30 houses remain and two are boarded up. Everything else had been demolished.
He knew that destroying his mom's house was "the good Christian thing to do." But it was still hard. The first strike by the large backhoe smashed through the back window where his mother used to sit in her living room. "When he pulled that wall down, I just wanted to yell out, "˜No. Stop. Stop. I'll fix the house'," he said. "It was very emotional." So emotional that the next day he drove to Holy Cross Cemetery where his parents are buried to explain what he had done. But to his surprise, he was calm. He joked that his trips to the cemetery normally feature him "apologizing" to his parents for various things. But this time, he said, "It was different. It's the first time I went out there and I wasn't apologizing to Mom. I knew this was the right thing to do."
Councilman Brancatelli, who has seen so many demolitions that he knew the crew well enough to chat, also knew it was the right thing. But for neither Brancatelli nor Rokakis was it an easy path to the realization that demolition was the answer for a besieged neighborhood. "Trying to convince my colleagues that demolition was the right way to go was against everything we had been taught," said Brancatelli, who spent his time at the Slavic Village Development Corp. focused on building, not destroying. "We built 500 new homes and rehabbed about a thousand and the market was good," he said of his early years. But then he saw the market change. And he saw the speculators swoop in and devastate the neighborhood he loved. "There was the mentality of this wild, wild west of real estate that defies any logic that I grew up on," he said.
He also saw the devastating impact on his neighbors. He still gets emotional about his dealings with one elderly woman who had lived in the same small house for 80 years with her family operating a butcher shop in the front of the house. But now she was the last member of the family in the house and needed to move out. "That," said Brancatelli, "was probably the hardest thing I had to do was tell this poor woman that all we were going to do is tear it down.... She just cried."
Brancatelli knew he needed allies badly "to figure out how do we keep the neighborhood together" and quickly found that he could count on Rokakis, who was so dedicated to the cause that he moved from the treasurer's office to a full-time focus on the foreclosure crisis. He now heads the Thriving Communities Institute, which was instrumental in creation of a county land bank, and travels the state helping other communities set up land banks. The land banks have all but stopped the worst of the flipping in Ohio.
"˜BURY THE DEAD'
Rokakis became an unlikely champion of demolition over rehabbing the abandoned houses. "By 2007, it became obvious to me that this was a war," Rokakis told National Journal. "We had lost. And now we had to bury the dead. And "˜bury the dead' meant taking these houses down, many of them functionally obsolete." The logic, he said, is inescapable. "If you live next to a foreclosed house, your house is worth 10 percent less. If you live on a street with multiple foreclosed properties, your house isn't worth 10 percent less. Your house is just worthless." He added that streets with multiple boarded-up houses are more violent as well.
But the demolition mentality was a tough sell to others in government who long had talked of rehabbing old housing. Here is where government, which had failed so miserably at the outset of the crisis, came to the rescue of Slavic Village. If there is any message to the rest of the country, anything that gives hope and sparks optimism, it is that even in an era of deep partisan polarization and cynicism about government, partisanship on the city, county, state, and federal levels was put aside to deal with the crisis. Government actually could produce; politicians actually could work alongside corporate, religious, and academic leaders to better the community.
Democrats Brancatelli and Rokakis found effective allies in Republican Ohio Attorney General Mike DeWine, Democratic Sen. Sherrod Brown, Democratic Rep. Marcia Fudge, and Republican Rep. Steven LaTourette. When Ohio got its share of the $25 billion mortgage settlement from the five biggest banks accused of foreclosure fraud, DeWine set aside $75 million for demolition. Other money was made available from the Neighborhood Stabilization Program. And in June, LaTourette and Fudge introduced legislation to provide $4 billion to states and land banks to issue bonds to demolish vacant, foreclosed, and abandoned houses. The aim, said LaTourette at the time, "is to halt a tsunami of blight."
In Cleveland, Rybka said the city has condemned 12,000 vacant structures and demolished 6,100 of them since Mayor Frank Jackson took office in 2006, at a cost to the city of $44 million. Each demo cost about $7,500. But the alternative in many cases, he said, would have been to spend up to $50,000 to bring a house up to code that would sell for no more than $20,000. For Rybka, it also has been emotional — one of the houses he ordered demolished on a particularly blighted stretch of East 55th Street off Fleet was one he had once lived in. Now, it is a vacant lot.
But where there was despair in 2007 and depression when even old friends like the Polish American Congress betrayed the community, there is a palpable sense of hope and optimism today. "It was just one bad thing after another, just horrible stuff," recalled Leo P. Hyland, president of Cleveland Central Catholic High School, which, along with Third Federal Savings & Loan, is one of the anchors of the neighborhood. "But this is a compelling story and a happy story, one you cannot tell without the faces of the youth here."
And he is right. Faces like that of Marcelina Sladewska, 26, who helped form Polish American Students and Young Professionals and marched in the parade on a float celebrating the Polish fable of the vanquishing of a dragon that terrorized Krakow. After graduation from college she surprised herself by moving back into Slavic Village and looking for a house. "Friends think I am crazy," she said on the day of the parade. "I am 26. Helping Slavic Village was not my top priority. But my mission now has changed."
Then there is Christian Ostenson, 40, a suburban contractor who has fallen in love with Slavic Village and is plowing his own money into converting the old Warsaw Savings & Loan across East 65th Street from the historic Shrine Church of St. Stanislaus into an upscale restaurant to be called "The Six-5 Bistro." Showing off his blueprint amid the construction, Ostenson calls himself a modern Slavic Village "pioneer." "We are making a fresh start," he said, undeterred by all the abandoned houses. "If it's abandoned, flatten it, spread grass seed and let grass grow," he said.
Standing nearby was Jeremy Salupo, 28, another suburban general contractor. But he has given up the suburbs and bought a home on East 65th Street in a modern complex built only a decade ago where some houses had been torn down. He moved in in 2009, as part of a religious group, Bethel Cleveland, that is pledged to "elevate" this area. He paid $138,000 for a house that today would sell for less than $100,000. But, with his bride of five months, Ashleigh, he is unfazed either by that price drop or the crime he sees. "You can't let it deter you," he said. "Because you are, in a sense, planting your flag and just changing the whole dynamic of the neighborhood. We are reclaiming turf."
With his friends, he provided art projects for kids and free hot dogs along the parade route. "There is real momentum now," he said, praising Brancatelli and government for "actually working with us" to rescue Slavic Village. "Whereas in the past you saw one house demolished every couple months, now it is a few every month. And where it took us a year and a half to get six people to move down here, now it is 25 and growing. So we've reached a tipping point," he said, unable to conceal his excitement.
Maybe that is why Brancatelli got so many cheers at the parade. And maybe that is why he understood that there was, indeed, something special about that Constitution Day parade, something as special as the comeback he is helping to engineer. "Last year, even though we had our parade, it felt more like a death march," he said. "But it was a lot more lively this year because there is a new engagement. People are starting to see light at the end of the tunnel and they are starting to see that people are going to step up and help and that folks still care."