GOP Risks Political Backlash in Michigan Labor Fight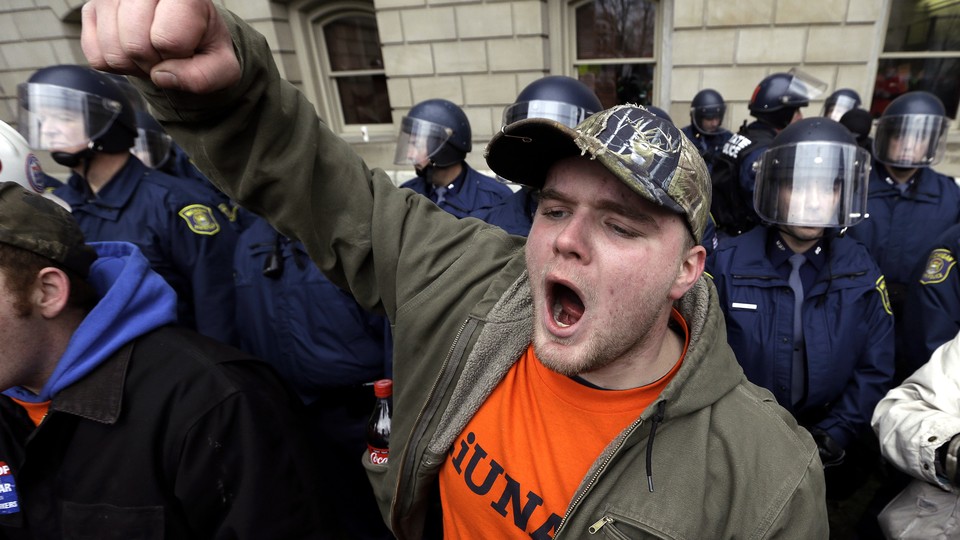 Republicans have been soul-searching on any number of issues since their startling setback on Election Day. Should they adjust their position on immigration reform? Soften their rhetoric on women's issues? Abandon their staunch opposition to tax hikes on the rich?
But they haven't had a second thought about another hot-button subject: unions. That much is clear with the sudden and successful push by GOP lawmakers and Gov. Rick Snyder to make Michigan a right-to-work state, banning public- and private-sector unions from forcing members to pay dues.
The measure — passed on Tuesday amid large protests and signed into law immediately — takes dead aim at the labor movement in an echo of controversial moves by Republicans such as Wisconsin Gov. Scott Walker.
The political fallout from this course is unclear. Should Republicans lighten up on unions as they try to broaden their appeal to the middle class and lay the groundwork for a political comeback? Or is this agenda a proven winner for the GOP, essential not only to its free-market image but as a way to weaken support for the Democratic Party?
Thus far, there's conflicting evidence over which side has the upper hand. The party certainly has one high-profile victor in Walker, who survived a bloody recall fight after signing legislation that banned collective-bargaining rights for government unions.
The relative ease of Walker's win, despite a fierce effort to oust him, was seen at the time as proof that challenging unions, even in the traditionally labor-friendly Midwest, was a winning proposition. Other GOP analysts say Indiana's passage of a right-to-work law early this year didn't provoke backlash, while voters in Michigan itself voted down a measure to enshrine collective bargaining into its state constitution.
In Wisconsin and Indiana, unions threatened to exact revenge for the laws, says James Sherk, a senior policy analyst in labor economics at the conservative Heritage Foundation. And in each case, they failed.
"It seems like unions have more bark than bite," Sherk said. "Voters are not as sympathetic to their arguments as they might have been 30 years ago."
Some Republicans concede Snyder's effort is unpopular, but say the clear-cut, strong agenda is something voters will sign onto anyway.
"Anytime you try to make fundamental change like that, there's going to be opposition," said Henry Barbour, an RNC committeeman from Mississippi. "People are yearning for genuine leadership, and even sometimes if they don't necessarily agree 100 percent with the person leading, they like the fact they elected a governor who gets up and does what he thinks is right."
That labor's standing has declined in the preceding decades is beyond dispute. And there's little doubt that atop the list of the GOP's political problems, other issues like immigration are more prominent. President Obama, in fact, did better among Latinos, 71 percent of the vote, than he did among members of union households, 58 percent.
But there's also evidence of political damage as a result of efforts to stymie labor. In Ohio, Gov. John Kasich's effort to rescind collective bargaining rights for all public-sector union workers — including emergency responders exempted in the Wisconsin and Michigan laws — was furiously overturned by referendum in 2011. And in the wake of Michigan's drama, Kasich, Walker, and Pennsylvania Gov. Tom Corbett have all vowed to avoid right-to-work legislation. Each is also up for reelection in 2014 and considered potentially vulnerable.
"I think Scott Walker is stopping short of pursuing a Snyder-style extreme measure because he's already worried about his reelection in 2014," said Jeff Hauser, a spokesman for the AFL-CIO. "This is a sign of bad politics."
In the presidential race, Obama's standing with voters who have a union member in their household stayed strong even as his overall popularity declined. In 2008, he won 59 percent of the voters, according to exit polls, just 1 point less than the percentage he won in 2012.
The danger for the GOP, and partly why Ohio's collective-bargaining legislation was overturned, is that its anti-union efforts reinforce a perception that it is indifferent to the middle class.
"I think there are those who have mixed views of unions, but do not dislike unions, do not hate them or want to see them disappear," said Guy Molyneux, a Democratic strategist with ties to the labor movement. "When they see a politician who is overtly anti-union, that does send a message to voters that he cares only about business and not about working people."