Boehner Sends Republican Fiscal-Cliff Counterproposal to Obama
The GOP offers $800 billion in new revenue, but continues to oppose tax-rate increases.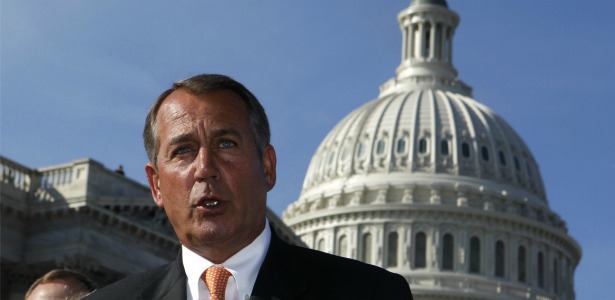 Reuters
Updated, 5:25 p.m.
House Speaker John Boehner's fiscal-cliff counteroffer on Monday boots the ball squarely back into President Obama's court, buying the Republican leader time as Democrats work the clock to force Republican to cave in their opposition to tax hikes for the wealthy.
Boehner's offer of $800 billion in new revenue -- quickly panned by the White House as still too easy on the rich -- was a bid to move the tax debate back to where it was during last year's negotiations over the debt ceiling. Democrats are pushing for more, evidenced by Obama's proposal for $1.6 trillion in new tax revenue.
---
MORE FROM NATIONAL JOURNAL
---
Obama's opening position last week infuriated congressional Republicans, who mocked the proposal. Boehner on Monday called it a "la-la land offer." Still Democrats used the president's plan to hammer Republicans for failing to offer an alternative.
Boehner's counter, based on a proposal former Clinton administration official Erskine Bowles made before the Supercommittee last year, attempts to use a top Democrat's framework to yank the negotiations rightward and take the rhetorical high ground. Unlike Obama's plan, Boehner said, the House Republicans' counteroffer isn't a gussied-up version of their budget blueprint but a plan that includes real concessions on the part of the GOP.
"We could have responded in-kind but decided not to do that. And what we're putting forward is a credible plan that deserves serious consideration by the White House," Boehner told reporters. "I hope they will respond in a timely and responsible way."
But, short of completely folding on tax increases on top earners, there is likely little Obama could say this early in the negotiations that Boehner would label "responsible." And the same goes for the president, who has shown no willingness to back off his demand for tax rate hikes on the rich.
"The Republican letter released today does not meet the test of balance," White House communications director Dan Pfeiffer said Monday. "Their plan includes nothing new and provides no details on which deductions they would eliminate, which loopholes they will close or which Medicare savings they would achieve."
Sen. Dick Durbin told National Journal on Monday said that Boehner should allow a vote on a Senate-passed bill that extends the Bush-era tax cuts for everyone but the wealthy -- a move that would both force House Republicans to go on record in support of lower tax rates for the wealthy and help Democrats take more time off the clock.
"It is a dramatic down payment and it moves us forward in this conversation," Durbin said in calling for the House vote on the Senate plan. "The rate has to go up."
In addition, to the $800 billion in revenue, Boehner's counter offer calls for $1.4 trillion in savings, including $600 billion in changes to health programs like Medicare and Medicaid; $300 billion in cuts to mandatory programs; $200 billion in revisions to how the consumer price index is used by the federal government to set salaries and benefits; and $300 billion in further discretionary spending cuts. And, if measured by the same standards as Obama's plan, Boehner's counter offer would provide $4.6 trillion in deficit reduction, more than the $4 trillion offered by Obama, Republican aides say.
It does not, however, outline how to deal with a country fast approaching its debt limit or sequestration's across-the-board spending cuts.
Jim O'Sullivan and Nancy Cook contributed.