Boehner Floats 'Plan B' to House GOP: Tax Hike on Income Above $1 Million
The maneuver would give Republicans political cover and put pressure on President Obama to compromise.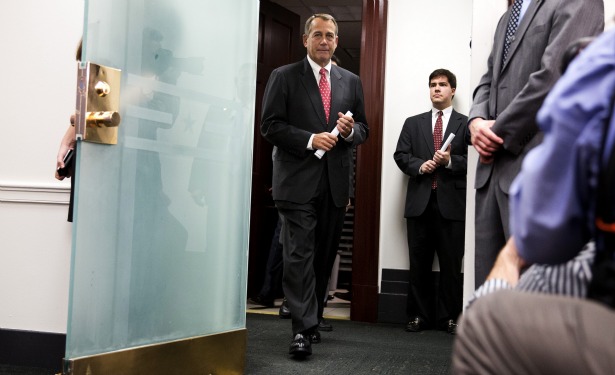 Joshua Roberts/Reuters
House Speaker John Boehner told rank-and-file Republicans that they should consider a "Plan B" on how to avert automatic tax increases and spending cuts known as the fiscal cliff.
House leadership sources say the option would be for the chamber to pass a plan letting top tax rates increase on income over $1 million only.
The House would then send that bill, along with a House-passed bill extending the current tax rates enacted under former President George W. Bush for everyone, and leave it up to the Senate to decide.
"For weeks, Senate Republicans -- and a growing number of you -- have been pushing for us to pivot to a 'Plan B.' I think there's a better way," Boehner told GOP members at a meeting on Tuesday, according to his office.
But Boehner added: "The White House just can't seem to bring itself to agree to a 'balanced' approach, and time is running short. Taxes are going up on everyone on Jan. 1. They're baked into current law. And we have to stop whatever tax rate increases we can."
Few details were provided on what the House would do on other items, such as the scheduled billions of dollars of cuts to defense and domestic programs known as the sequester. One House Republican source said that the chamber would seek to push those into next year, and freeze some other programs into the new year.
"We're going to keep the door open in hopes the president can find a way to support a balanced approach," he told members.
The meeting on Monday was the first in which Boehner faced members since a Friday White House meeting where he first floated the idea of allowing tax rates for millionaires to go up.
The reaction of rank-and-file lawmakers to Boehner's pitch will go a long way toward determining whether the speaker has the leeway to continue trying to cut a deal with President Obama or whether he'll be forced to scrap the deal-making in favor of a more scaled-back plan that prevents the expiration of the Bush tax cuts from raising taxes on most Americans.
Chris Frates contributed reporting.