Axelrod: Hillary Clinton 'First Among Equals' for 2016 Nomination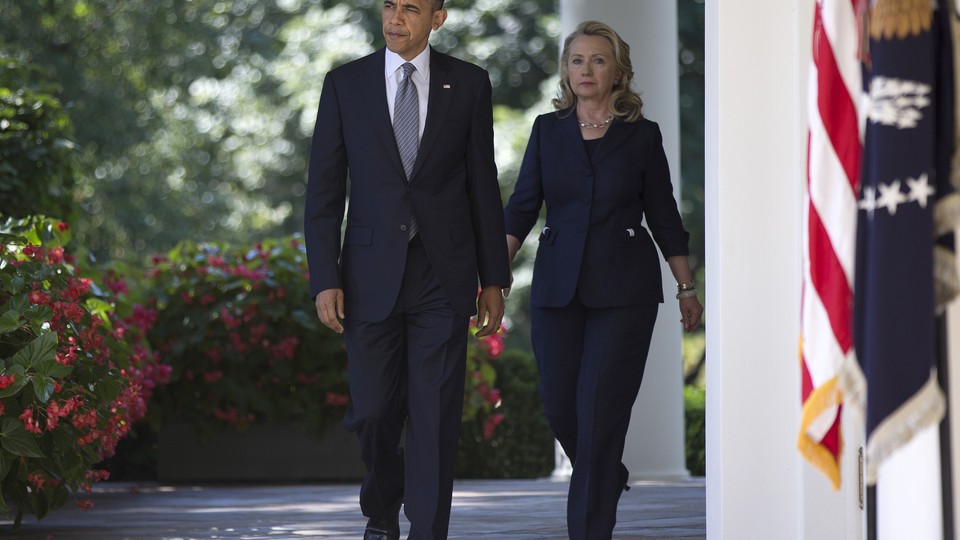 David Axelrod thinks Hillary Rodham Clinton would be the Democratic Party's presidential front-runner in 2016, and that isn't news. What does grab attention is the extent to which President Obama's political guru on Thursday made it clear that Clinton would be nearly unbeatable in a Democratic primary.
He didn't outright declare her the inevitable nominee, but he came awfully close.
"I think she'd be very strong," Axelrod said at a National Journal policy summit. "First of all, having been engaged in a primary race with her ... she is an indefatigable candidate and very, very powerful and she's only stronger now for having four years of I think splendid leadership" as secretary of State.
He added: "I think she'd be in a very, very strong position," he said. "I think the reality of a woman getting elected the president of the United States may be an even more powerful incentive in 2016."
The geyser of praise wasn't necessary. Axelrod could have said she would be a front-runner, which is self-evident, but added the usual caveat that a lot can happen in politics in four years. He could have opted to stay out of the impending intraparty squabble.
But he didn't. He sounded less like a cool-headed political analyst than a Clinton supporter telling his favored candidate why she would be a great choice for the party.
His thinking amounts to an early glimpse of how the Democratic establishment would treat 2016: If Clinton gets in, everyone else should get out. Rumored contenders like Maryland Gov. Martin O'Malley, Virginia Sen. Mark Warner — both of whom Axelrod mentioned on Thursday — and New York Gov. Mario Cuomo are surely taking note.
The warning extends even to Vice President Joe Biden. Asked about Biden, Axelrod praised his tenure as Obama's No. 2 and called him a "very formidable candidate." But among all possible candidates, Axelrod called Clinton "first among equals."
"I think a lot of the race is going to center on whatever decision Secretary Clinton makes," he said.
Democrats wonder privately what Biden, who is said to be seriously contemplating a campaign, will do if Clinton runs. It's unusual that a sitting vice president is considered the second-choice successor to the president, but few believe Biden could defeat Clinton, his former Senate colleague.
The strife caused by Clinton's support of the Iraq War — support that gave Obama his opening to win — has faded. As Axelrod mentioned, Democrats also have a strong desire to nominate a female candidate — a historical first eclipsed four years ago by the election of the first African-American nominee and president. Clinton finished second in the 2008 primary, but she lasted six months longer than Biden's short-lived, under-supported effort.
Axelrod's comment also is a reminder that any lingering animosity between Team Obama and Team Clinton won't block the onetime first lady's path. Tensions have faded amid Clinton's effusively praised four-year stint as secretary of State and former President Clinton's tireless campaigning this year on Obama's behalf.
Of course, all of this depends on whether Hillary Clinton runs. And for the umpteenth time this week, the soon-to-be-jobless Clinton — looking forward to a break after stints as first lady, New York senator, and Cabinet secretary — sounded like anything but a candidate eager for another crack at the nation's highest office. In an interview that aired on Wednesday on ABC, she admitted to Barbara Walters that she is exhausted. "To be honest, I am. When I do something I really want to do it, I want to do it to the best of my ability. That means I pretty much work all the time."
She reiterated that she has no plans to run for office again. And most Democrats handicap the chances of a Clinton run at less than even odds.
But that hasn't stopped many Democrats — even David Axelrod — from hoping that she goes for it.