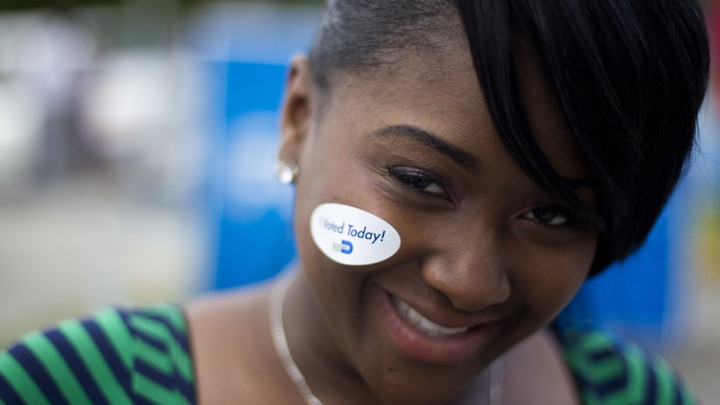 While managing to win his reelection by holding onto the key voter demographics that put him in the White House in 2008, President Obama's overall support saw a decline compared with four years ago. That's especially true among young voters, whom Obama lost by 6 points and whose voting patterns arguably represent a microcosm of the coming political landscape.
Even with a nationwide decline, a Pew report has found that the youth vote--those under 30--played a major role in Obama's victories in battleground states including Florida, Ohio, Virginia, and Pennsylvania. There he lost the majority of voters 30 and older to Republican challenger Mitt Romney but managed to win more than 60 percent of the youth vote.
Despite expectation of a turnout much lower than in 2008, young people made up a larger portion of the 2012 national electorate than they did four years ago: 19 percent in 2012, up from 18 percent in 2008.
That's evidence of the growing voting power of young Americans, the most racially and ethnically diverse demographic.
A deeper look at racial demographics among young voters reveals patterns that are quite similar to national voting patterns, according to the Pew analysis. For example, among young white voters, just 44 percent backed Obama while Romney won more than 51 percent. That's a 10-point drop for the president from four years past.
Nationally among whites, Obama won just 39 percent of the vote, compared with Romney's 59 percent, according to CNN exit polling.
Young black and Hispanic voters overwhelmingly backed Obama over Romney, at 91 percent to 8 percent and 74 percent to 23 percent, respectively.
Nationally, Obama won the black vote, 93 percent to Romney's 6 percent, and Hispanic vote, 71 percent to 27 percent. 
Other findings from the Pew report:
Support for Obama declined by 9 percentage points among young men, and by 11 percentage points among young white men.
Among young black voters, support for the president fell by 4 points and a whopping 14 points among young black men.
Support for the president fell by 8 percentage points for young voters who identified as Republican and by the same amount for independent young voters.
About 58 percent of young voters identified themselves as white non-Hispanics, a decline from 62 percent in 2008. Since 2000, the share of young white voters has dropped by 16 points. In comparison, 76 percent of voters older than 30 identified as white non-Hispanics in 2012, a 6-point drop from 2000.
We want to hear what you think about this article. Submit a letter to the editor or write to letters@theatlantic.com.