William Burns for Secretary of State?
With Susan Rice's prospects of becoming secretary of state now uncertain at best, thoughts naturally turn to John Kerry as the alternative candidate. But should they?
Kerry would by most accounts make a fine secretary of state. Certainly, as James Traub recently noted, he's got the visuals down -- solemn, suave, tall, etc. Plus, he's well-traveled and knows a lot about the world beyond America's borders.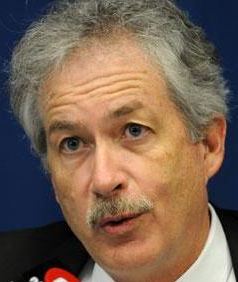 But there's that nagging downside to moving Kerry out of the Senate: Now that Massachusetts Senator Scott Brown has lost his reelection bid, he lurks as the likely Republican candidate in the special election that would be held to fill Kerry's seat -- and, unlike other Republican politicians in Massachusetts, he could actually win. Indeed, conspiracy theorists have suggested that the Republican opposition to Rice is motivated partly by a desire to turn Kerry's seat in the Senate from blue to red.
And Kerry wouldn't be vacating just any old seat, but the seat that holds the chairmanship of the Foreign Relations Committee, which he occupies very ably. Robert Menendez of New Jersey would be in line to fill that spot -- a prospect that, according to reporter Laura Rozen, is viewed dimly in the White House because "the White House has a lot of problems with Menendez on foreign policy issues."
With Rice's nomination in doubt and a Kerry nomination having so much practical downside, maybe it's time to consider a third candidate? And who should that be? I'm not qualified to say -- I don't keep close track of all the D.C. foreign-policy players. But a couple of weeks ago, I did an informal email poll of people I know who keep closer track. And the favorite candidate, by a large margin, was William Burns, currently deputy secretary of state.
Regular readers may suspect that any poll I conduct carries a left-wing bias, since I don't spend a lot of time socializing at, say, the American Enterprise Institute. But, actually, the people I consulted weren't all that homogenous. Besides: Regular readers will also know that my Atlantic colleague Jeffrey Goldberg and I often disagree on foreign policy, and that he's not exactly a flaming left winger -- yet he recently opined that, if this job were assigned solely on the basis of merit, William Burns would be at the front of the pack.
That's the point: Burns isn't an ideological candidate. He's just a dedicated and very accomplished career diplomat -- good credentials for the job of running American diplomacy. And he is said to be the overwhelming favorite within the State Department, which means he'd have a highly motivated team to lead. Plus, the things that keep him awake at night are reasonable things to be kept awake by. And, finally: his becoming secretary of state wouldn't mean a lost Senate seat for Democrats or a new chairman of the Senate Foreign Relations Committee who drives people in the White House crazy.
What's not to like?
__
Postscript: Passing Kerry over as secretary of state (or secretary of defense, the other position he's mentioned for) needn't mean he never makes it into President Obama's cabinet. In 2014, if Democratic prospects for winning a Kerry-less Senate election in Massachusetts have improved, he could always move to the State or Defense department.