Will a Marijuana-Legalization Vote Help Obama Win Colorado?
His pitch to young voters: Come for Amendment 64, stay to reelect the president.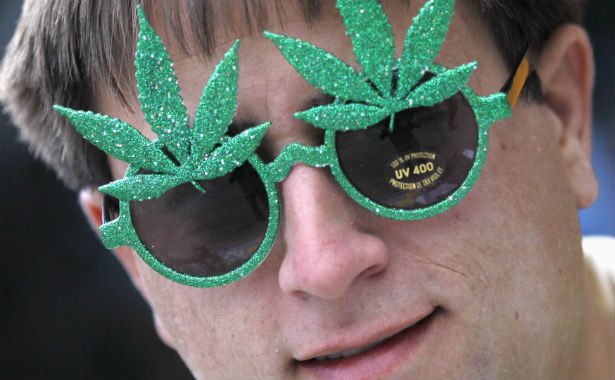 Rick Wilking/Reuters
The presidential contest next Tuesday may or may not be definitively resolved by the time Colorado's election returns suggest a winner of the state's nine electoral votes. In the Mountain time zone, Denver is two hours behind the big battleground states of the East, but Ohio may be counting votes until the week before Thanksgiving -- no, really -- and the lingering impact of Hurricane Sandy may delay voting and vote counting in places like Virginia, North Carolina, and Pennsylvania. Nothing about the election of 2012 figures to be simple or quick.
But President Obama wants Colorado. He won it in 2008 and has been to the state 12 times this year, including a memorable visit two days after the Aurora massacre in July. He has held 11 rallies at high altitude, according to CBS News' Mark Knoller, who keeps track of such things. Mitt Romney, Paul Ryan, and Joe Biden also have been frequent visitors. Colorado's electoral votes, and its decidedly purple voting record over the past decade, put it directly between Wisconsin and Iowa in the pantheon of swing states.
The state has a history of strong libertarian and conservative politicians. But today both of its senators are Democrats, and so is its governor. Unemployment was at 6.6 percent in January 2009. Now it has risen to 8 percent, roughly the national average. And yet if the president prevails -- the polls this week went in different directions -- folks on both sides of the divide will surely identify as a dispositive factor the presence on Colorado ballots of Amendment 64. It's the initiative that would legalize (and regulate and tax) small amounts of marijuana for use by adults.
The initiative, which would nullify federal laws classifying marijuana as a drug as dangerous as heroin, has substantial support in the state from the left, the right, and the center (see below). Just two weeks ago, my colleagues at 60 Minutes aired a smart piece that made the state's burgeoning medical marijuana industry seem as capitalistic (and thus as American) as J.P. Morgan himself. So it's no great surprise that many polls show the "yes" vote on Amendment 64 with a slight lead. Here is the language Public Policy Polling used to describe its findings last week:
Colorado's amendment to legalize marijuana continues to lead for passage with 53% of voters saying they plan to support it to 43% who are opposed. This plays out very much as a generational issue with voters under 30 favoring it 73/25, while seniors oppose it 38/55. Every age group except seniors supports the amendment, and it has a 58/36 advantage with independents.
Even if you are skeptical of the way PPP polls, there is no denying that marijuana legalization is more popular with younger people than it is with older people, and more popular with likely Democratic and independent voters than with Republican ones. This is true in Colorado and everywhere else in America. So the Obama campaign is hoping -- as Reid Cherlin suggests in his great new GQ piece, "Yes, They Can (They Think)" -- that young voters in Colorado are going to come out to vote for legalization and stick around to vote for Obama. Here's Cherlin:
Forget about the oldster white guy, sitting at the counter at the Taste-T Café, reading aloud from a story about the budget deficit and still making up his mind about which candidate suits him better. The oldster is going to vote for Romney, okay? Forget, too, his daughter, the soccer mom -- wait, make that the waitress mom -- gripping the wheel of her minivan as she hears on the radio that another Republican candidate has semi-condoned rape. She is going for Obama.

The issue is her college-age son, at this moment snoozing in an upper bunk at State U. Young Zach likes Obama. So do his buddies. They appreciate that they can stay on their parents' health care plans until they're 26 if they need to. They like that the wars are ending. They're indifferent to Romney, at best, because the guy seems like -- the president's words, now -- "a bullshitter." The only question is, are Zach and his buddies even going to bother to vote?
Young people may not be as fired up for Obama this cycle as they were in 2008. But young people have long been fired up about firing up. (Where was the president Thursday night? In Boulder.) What is also helping Amendment 64, and thus the president, are strong ads. Here is one of the commercials Colorado voters have been seeing as they make their decision on Amendment 64. In it, a returning veteran, a Marine, describes how marijuana has helped him with his PTSD, a problem the Department of Veterans Affairs takes very seriously.
And here is a radio advertisement Colorado voters are hearing as they drive around the Rocky Mountain West. The voice is that of Tom Tancredo, the former member of Congress and an anti-immigrant conservative whom Colorado's liberals and independents have long loved to scorn. Echoing the Koch Brothers, Pat Robertson, and other conservative voices, Tancredo makes the economic and "small government" case against the continued enforcement of criminal sanctions for the private use of marijuana:
These ground-shaking initiatives always seem to lose a little ground in the days before the vote. People are generally scared to change the way things are. But there has been plenty of early voting in Colorado, and so far there have been few signs that more undecided voters are turning away from Amendment 64 than are embracing it. Wouldn't it be something, then, if Tancredo, the man who once said Barack Obama was a bigger threat to America than al Qaeda, helped deliver the president another four years in the White House?