Why It's Going to Be Hard for Republicans to Match the Big-Data Advantage Democrats Have Built
Democrats' history of community organizing has made their current data-driven approach a seamless advance.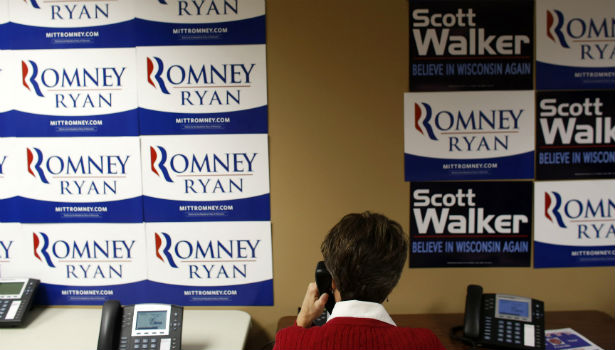 Darren Hauck/Reuters
One ripple effect from Barack Obama's reelection last night? A new focus on how Democrats and progressives are on the winning side of the data wars. From Nate Silver's prognostications to the Obama campaign's aggressive focus on information -- as described by Sasha Issenberg in The Victory Lab and by Time -- new attention is going to the work of data scientists. Here at The Atlantic, Alexis Madrigal has raised the question of whether Democratic superiority on the data front is just a function of this particular campaign, and something Republicans will be able to replicate in the near future.

If they do, it won't be by copying the Obama model. The right just doesn't have the depth of professional experience in hands-on organizing that the left does, leaving Republicans without a critical framework to map their data onto. And that's why it's not going to be a simple correction for them to match what Democrats did Tuesday.
On the Democratic-slash-progressive side of professional politics, there are people who have spent many years now refining a hands-on approach to reaching Americans for political advantage. Scores of young and semi-young progressives have spent their careers bouncing from campaigns to Congress to labor unions to Change.org to ideological consulting shops to Credo to party committees to Media Matters to advocacy groups to whatever the Progressive Change Campaign Committee is, honing their craft along the way. RootsCamp, an annual D.C. "unconference," pulls in hundreds of those folks, and has been doing so for the last seven years. They have an Organizer of the Year award. If the data-savvy organizer is a subculture in the world at large, it's one that has achieved mainstream status on the political left.
RootsCamp is put on by the New Organizing Institute, which grew out of organized labor, which of course has deep Democratic roots in the United States. NOI has trained scores of progressives in modern campaign strategies and techniques, holding regular bootcamps in the art of political narrative and crafting killer emails and, yes, data optimization. "Our basic belief is simple," they group has said. "If people have the skills to engage others, the tools to build powerful campaigns, and a community of practice to help them learn and grow, they can win real change, make measurable improvements in people's lives, and restore faith in our government and our democracy." If you've gotten an email from a Democratic candidate or progressive group in the course of the 2012 election, there's a decent chance you've been exposed first-hand to the work of an NOI-trained progressive. The Analyst Institute, the outfit specializing in the science of voter turnout that Issenberg covers in his book, comes out of that same universe of progressive organizers.
Going back further, the organizing strategy used by Jeremy Bird and others on the Obama campaign is rooted in the civil rights and social justice movements of the 1950s and 1960s.
If the big advance made by the Obama campaign and its allies on the left has been better data crunching, that's only a technological refinement of an existing model. For generations, liberals have been working on ways to identify, target, and drag their fellow Americans to the polls -- but also to organize them to push for some of the very social changes ratified at the polls Tuesday.

That's not to say that Republicans lack the raw materials for doing similar work. Churches, for one, turned their members out for George W. Bush. A group of younger and tech-minded conservatives have tried to prod the GOP to take technology seriously under the banner of Rebuild the Party. But the GOP's professional equivalents of the people who staffed the Obama campaign and the organizations supporting the campaign from the outside have not spent the last however-many years knocking on scores of doors, making endless phone calls, and learning how to persuade over Twitter in quite the same way. And  when the phrase "community organizer" is a punchline to your party faithful, it's probably not a great sign for the prospects of using human-centric big data like the Obama campaign just did.
One lesson to take away from this political big data moment is that people matter. Data is a better way of understanding who really makes up the American electorate than relying upon absurdities like Dick Morris's sudden post-election ephiphany that "this isn't your father's America."

Taking data more seriously is decent advice for any campaign -- but it becomes particularly powerful when you match it to a capacity to know people as people, not numbers. Data-driven political organizing is a skill, and it takes a while to master. There's little evidence that you can simply apply big data to a presidential campaign and, voila, #winning. To do so would be a bit like expecting to elect a Green Party president without first claiming a single congressional seat.