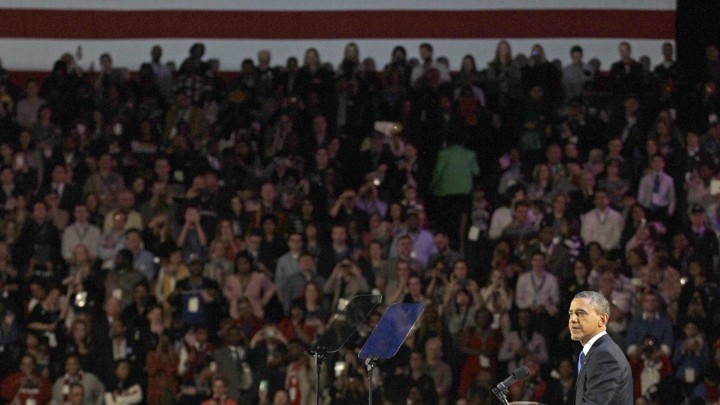 FUTURE SHOCK: The Next America Has Arrived
Ronald Brownstein, National Journal's editorial director and ABC News political analyst, says observers knew the political landscape was changing. But just not this fast. 

Extra point from Brownstein: Milennials, Baby Boomers Cement Political Difference in Election Results
GOP WOES? Demographic Shift Brings New Worry for Republicans
Michael Shear of the New York Times says Democrats are strategizing better for the future.

Extra point from The Washington Post: Election Day Indicates a Deepening National Political Divide 
FEMALE REALITY: Hey, GOP, Respect Women or Keep Losing
Kristen Powers in The Daily Beast says Republicans will continue to lose a group as key to Obama's re-election as Latinos uness they treat women as equals. 
RACIALLY POLARIZED COUNTRY: White Men Lose One
Joe Feagin, Texas A&M sociology professor, and author at Racism Review considers how Obama has won twice, largely by not discussing race.
Extra point from Slate: 88% of Romney Voters Were White
DEMOGRAPHY, SHMEGOGRAPHY: In Ohio, Obama Won the Middle American Middle Class
The New Republic's Alec MacGillis explains how Ohio went Obama.
Extra point from New Geography: Why It's All About Ohio, Representing the 5 Nations of American Politics
BEYOND HISTORIC:  This Year's Victory Matters More Than Obama's 2008 Win
James Fallows in The Atlantic explains nine key ramifications of this election "" and the next four years. 

Extra Point from The Nation: For Obama, a Bigger Win Than for Kennedy, Nixon, Carter or Bush
We want to hear what you think about this article. Submit a letter to the editor or write to letters@theatlantic.com.