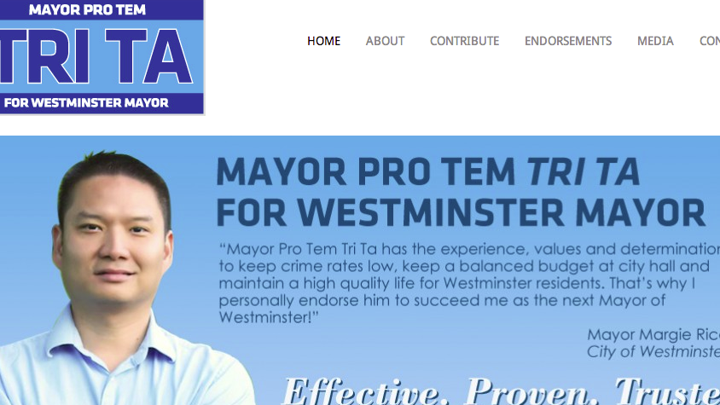 Correction: The article incorrectly stated that Ta was the first Vietnamese-American to serve in the state Assembly. Republican Van Thai Tran was the first. Tran was appointed mayor pro temp in December 2001 in Garden Grove.
A small city in Southern California elected a Vietnamese-American mayor, believed to be the nation's first, underscoring the growing political clout of Asian-Americans in localities across the country.
Tri Ta, 39, born in Saigon, became mayor of Westminster, an Orange County town where about 40 percent of its 91,000 residents are Vietnamese-Americans, by beating the closest of four rivals, 43 percent to 29 percent, according to the website, OC Politics Blog.
Westminster, located about seven miles inland, halfway between Long Beach and Huntington Beach, is in the heart of the nation's largest Vietnamese enclaves known as Little Saigon, a region that spans several counties.
The news about Tri Ta's historic victory spawned headlines around the world. Ta has been featured on Radio Free Asia and invited to a range of political gatherings. "In other Vietnamese-American communities, you have to understand, there's a thirst for their own Vietnamese representative," Tran told the Associated Press. "They don't have the know-how, and they're asking us to share that with them."
Together, Asian-Americans constitute about 6 percent of the total U.S. population. At 1.74 million, Vietnamese makes up the fourth largest subgroup, according to a Pew Research Center report.
Although Asian-American voters are still just a fraction of the nation's electorate, their growth and civic participation is capturing the attention of both political parties. Asian-Americans voted more than one in 10 for President Obama. Still, many who closely follow this group's voting patterns say its members remain politically persuadable.
In the past, two Vietnamese-American candidates ran unsuccessful mayoral campaigns in Westminster, according to the Los Angeles Times.
Ta moved to the U.S. in 1992 at the age of 19. He earned a bachelor's degree in political science from the California State University (Los Angeles), according to his election website, and now serves as managing editor of a nail-salon magazine. He is married with two children. Ta became Westminster's mayor pro tem in 2008. 
We want to hear what you think about this article. Submit a letter to the editor or write to letters@theatlantic.com.