The Twilight of the GOP Establishment: Who Will Save Republicans, Now?
Newt Gingrich nailed it: "If you're not going to be competitive with Latinos, with African-Americans, with Native Americans, with Asian-Americans, you're not going to be a successful party."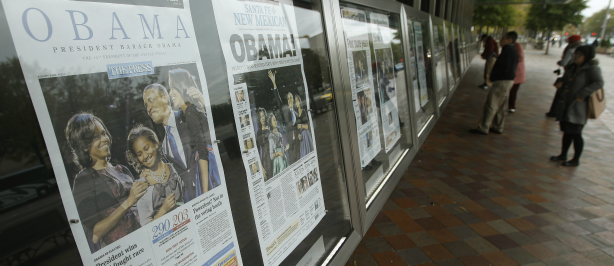 Reuters
Within hours of President Obama winning re-election, two faces of the Republican Party emerged. One impressed me enormously. The other deeply troubled me. Liberals, meanwhile, rejoiced at having averted what they saw as a national calamity.
The time, though, is not for gloating. It is for supporting the Republicans who can rein in their party's far right and help us all. For me, Fox News, of all places, was a hopeful sign.
While Karl Rove questioned whether Obama had, in fact, won Ohio, Juan Williams and Brit Hume courageously admitted the party had lost touch with a changing nation. They embraced exit polls showing that the surge in Latino, black, female and young voters that aided Obama in 2008 was a permanent demographic change, not a one-time event.
"We're looking at a new kind of politics," Williams said.
Hume stood tall as well.
"The demographic factors that Juan referred to are absolutely real," he said.
And this morning Newt Gingrich, of all people, issued a bold mea culpa.
"We have to recognize that if you're not going to be competitive with Latinos, with
African-Americans, with Native Americans, with Asian-Americans," Gingrich said on CBS, "you're not going to be a successful party."
All of these officials should be applauded. I disagree with them in many ways politically. I also question whether this is the latest of many political pivots for Gingrich. But I praise and respect them for accepting the basic dynamics of the race. Publicly admitting you were wrong is never easy.
The reaction of far-right Republicans to the results, on the other hand, was astonishing. They argued that the vast swathes of female and minority voters who supported Obama would have supported an arch conservative.
"A succession of potential Republican nominees - Sarah Palin, Michele Bachmann, Rick Santorum, Newt Gingrich - were bright, attractive, and have compelling narratives," Michael Hammond wrote on Red State, a conservative blog. "Instead, Republican voters (or, at least, enough of them) bought into this Democratic mantra that only a liberal stand-for-nothing Republican can win a presidential election."
One group of Republicans is facing reality. Another is not. President Obama needs to quickly move to further marginalize the extreme Republican right.
His victory speech last night ended on a stirring note, but I wished it had contained concrete, bipartisan gestures. James Bennet of The Atlantic got it right in a message he posted on Twitter during the early part of the speech.
"Give us an action plan," Bennet wrote. "Gang of 8 to the White House for budget talks next week; Romney to be commerce secretary; not stories but specifics."
Obama, who has established few strong relationships with members of Congress, must  personally engage in the effort to avert the "fiscal cliff." The moderate Republican senators who are members of the Gang of 8 should be a particular focus.
Cynics will scoff, but some positive signs emerged Wednesday. The White House released a statement saying that Obama had called congressional leaders from both parties Tuesday night and Wednesday morning and reiterated his support for a bipartisan solution to the fiscal cliff. In a press conference, House Speaker John Boehner said that he would be open to increasing tax revenues through tax reforms.
"We are ready to be led," Boehner said.
If Obama can strike an elusive "grand bargain" with Republicans, I believe it will strengthen him and the moderate wing of the GOP. The question, of course, is how far Obama should bend. Recalcitrance from the far right should not be rewarded. Compromise by moderate Republicans should.
If Mitch McConnell and John Boehner choose to maintain their opposition to tax increases of any kind on the wealthy, Obama should allow the country to fall off the fiscal cliff.The best time for the damage to occur is now - just after Obama has won another four years.
Our country is deeply partisan. Yet Americans are also frustrated with the failure of both parties to get anything done. Over time, I believe that partisan brinksmanship will lose popularity.
There are some glimmers of hope. Thirteen states have agreed to curb the gerrymandering of congressional districts by having nonpartisan commissions draw districts instead of state legislatures. Multiple studies have shown that gerrymandering by partisan state legislatures has created a House of Representatives where liberal Democrats and conservative Republicans coast to re-election.
A study released by the Bipartisan Policy Center the 2012 House races will have the lowest number of competitive seats in over 40 years. There were 152 competitive seats in the 1970s, according to the study. Today, that number has dropped to 101.
In 1992 there were 96 House districts that voted for one party in the congressional race and another for president. That number has now dwindled to a half dozen.
Some politicians show that partisan divides can be bridged. New Jersey Governor Chris Christie is a popular Republican governor of a state that voted 58 percent for Obama and 41 percent for Romney. Jeb Bush has shown the same skills. So have Republican Senators and Gang of 8 members Saxby Chambliss of Georgia, Tom Coburn of Oklahoma, Mike Crapo of Idaho, and Mike Johanns of Nebraska.
It will take years to narrow our vast political divide. But I believe the dysfunction it breeds is becoming more and more apparent to voters. A "grand bargain" to avoid the fiscal cliff would be an enormous step forward. A small one is giving conservatives credit where credit is due. I applaud Gingrich and the Fox News commentators. More people from across the political spectrum should.
This post also appears at Reuters.com, an Atlantic partner site.