The New, Progressive Congress
Beyond Democrats' incremental gains in numbers, a new crop of sympathetic faces in the House and Senate has given liberals reason to cheer.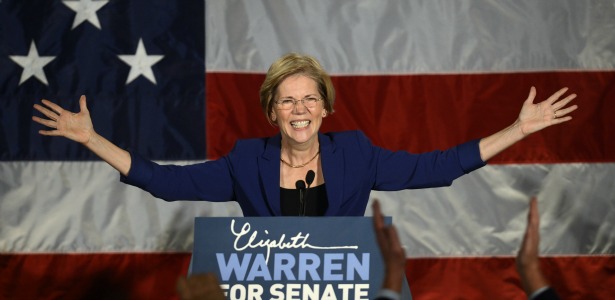 Reuters
The Democrats' gains in the House and Senate in last week's election were modest: Just five seats in the former and two in the latter, at last count. (Several House races remain too close to call). And yet the left is jubilant. Why? Because they see a changed Congress in terms of quality, not quantity.
November 6 was "probably one of the best election nights progressives will ever have," says Adam Green, cofounder of the Progressive Change Campaign Committee. "Underlying the fact that Democrats picked up a few seats is that the progressive ranks are growing while the Blue Dogs are dwindling."
The Blue Dogs, the caucus of self-styled moderate House Democrats, had 54 members two years ago. When the new Congress convenes in January, there will be 14 of them.
"We replaced Joe Lieberman with a real progressive," Green says, referring to Connecticut Democrat Chris Murphy. Nebraska Senator Ben Nelson is out; Elizabeth Warren, of Massachusetts, is in.
North Dakota's old Democratic senator was the moderate Kent Conrad; its new Democratic senator, Heidi Heitkamp, campaigned on a platform of ending tax cuts for millionaires and protecting Social Security from cuts. Green expects the Congressional Progressive Caucus to have between 90 and 100 members when it reconvenes.
Progressive advocates believe these new faces will lead to more favorable policies out of Congress. No longer will they have to deal with the likes of Rep. Jason Altmire, who voted against Obamacare and lost in this year's primary, or the rest of the Blue Dogs whose opposition kept the public option out of the party-line health-care bill.
But the progressives also make a political argument. For years, they've claimed that Democrats need to be more progressive, not less, if they want to win elections. The idea that tacking to the middle and embracing center-right positions is what wins, they say, is a canard. Now, they point to the 2012 results as proof.
In the red states of North Dakota and Montana, where Senator Jon Tester won reelection, Democratic candidates succeeded with "prairie populism" -- defiantly embracing taxing the rich and protecting entitlements. Right-wing interest groups spent millions calling them tax-hikers, but they didn't back down, and they won anyway. Progressive stalwart Sherrod Brown was reelected to the Senate in Ohio; Rep. Tammy Baldwin, a member of the Progressive Caucus, was elected to the Senate from Wisconsin.
Meanwhile, in Nebraska, Bob Kerrey, who embraced entitlement cuts, lost his Senate bid. "When Democrats stand up boldly on economic issues, even conservative voters will vote for them," Green says.
This is not an uncontested theory of the 2012 elections, of course. Kerrey, for example, probably was hurt more by his years living in New York than his economic platform, according to observers, and he faced an appealing Republican opponent in soon-to-be-senator Deb Fischer. Meanwhile, for every leftist partisan who celebrates the more liberal composition of the Democratic caucus, there's a centrist who worries that Congress's increasing polarization -- Democrats on the far left, Republicans on the far right -- makes it harder to reach consensus and get things done.
But Green still cherishes the lessons of his formative political jobs in South Dakota, where he worked as the press secretary for Senator Tim Johnson's reelection campaign in 2002. "I ended up being the campaign's liaison to the farmer and rancher community -- culturally conservative, pro-gun rural voters," Green recalled. "[Johnson] fought back against big agribusiness, and these Republicans were willing to vote for a Democratic politician who stood up for their families."
Johnson won that race over then-Rep. John Thune by 524 votes. Two years later, Thune ran for Senate again, this time against then-Majority Leader Tom Daschle. "Daschle was different," Green said. "He was in favor of free-trade agreements. He voted with big corporations and Wall Street." Thune defeated Daschle by 4,508 votes, the first toppling of a Senate party leader since 1952.
Now, progressives' hopes rest on this new crop of liberal representatives -- particularly Warren, whose election was boosted by donations and groundwork from Green's group, and who sent its members a thank-you note after Election Day. Post-election, progressive groups and labor unions have mounted an aggressive campaign to keep the pressure on Obama and Democrats to hike taxes on the wealthy, and they're counting on Warren and her ilk to back them up.
"Elizabeth Warren is the capstone. She's a game changer," Green said. "She will not be a typical freshman. With her track record and her megaphone, we predict a major Elizabeth Warren bandwagon effect."