The Chris Christie Backlash Machine Revs Into High Gear
Is the New Jersey governor to blame for Mitt Romney's loss? No, but that won't stop his many new conservative critics.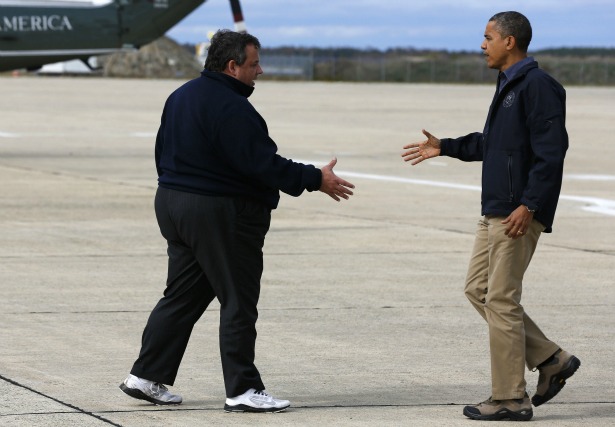 Reuters
As a general rule, it's way too early to start talking about the 2016 presidential sweepstakes. But rules are made to be broken, so here goes.
The Republican Party has an excellent bench for the future, from Marco Rubio to Paul Ryan to Chris Christie, plus plenty more rising stars behind them. It's tough to game out exactly what Romney's loss means for Ryan, his running mate. The smart money seems to agree that his selection mostly raised Ryan's profile for the future, but that he won't be tainted by the loss. The Ryan budget didn't end up being a decisive factor in the Republican loss, and Ryan acquitted himself well as a campaigner and a good soldier (compare that to his predecessor, Sarah Palin, who did well in the former role and tanked in the latter). For Rubio, it doesn't make much difference at all.
The surprise loser appears to be Chris Christie.
Here are conservative writers Ben Domenech and Dan McLaughlin, for example:
Yep. RT @baseballcrank: Assuming this ends badly for Romney, Chris Christie's future as a national candidate is over.

— Ben Domenech (@bdomenech) November 7, 2012
And there are plenty of other angry conservatives on Twitter:
Voter fraud, Gary Johnson nutjobs, and Chris Christie did a number on America. I am still angry and very sad.

— Impotex (@ImpressionsofTX) November 7, 2012
Here's Robert Stacy McCain in The American Spectator:
The list of fools who have brought this disaster upon us certainly also will include New Jersey Gov. Chris Christie, the gelatinous clown who (a) hogged up a prime time spot at the Republican convention to sing his own praises; (b) embraced Obama as the hero of Hurricane Sandy; and (c) then refused to appear at campaign events in support of Romney's presidential campaign. Good luck with the remainder of your political future, governor. It is unlikely Republicans shall soon forget your perfidious betrayal.
And Andrew Malcolm in Investor's Business Daily:
Beyond the Garden state, conservatives rightly view Christie's comments and presidential hand-holding and hugging as near-traitorous for needlessly elevating Obama's photo op to help stall Romney's momentum just days out. And assist the complicit media in ignoring FEMA's botched local assistance that ran out of water, of all things. "Great job, Craigie."

Christie may still try something in 2016. Oh, look! With Romney's defeat, the road is conveniently clear for him -- and others from the GOP's incredibly deep bench. But Christie will have as much success with that effort as he has with Jenny Craig.
Clearly, the nor'easter headed for the Eastern Seaboard isn't the only storm about to hit New Jersey's governor.
How much of this is deserved? Probably not much. First, there's little reason to believe that Christie acted in anything other than what he believed were the best interests of his state. With Jerseyans suffering through the aftereffects of Hurricane Sandy, there was no benefit to his getting into a petty pissing match with the president of the United States and every advantage to friendliness. These critics seem to believe that Christie ought to have put national-party ambitions before his state's well-being. In other words, he ought to have committed dereliction of elected duty -- hardly a good move for any official. Alternatlvely, they are implying that Christie -- the guy who Mitt Romney chose him to be the keynote speaker at the Republican National Convention -- is a Manchurian surrogate who wanted Obama to win. That's plainly implausible.
Second, for better or worse, Christie tends to shoot from the hip. That's won him fans, but it's also irritated the left (his rant about teacher unions) and right (his blunt defense of Muslim judges). Unlike many politicians, Christie doesn't try to avoid saying things that alienate his side, which would be a big disadvantage in a presidential race. His supporters say it would be outweighed by the cachet he'd win with independents and moderate Dems for truthtelling.
Third, despite what Dick Morris says (and keep in mind that he should have zero credibility today and going forward), Hurricane Sandy didn't swing the election. For one thing, the broad dynamic of the race had been set for months and remained remarkably static. For another, as Nate Silver (who ought to have huge credibility today and going forward) points out, the polls were already shifting in Obama's favor when the storm hit. Sandy may have deprived Romney of time to reverse that, and it may have helped keep Obama on track, but it didn't change the big picture. And the storm wasn't Chris Christie's fault anyway.
All that said, Christie didn't do himself any favors in his statements in the last couple of days. On Monday, Jon Ward reported -- based on conversations with Romney staffers -- that Christie had turned down an opportunity to appear at a Romney rally across the border in Pennsylvania. When Christie was asked about it, he said it wasn't true -- and the candidate understood completely. Then he unleashed this broadside, flagrantly flouting of Reagan's 11th Commandment: "All this other noise, I think, is coming from know-nothing, disgruntled Romney staffers who, you know, don't like the fact that I said nice things about the President of the United States. Well, that's too bad for them." It was impassioned, it was heartfelt, it was angry, and it was probably politically reckless. In other words, vintage Christie.
How much will this matter, long term? Four years is a long time for people to forget -- by spring 2015, Christie may look like just the antidote to the tempered, cool, managerial, and failed Romney candidacy. And over the next few days, the blame game among Republicans will almost certainly shift to focus on Mitt Romney and his aides, rather than anyone else. But it would be remarkable if Christie's promising career in national politics was derailed by the Republican base over his attempts to do what was best for his constituents.