The Case for Liberal Compassion Toward Allen West
The outspoken Florida congressman has conceded his race, but the vote-counting fiasco ought to be a source of bipartisan outrage.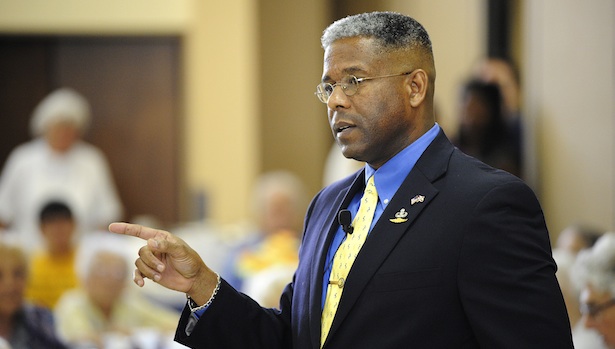 Reuters
Early Tuesday morning, Rep. Allen West finally packed it in, conceding his race for reelection against Democrat Patrick Murphy in a Facebook post. That's almost the last of the undecided House races this year -- one race, in Louisiana's 3rd district, goes to a runoff in December, but the winner will be a Republican either way.
As Rep. Allen West's chances at reelection faded from not very good to even worse, he refused to concede and vowed to fight on. Over the weekend, a recount of early votes he demanded (not entirely without reason) ended up placing him even farther behind. He wasn't ready to give up yet, but it was hard to see what his options were, especially since the margin was too great to trigger a full recount. The progressive reaction to the whole sequence was a combination of sneering derision and baffled bemusement. Liberal antipathy to the Tea Party Republican is expected -- he's been one of the noisiest and least tempered critics of President Obama and the Democratic Party -- but his insistence at fighting to the last ditch, while futile, shouldn't have been so hard for the left to understand.
What happened in West's home state of Florida 12 years ago is burned into every Al Gore supporter's mind; given that George W. Bush's administration is the great liberal bugbear of recent years, the 2000 election fiasco, which many Democrats contend wrongly handed the presidency to Bush, is central to liberal victimology. But that searing experience has perhaps given them the idea that they have a monopoly on election grievances. It isn't so.
"We will not allow an Al Franken-Norm Coleman to happen here," West said this weekend, reports Eliana Johnson. He was referring to the 2008 Minnesota Senate race, in which Franken, a Democrat, defeated incumbent Coleman, a Republican by a thin margin. How thin? Just 225 votes after a recount, far closer than the West-Murphy margin of 1,904 votes -- and in a statewide race, no less. Coleman also wasn't ready to give in easy; it took until June 2009 for that race to be resolved.
Just as the Gore loss remains a rallying cry for Democrats, the Coleman defeat looms large in Republican memory. Imagine if Coleman had won: Democrats wouldn't have had a supermajority in the Senate; health-care reform, Dodd-Frank, and who knows what else might have appeared unfeasible; and the history of the last four years might be radically different.
The West race could be another bitter monument; in conceding, he noted that "questions remain unanswered," while admitting his legal team saw no path to victory. Really, both sides ought to be able to find common cause in the race, which showed again how grievously Florida's elections are broken. Hundreds of votes were discovered, uncounted, on Friday after elections officials missed a statutory deadline for finishing their tally. The election supervisor admitted her office called the race too early, forcing the state secretary of state to send auditors to St. Lucie County after the discovery of the ballots Friday.
Besides, we may not have seen the last of West yet. In his concession note, he wrote, "I want to congratulate my opponent, Patrick Murphy, as the new Congressman from the 18th Congressional District. I pray he will serve his constituents with honor and integrity, and put the interests of our nation before his own." Don't let that tone of comity fool you: The race was so brutal that West reportedly refused to even shake Murphy's hand. Dave Weigel runs the numbers and shows that West could, without too much difficulty, get his revenge on Murphy two years from now, in an election without the strong coattails of President Obama. That's one more reason for liberals not to get too smug.