Shame on the Republicans Who Curtailed Early Voting
Hours-long election lines stretching many city blocks are a national embarrassment. And those responsible should be condemned across ideological lines.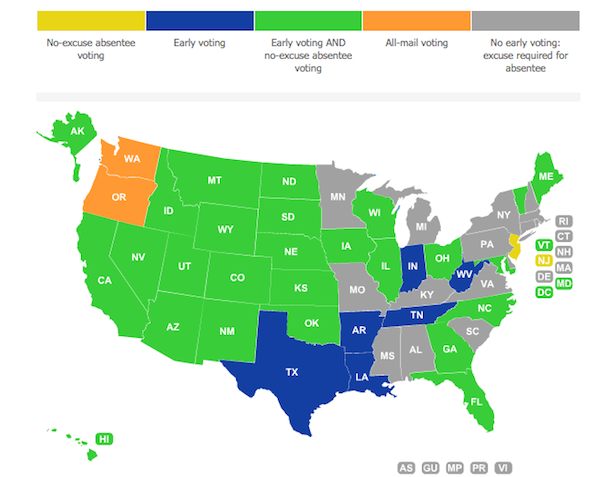 National Council of State Legislatures
In 32 states and Washington, D.C., voters are eligible to cast their ballot early with no excuse for doing so. For people whose jobs, child-care obligations, or other commitments make it difficult or impossible to reach the polls on Election Day, the opportunity to vote early extends the franchise. Spreading out voting over more days makes lines at the polls shorter, benefiting citizens. It also makes the election less vulnerable to unexpected events, like bad weather, broken voting machines, or terrorist attacks, that could conceivably disrupt things on a single Tuesday. Finally, states that permit voting on Sundays make it easier for churchgoers to participate in "Souls to the Polls" events, where congregations exercise their franchise together after services, walking or carpooling together to their polling place. So why not expand early voting?
In 2008, high voter demand suggested more hours open, more polling places, and more poll workers were needed. Instead, Republicans in several contested states have fought to restrict early voting, sometimes successfully. (Did I mention that "Souls to the Polls" mostly happens in black churches?)
Let's quickly survey the results of their recent efforts: 

"With complaints streaming in from angry voters, the Florida Democratic Party and the League of Women Voters asked Gov. Rick Scott and state election officials on Thursday to extend early voting. They argued that some voters were leaving without voting because they did not have all day to wait in line. The Monroe County election supervisor, Harry Sawyer, also asked Mr. Scott to use his emergency powers to extend early voting. But the governor and state elections officials turned down the request, saying that the process was running smoothly and that the move was unnecessary. Last year, Mr. Scott and the Republican-controlled Legislature pushed through a measure to cut early voting from 14 days to 8 days and to cancel voting on the final Sunday before Election Day." -- The New York Times
"In a work-around to an early-voting crackdown law, the Miami-Dade elections headquarters will open Sunday afternoon to allow voters to request and cast absentee ballots in person. The elections department announced the change Sunday morning, after the Florida Democratic Party filed a lawsuit in the wee hours seeking to somehow extend voting in Miami-Dade, Broward and Palm Beach counties before Election Day. A spokeswoman said the department made the decision Saturday night after seeing such long early voting lines -- the last voter wasn't checked in until 1 a.m. Voters in line at 7 p.m. Saturday were allowed to vote." -- The Miami Herald
"CLEVELAND, Ohio -- Early voters jammed county election boards across Ohio Sunday on the last weekend day before the election in a state where that presidential election may well be decided. At some sites, lines snaked several city blocks and it took hours for voters to get inside to cast a ballot... In Cleveland, more than 2,500 people braved the cold in a line that stretched two blocks and started forming two hours before the doors opened, but moved quickly all afternoon... In Summit County, hundreds of people were in line at 4:30 p.m. in Akron and were waiting on average two hours to vote during an "extremely busy" afternoon, said board of elections deputy director Kim Zurz. In Painesville, east of Cleveland in Lake County, about 200 people were in line in the early afternoon, and voting was taking about two hours." -- The Cleveland Plain Dealer 
Photos of voting lines in Ohio.

"AKRON, Ohio -- On Saturday afternoon, at 1:45 p.m., I belatedly realized that early voting ended in 15 minutes. I drove from the DoubleTree hotel where Americans for Prosperity were running local GOTV, down to central Cincinnati. The early vote line, for all of Hamilton County, stretched around the block... A two-hour line stretched from inside the polling station into the parking lots. Summit County is 15 percent black; this crowd was at least 60 percent black, and a lot of these voters had come independent of "souls to the polls." And most people I talked to, white and black, were Democrats." -- Slate
These are hardly the only examples, but you get the idea.

In Florida and Ohio, state officials arranged things such that citizens had to stand in line for hours to cast their ballot. Asked to extend early voting so that casting a ballot might be a bit less burdensome, they refused. It's an outrage. What's the worst that could've happened, a bit of overtime pay for election workers so that more Americans eligible to vote could do so? I don't always agree with everything Rachel Maddow says, but on this subject she is absolutely right:

Says
Josh Marshall
:
It's not clear to me that it will affect the final outcome in the presidential race. But let's note that the dogged efforts of Republican governors in a number of key states to dramatically limit early voting is starting to pay dividends. This is qualitatively different from the standard voter suppression efforts Republicans have focused on. No state has to have early voting. Here in New York, supposedly one of the progressive states in the country, there's none. But the intent of curtailing early voting systems that were already in place is clear: limit the amount of people who end up voting. Particularly, limit the number of Democrats who vote since Democrats are disproportionately the people who take advantage of early voting.
There are a lot of words to describe what Scott,
Ohio Secretary of State Jon Husted
, and various Republican state legislators and activists have done with regard to early voting: undemocratic, wrongheaded, cynical .... I shy away from un-American not because it is too harsh, but because the United States has an ugly tradition of partisans adopting measures knowing that they'll depress the ability of voters "on the other side" to be counted on Election Day. When found out, those people deservedly wind up as villains in the history books.
These men's legacies are so tarnished. Unless and until they reverse course, let it haunt them in every future election where they compete, grate daily on their consciences, expose them to the rebuke of friends and family members, and be written into early paragraphs of their obituaries.